There is nothing quite like a crisp and sunny autumn Saturday in West Lafayette – especially if you spend it watching Purdue sports. Specifically, if you spend it watching Purdue sports games at a West Lafayette sports bar, like Wolfies Grill, the "new kid in town" on the sports bar scene. You may wonder, why Wolfies? Here are a few reasons I recommend Wolfies to watch any Purdue sporting event from my recent visit:
Location
Located in Wabash Landing on the Levee, Wolfies gave me the best experience of watching live Purdue football in a West Lafayette sports bar with no long lines to wait in.
Not to mention, they offer a large range of indoor and outdoor seating options, which is always good to know on a Purdue game day!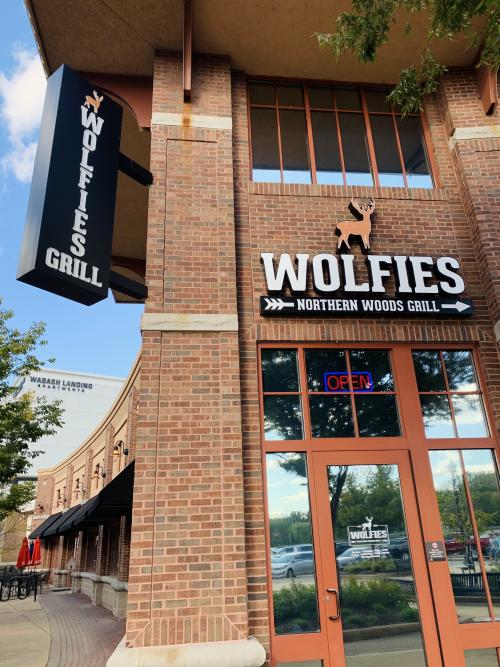 Great Game Day Grub
The wide selection of American cuisine and bar food favorites, such as their Indiana baby back ribs and buffalo chicken nachos, left my mouth watering and my mind indecisive. It was chilly that day so I went with my gut and started off with their French onion soup. The caramelized onions mixed inside the bubbling beef broth were beyond pleasant and served with a blanket of melted cheese on top – the best way to serve French onion soup.
For my entrée, I chose the buffalo chicken wrap and swapped out their default side of French fries for their soy-glazed brussel sprouts, which are fried, tossed with bacon, soy chili glaze, dried cranberries and goat cheese.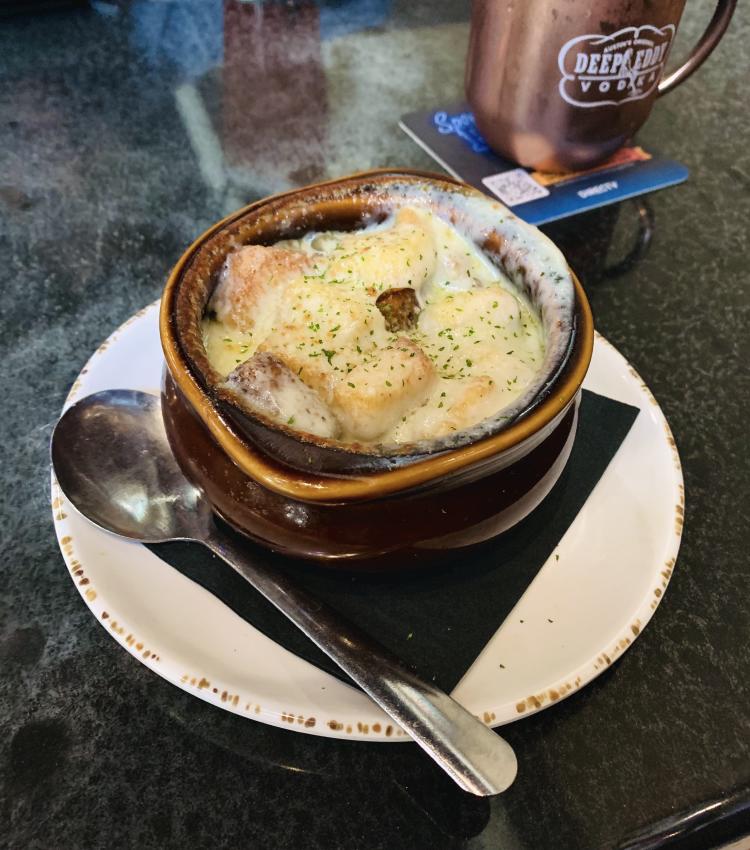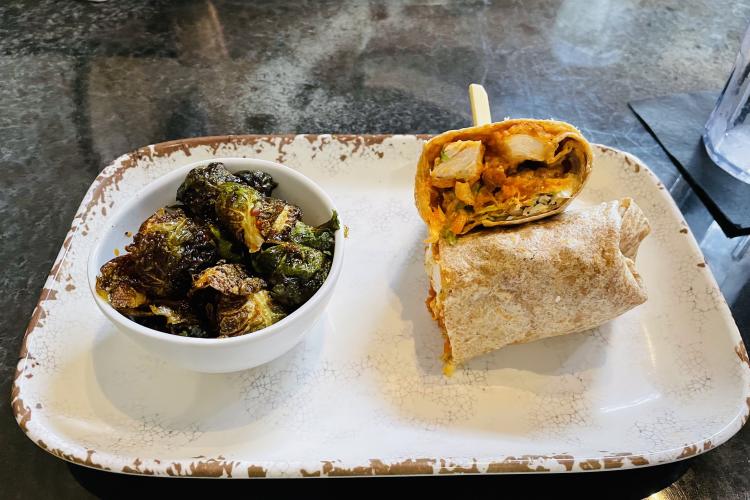 Drinks
In addition to a large selection of beer, Wolfies offers a great selection of premium cocktail options, including the refreshing American mule I ordered for myself. Infused with Tito's vodka, ginger beer and a squeeze of lime, I couldn't imagine a better way to cheer on the Boilermakers!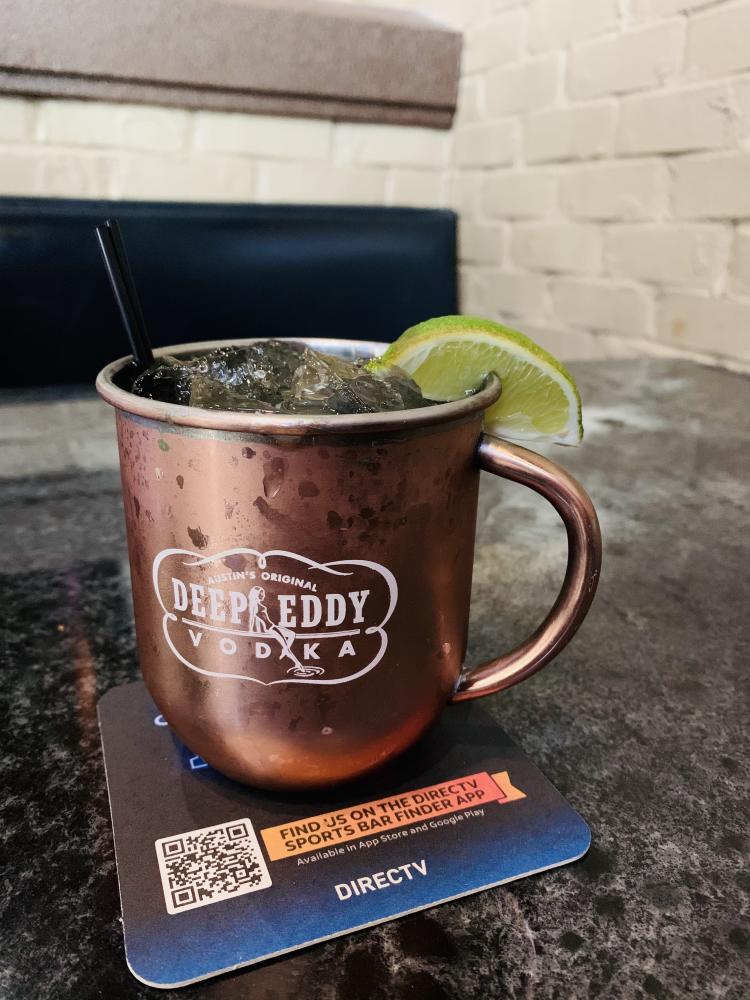 Atmosphere
What really sets Wolfies apart from the rest of West Lafayette's sports bars is the franchise's Northern Woods theme. As soon as I walked in, my eyes immediately darted from the gigantic suspending canoe at the center of the restaurant, to the various mounted animal heads that spread throughout the space. As someone who frequently enjoys all things outdoors – especially hiking – it took little arm twisting for me to fall in love with the ambiance of it all.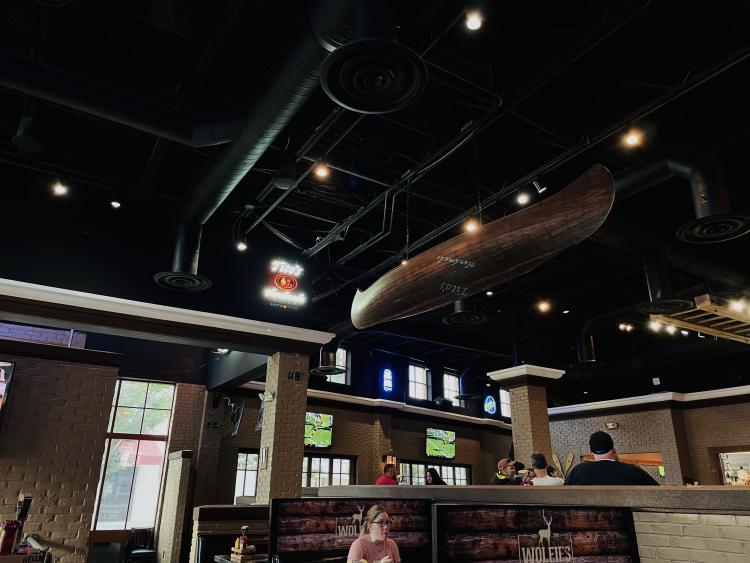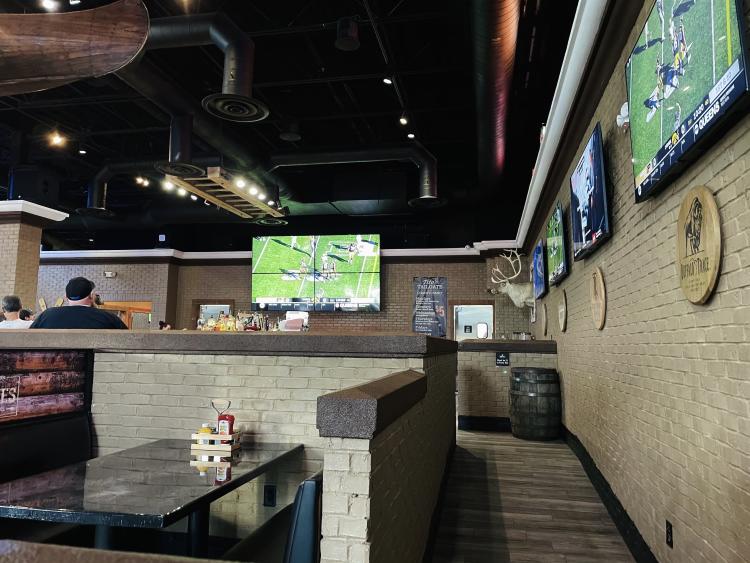 Wolfies Grill is located at 352 E State Street, West Lafayette. For more information on local dining in Lafayette and West Lafayette, visit the Home of Purdue Blog.
Purdue University Student, Hannah Golichowski, shares this blog. This blog is part of a series of articles submitted to Visit Lafayette-West Lafayette through a cooperation with a 400-level travel writing class at Purdue University.
Check out additional Purdue University Student reviews here: