[caption id="attachment_6563" align="alignright" ]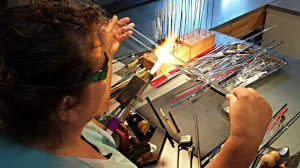 Sharon Owens, Inspired Fire, glass work![/caption] Mark your calendars! A new and exciting event is taking place this year; The Tippecanoe County Glass Trail Weekend!  Friday, June 26 and Saturday, June 27, 2015 be sure to visit our area and all the local glass artists! Pick up a brochure at
Visit Lafayette-West Lafayette
or any of the locations and explore the trail! Trail locations include two special events that weekend (
Art in Bloom
in West Lafayette and Art in the Garden in Battle Ground) and three art galleries. All locations have a variety of glass and some will have special hours, classes and demonstrations just for the glass trail weekend!  If you pick up a brochure and visit all the locations to get a stamp, you will be entered into a drawing to win a prize package when you return the stamped page to Visit Lafayette-West Lafayette at 301 Frontage Road, Lafayette, IN 47905.
Art in Bloom
will be Saturday, June 27 from 10am-2pm. Start at the Chapel of the Good Shepherd Church in West Lafayette to pick up an Art in Bloom map. This event is free and open to the public. Once there, you will visit local gardens and see many different artists at work demonstrating their particular medium (there is more than just glass). Artwork is also for sale at the event if you find anything that you love! Art in the Garden is a two-day event, taking place at a home in Battle Ground.  Enjoy the beauty of the natural world in the extensive gardens and feast on a variety of work by local and regional artists. Several demonstrations of many different types of art will be on display and available for sale. Event is free and open to the public. [caption id="attachment_6565" align="alignleft" ]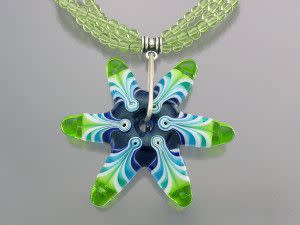 Lisa Walsh Green Star[/caption] Visit
Artists' Own Gallery
, an artist cooperative, featuring a variety of mediums. Open special hours on Friday, June 26 from 10am-9pm and normal hours Saturday, June 27 from 10am-4pm and located downtown Lafayette on Main Street. This Gallery is celebrating 15 years this year and has a fresh new look! You will find two glass artists with work on display at Artists' Own; Kathleen Kitch and Lisa Walsh. Kathleen works with kiln-formed also known as fused glass. She creates beautiful bowls, plates, sculpture and jewelry with vibrant colors, varied textures and metallic finishes.  Lisa uses soda-lime glass heated over a torch to create fantastic jewelry and other art objects. Many of her designs imitate the look of stones as rocks and minerals fascinate her. You will find many beautiful glass pieces in Artists' Own as well as other mediums. While it's not glass related, be sure to check out the mural in the alley before or after you go in. [caption id="attachment_6567" align="aligncenter" ]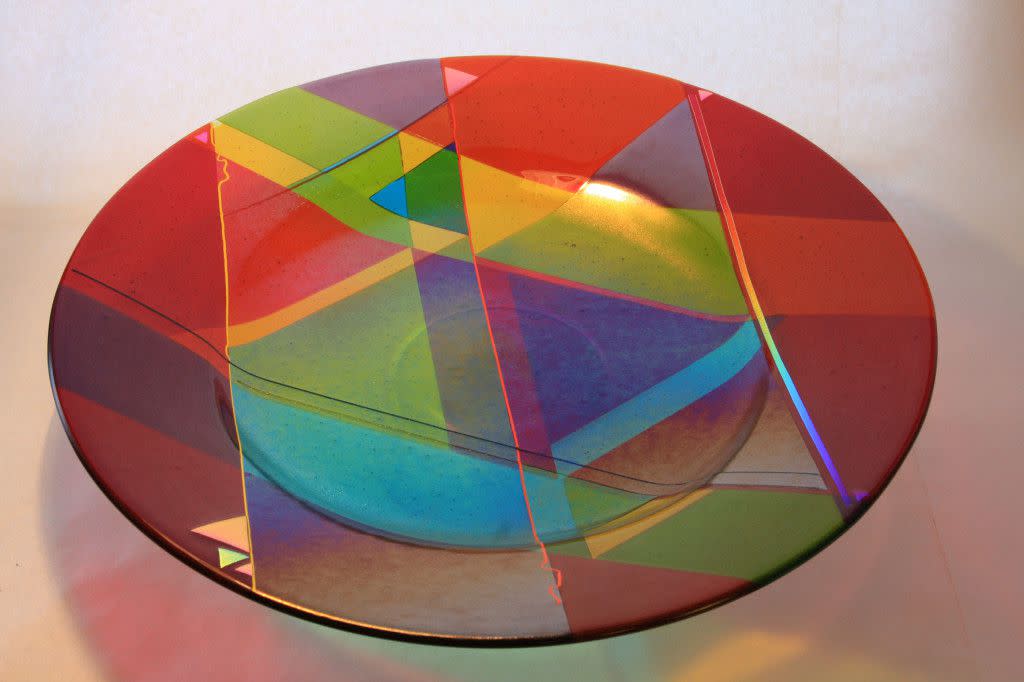 Kathleen Kitch[/caption] In the small town of Shadeland, you will find a hidden gem,
Inspired Fire Glass Studio and Gallery
! Owner and resident artist, Sharon Owens has created a gallery displaying local, national and international glass artists and artists of other mediums as well. One glass artist of particular interest on display is the glass master Lucio Bubacco from Venice, Italy; whom Sharon has had the opportunity to study under.  Sharon does flame-working and furnace glass blowing or sometimes a combination of both to create beads, ornaments, bowls, vases and more! Interested in learning how to work with glass? Sharon offers a wide array of classes as well. Inspired Fire will be open special hours Friday, June 26 from 10am-8pm and Saturday, June 27 from 10am-5pm. [caption id="attachment_6568" align="alignleft" ]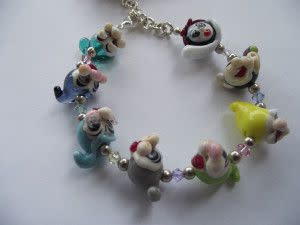 Linda Elmore Bracelet[/caption] Another great gallery and shop downtown Lafayette is
Something Special of Lafayette
. Be sure not to miss this fantastic gallery featuring glasswork by Linda Elmore, who is also the owner. Linda is a Lampwork Glass Artist and creates beautiful jewelry. One technique that is unique to Linda is creating beads with family photos on them. You can give her one of your beloved photos and she will create a bead with that photo on it that can then be incorporated into a piece of jewelry she creates or just stand alone as a pendant. Linda also has created impressive jewelry pieces inspired by Chuhuly (a famous glass artist) or even your favorite animated characters (she has a bracelet made with snow white and the seven dwarves beads she created.). Something Special will be open special hours Friday, June 26 from 10am-8pm and Saturday, June 27 from 10am-4pm. We hope you will take a moment to visit all of these wonderful locations and will appreciate some of our local art!  For questions, contact the individual stores or Visit Lafayette-West Lafayette. Also see the article about the
Glass Trail Weekend
in the Summer 2015 Issue of the Lafayette Magazine (pages 21-23). Ashley Gregory, Group Tours and Meeting Manager, shares this blog.