[caption id="attachment_1640" align="alignright" caption="Three Blind Mice Antiques"]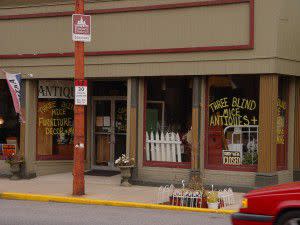 [/caption] Happening Now!  Right now the locals are talking about Lafayette-West Lafayette, Indiana, shopping and one antique store you cannot miss visiting;
Three Blind Mice
. Did you know downtown Lafayette-West Lafayette has over
70 storefronts
, ranging from antique stores, art galleries, home furnishing stores, and eclectic boutiques that feature one of a kind clothing, accessories, etc.? 
Downtown Lafayette
is the perfect place to visit to get your shopping needs fulfilled.  It is so nice because you can park your car and walk from store to store purchasing fun and unique items and when you get hungry or thirsty,
restaurants
and soda shops are literally at your finger tips!
Three Blind Mice
is located right near the heart of our downtown area.  This specialty antique store carries antique dolls, vintage clothing, clocks, lamps,
Hoosier cabinets
and other fine furniture, pottery and original antique oil paintings.  I love shopping here, because every visit feels like a new experience.  They have an ever rotating inventory so every time I step into the store I see something special I want to purchase that was not here the time before. Every Saturday, my parents and I go to the
Historic Lafayette Farmers Market
.  We start our journey from the north end of 5th Street and wander down to the end of the market where Three Blind Mice is located.  We check out all their
antiques
that line the outside of their business and always find something that is one of a kind and we add it to our "wish list", or if we are in the purchasing mood, we add it to our home collection of antiques! Whether you are looking for delicious dining, interesting attractions and shops, enticing events or home away from home lodging—a getaway to
Lafayette-West Lafayette, Indiana
, is sure to satisfy.  For more information about this shop and others in the area, visit our website at
www.HomeOfPurdue.com
.