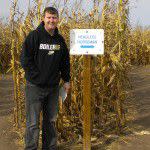 This year so many of the Lafayette-West Lafayette Halloween events are centered around mayhem, murder and suspense.  With that being said, one last chance to guess what I am going as?  Three, two, one….A convicted felon!  Ha!  And I have convinced my husband to dress up as an officer of the law.

Yesterday, to celebrate Halloween and this fall season my husband and I set off to traverse the many acres of fun at Exploration Acres.  We started our exploration by heading to the 18 acre corn maze.  We were so excited to take on this massive maze of twists and turns.  And we only got lost, well, maybe a dozen times!  Although, my husband swears he knew where we were going the whole time and we never got lost.   (Please note, there are around 26 stops along the way where you hole-punch your Corn Maze card and get discounts to local places!)  Next, we sat back and enjoyed the fall air as we rode in the hay wagon through the country.  It was fun to see the little kid's cheeks all red and rosy from not only the chill in the fall air, but also from so much excitement and wonder.   We finished our visit shooting a corn cannon, which for some odd reason gives me the giggles and I am grown woman.  It makes me happy that something so simple and silly as shooting a corn ear out of a cannon can be so much fun.

Exploration Acres is officially closed for the season, but it brought excitement and fun to many people this fall.  Make sure to put it on your fall event list next year!