Visitor Information Specialist, Kaley, shares her experience at the 2014 Taste of Tippecanoe.  Make sure you get your tickets today for the 2015 Taste taking place on June 20! Food, music, and a night on the town – sounds like the recipe for a perfect evening! I was able to experience all this and much more at the Taste of Tippecanoe. Heading into the event, I was not quite sure what to expect, but I sure was blown away by the amount of vendors that participated as well as the great amount of locals and visitors alike. Lafayette truly came alive as I walked the downtown streets.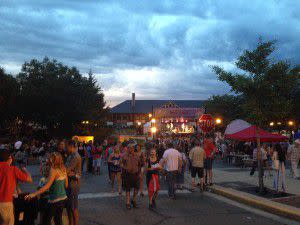 At the beginning of the evening, a storm came through. However, the rain was not going to scare me away, and a lot of other people had the same mindset. As the rain began to stop, the public continued to pour in. My first stop was to the ticket booth. Being a typical college student, I knew I wanted to stay on a budget because it is very easy to get carried away when surrounded by delicious foods. To keep myself in check, I looked through the assortment of vending tents and decided which foods I wanted and calculated my tickets from there. For dinner, I chose a pulled pork sandwich with homemade lemonade from Mr. Darryl's Southern BBQ, a Coldstone Creamery iced mocha for dessert, and Gibson's Shaved Ice for a late night snack. I highly recommend each of theses places and plan to go back to these restaurants for more than just "a taste." Each and every one of them was very distinct and well worth the price paid. Down every street corner was not only food but lively music too. I had no idea just how much talent is packed right here in the Lafayette area! The first band I listened to was Michael Kelsey & LD Miller, and all I can say is "wow!" They are such a talented group of men. What I found extremely unique about this band was the spectacular harmonica player; it was so unique and such a great sound. The band created such a fun and energetic atmosphere for everyone. They produce music that makes you want get up on your feet and dance, which is what a lot of individuals were doing. Seeing everyone around me having such a great time generated such a positive vibe and was very contagious. I found even my awkward self busting a move or two! After grooving for a while, I decided to check out another artist. Her name is Briagha McTavish, and I would like to give a huge shoutout to her! Her voice is absolutely beautiful, and she writes her own music that teenagers and young women can really relate to. Her music is sweet and bubbly and is varied with so many different instruments such as the keyboard, guitar and violin. Her stage presence is so natural, and you can tell that she has such a big passion for her music. She is easily comparable to a Taylor Swift of the Lafayette area.
I ended my night with a beautiful display of fireworks. By that time, the rain had picked up again, but it was actually quite cozy watching the fireworks under an umbrella on top of a parking garage with a loved one.  As a side note, the top of the parking garage in Wabash Landing is an excellent view of the show! It may be lame, but fireworks are some of my favorite things in the world, and I must say that the display that the Taste put on was spectacular. It was very well paced with a good mixture of explosions all leading up to an impressive grand finale. All in all, the Taste of Tippecanoe was a night that will not soon be forgotten. It was a great way to get a feel for the downtown life of Lafayette. I got to explore a variety of local foods and touch base with some local artists that are going big places someday. I highly recommend this to the locals and even out-of-towners. Lafayette is known for its arts and restaurants, and it all comes alive in this jam-packed night of excitement. It is worth every second. For more information about this festival and more special events in our area, visit our website at www.HomeOfPurdue.com.