[caption id="attachment_4564" align="alignright" ]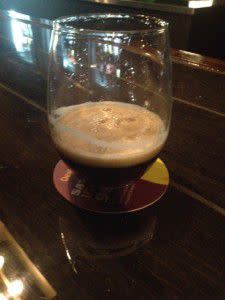 Drink at the Pint[/caption] I recently discovered our local experts on craft beer at The Pint. If you enjoy the occasional beer or if you are a beer enthusiast then you MUST stop into The Pint in West Lafayette, Indiana. This isn't your average bar or restaurant for that matter. It's all about the beer. The pint has up to 15 taps of craft beer that rotate constantly.  They have some of my favorite beers from our local People's Brewing Company on tap as well. If your pallet isn't geared toward craft beers, they also have some bottles of your favorite domestic beers. The beer is the main event at The Pint. They don't have a kitchen. However, they have an open food policy. This is the first place I have been to in town with this kind of policy. Basically, you bring in food or have it delivered from anywhere you want. You can even bring in food from home. (Note: The Pint asks that if you bring food from home that you not share it with others.) You can enjoy your meal and pair one of their craft beers with your meal.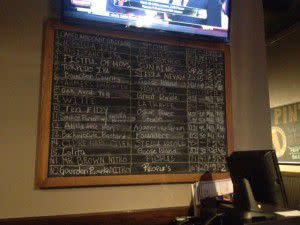 If you aren't sure what beer you'll like or if it will pair well with your food, you can ask your server or the bartender. They really know their beer! Another way to try a variety of beers The Pint has to offer is to order a flight of 4oz beers. When I first walked in and sat down at the bar, I looked up at their board of beers currently on tap. There were a variety of beers to choose from and a majority I haven't tried or knew existed. The Smoked Porter with Vanilla Beans caught my eye from the Stone Brewery Co. in Escondido, California. This beer was exquisite! It was made with whole Madagascar Vanilla Beans. The vanilla flavor surprising worked well with the malty, chocolaty, coffee-like flavor.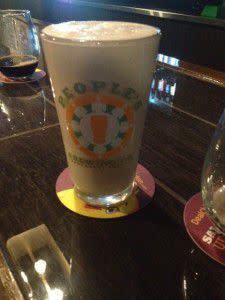 Another unique menu item you can find at The Pint is their beer milkshake.  They take a pint of your beer choice and mix it with a couple scoops of my local favorite Silver Dipper ice cream. I must admit I was hesitant about this at first, mixing two of my favorite flavors, beer and ice cream!? I chose People's Brewing Company, Mr. Brown Nitro and had them add a couple scoops of Silver Dipper's vanilla ice cream. The result was a chilled, creamy version of Mr. Brown Nitro. When I go back to The Pint, I will definitely have to try this combination with another beer! If you are going to visit The Pint, keep in mind there is free parking in the garage behind the storefront. You can access the garage from South River Road (US231) on the right. What awesome flavor to add to our unique community! Visitor Information Specialist, Marlene, shared this blog.