[caption id="attachment_5793" align="alignright" ]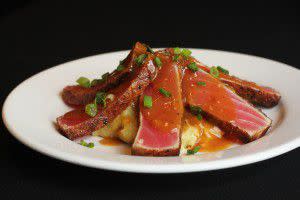 Seared Ahi Tuna[/caption] Happening Now! Right now, the talk around town is about the upcoming holidays and the unique restaurants around town to enjoy a night out with friends and family. One such location is
McGraws's Steak Chop & Fish House
, where diners can enjoy succulent steaks, fresh fish, fabulous appetizers and the best customer service. If you are looking for a one of a kind restaurant, McGraw's is the place. McGraw's; when I think of this restaurant my stomach does a happy dance and I smile from all of the wonderful memories I have eating here. I don't know which is better; the food, ambiance or service. Everything is top notch! I will share some of my favorite dishes, but please note everything I have tried has been delicious.
Appetizers
:  I recommend ordering their crispy shoestring onions. They are super thin, lightly battered and served with a thousand-island style sauce. Their shrimp martini is another top pick.  The shrimp are huge and the cocktail sauce is hot, but not too hot. These appetizers are perfect because they are not super filling and wet the appetite for the entree to come! Soup:  One of the BEST
French onion soups
I have ever tasted can be found at McGraw's. The dark beef broth with sweet onions smothered with Gruyere cheese will make your mouth tingle. It is a messy soup dish, but well worth it.  (Sometimes if I am not super hungry, I will partake of appetizers and order soup for my meal and then nab a bite or two of my husband's steak!) Entrees: My friends and I like to each order our own meals and then share. It's fun because then we can sample a bit of everything. My favorite entrees are really hard to pick. One can't go wrong with their
filet mignon
, which is always perfectly cooked, lightly seasoned (just the way I like it!) and you can cut it with a fork. The seared scallops with salsa verde are a refreshing and lighter choice. The south river pork chop is a huge chop wrapped in bacon, served over pulled pork and topped with Korean bbq sauce. I was hesitant about the sauce at first, but it is amazing! Every entree is served with a salad, side and bread. Their mashed potatoes are superb! The great part is the last time I visited mashed potatoes were not on the menu, but they made them special for our whole table. Please note I believe they use heavy cream, which makes them light, fluffy and decadent so if you are trying to watch the hemline, I would suggest ordering one of their fresh vegetable choices. (But they are hard to pass up and well worth a cheat night!) Everything at McGraws is delicious down to the fresh bread with sweet whipped butter on the table. YUM!! Dessert: Ok, so truthfully, I am usually so full I can't order dessert. 3 or 4 years ago, I did order
Crème Brûlée
and shared it with my mother in law. It was the first time I have ever in my life tried this type of dessert and it was sweet (but not too sweet), had a crispy sugary coating, and was utterly delicious!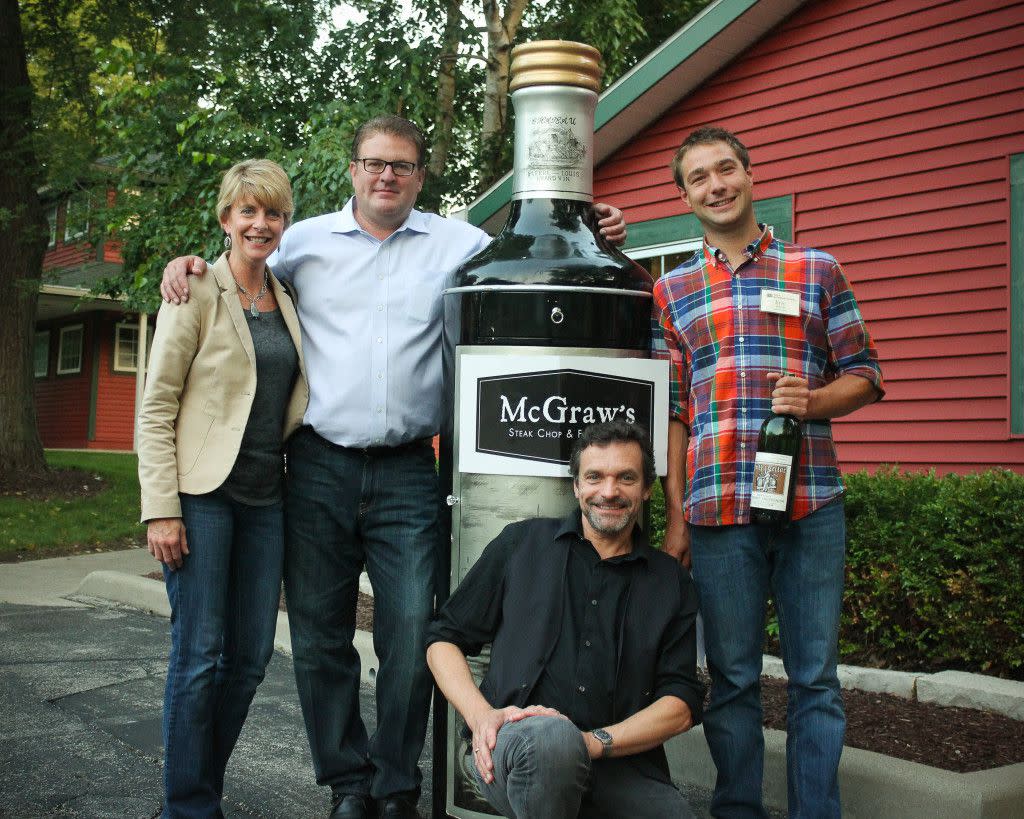 Ambiance: Overlooking the
Wabash River
, there is not a bad spot in the restaurant. Subtle lighting and candlelight make it a great date night location for a romantic dinner.  It also offers visitors a unique dining experience, as the building that now houses McGraw's has been part of the history of Tippecanoe County for nearly two hundred years. Originally, the property was going to be part of a small town-in-the-making called Cincinnatus. One building was erected, but the rest of Cincinnatus was not. That single building still stands today as McGraw's Steak Chop and Fish House. Service: One word: Wonderful! If you want a night where you can sit back and receive great customer care with a smile, this is the place! Whether you are looking for delicious dining, interesting attractions and shops, enticing events or home away from home lodging—a getaway to
Lafayette-West Lafayette, Indiana
, is sure to satisfy. For more information about this restaurant and others in the area, visit our website at
www.HomeOfPurdue.com