[caption id="attachment_2542" align="alignright" ]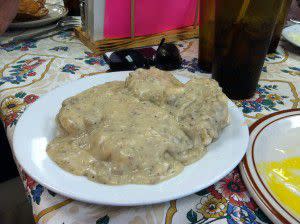 Homemade biscuits and gravy!![/caption] 2 Great Cities, 1 Great University "Midwest Hospitality".  To experience "Midwest Hospitality" at its finest visit a small town diner in Battle Ground, Indiana, called the
Eye Opener Cafe
, who is serving up some of the best biscuits and gravy around!
Homemade biscuits and sausage gravy
, fried hash browns, scrambled eggs and bacon; this is my husband's order when we visit Eye Opener Cafe.  It sounds like a lot of food and it is!  The biscuits are light and fluffy with a pan-fried sausage gravy that melts in your mouth.  The potatoes are perfectly crunchy while the eggs are fresh and well seasoned.  My husband is a hog farmer, and the true test is the
bacon
.  We like our bacon medium cooked with a nice seasoning where you can really taste the textures of the meat.  Their bacon meets all our requirements and more.  The Eye Opener Cafe's food is superb, and in my opinion, I would rate them as cooking one of the best biscuits and gravy I have ever had.  I also order a side of French fries for myself and dip them in the gravy. The
Eye Opener Cafe
is one of the wonderful things about living in this area because the owners are so friendly and the locals who eat here are very welcoming.  The first time we ate here, a few locals invited us to sit and eat with them.  They gave us the 411 on what to eat (which pretty much was their whole menu because we have tried a number of different items and they are all wonderful).  It is was so nice and really showcased what "
Midwest Hospitality
" is all about. This cafe serves breakfast and lunch daily and dinners on Wednesday, Friday and Saturday evening.  They make fresh pies daily that sell out quickly so I recommend asking the server what pies they have on special as soon as you sit down.  
Wolf Park
, the
Tippecanoe Battlefield
and
Prophetstown State Park
are all area locations that are close by, so I recommend taking a day to visit Battle Ground and all it has to offer! Living in
Lafayette-West Lafayette, Indiana
, one thing we value is customer service and appreciating the times we receive great customer care.  Midwest Hospitality is Lafayette-West Lafayette, Indiana.  We are proud of our local businesses, including The Eye Opener Cafe, who provides gracious and friendly service. For more information about this restaurant and other
fun activities
in the area, visit our website at
www.HomeOfPurdue.com
.