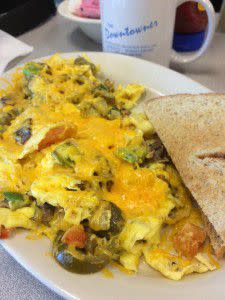 Do you find yourself hungry after shopping at Market Square and wanting something for lunch? While Market Square offers several wonderful options, you might check out The
Downtowner
. Located in the alley at Market Square this is a nice family diner where you can find anything from breakfast food, sandwiches, soups and salads. I have lived in Lafayette all my life and have always heard about the Downtowner and know many people that frequent it often; but I'm a little ashamed to say that this most recent visit was my very first time there. It for sure will not be my last though! When you walk in the restaurant it's hard not to notice the large wall filled with license plates. It's interesting to look at and wonder or dream about where all those cars have been. Next time I go in, I'm going to see if there is a story behind them, surely there is a reason why they are all up there.  Anyone know?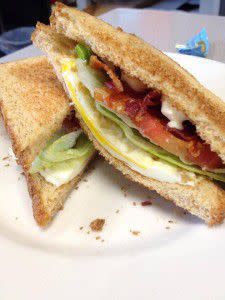 Anyway, the food was great and they were very quick! When I visit a diner for the first time, I usually like to stick with breakfast food, not really sure why but an
omelet
is typically what I will order. That is exactly what I ordered this time and it was great! Came out piping hot and filled to the brim with yummy fillings. My Dad, a somewhat regular at the Downtowner was with me also and he got a sandwich, boy did it look good too! I can't wait to go back and try all of their other options! Looking for a great place for a group? They have a couple large rooms that would be great for a group of friends to meet and chat the morning away! Be sure to check out the Downtowner the next time you are in the area. For more information about this restaurant and others in our area, please visit
www.HomeOfPurdue.com
.  Thank you to Ashley Gregory, Group Tours & Meeting Manager, for sharing this blog.