[caption id="attachment_6859" align="aligncenter" ]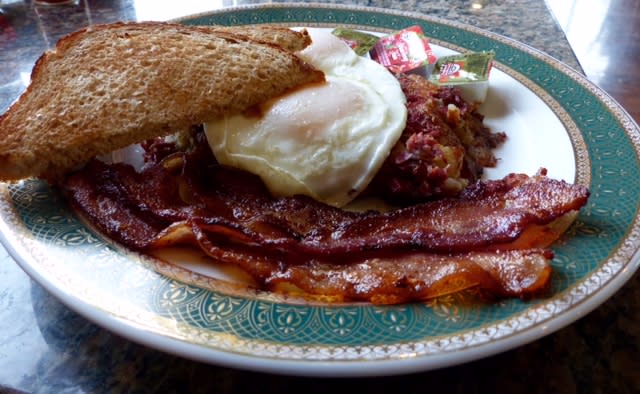 Corn Beef Hash[/caption] The Dining Divas specialize in the road less traveled—meaning we write about the ethnic food opportunities in town. But in this instance, Bev asked (a couple of times) if we might cover The Town & Gown Bistro. "She's pushy," said Jo. "She's quietly and efficiently effective," countered the others who were also glad to have this chance! Jo let us run with it so put aside your dreams of cuisine from around the world and enjoy some tastes that are closer to home. Here's the short version. Homemade corned beef hash. Who does that? Does anyone else in town make their own corned beef? It's so tender— it practically falls apart under your fork-- and the hash is made with a slightly crispy bed of mashed potatoes! You simply must try it. Need we say more? End of article! But since the Divas include some vegetarians and since there are other delicious menu items, here's the long version. [caption id="attachment_6864" align="aligncenter" ]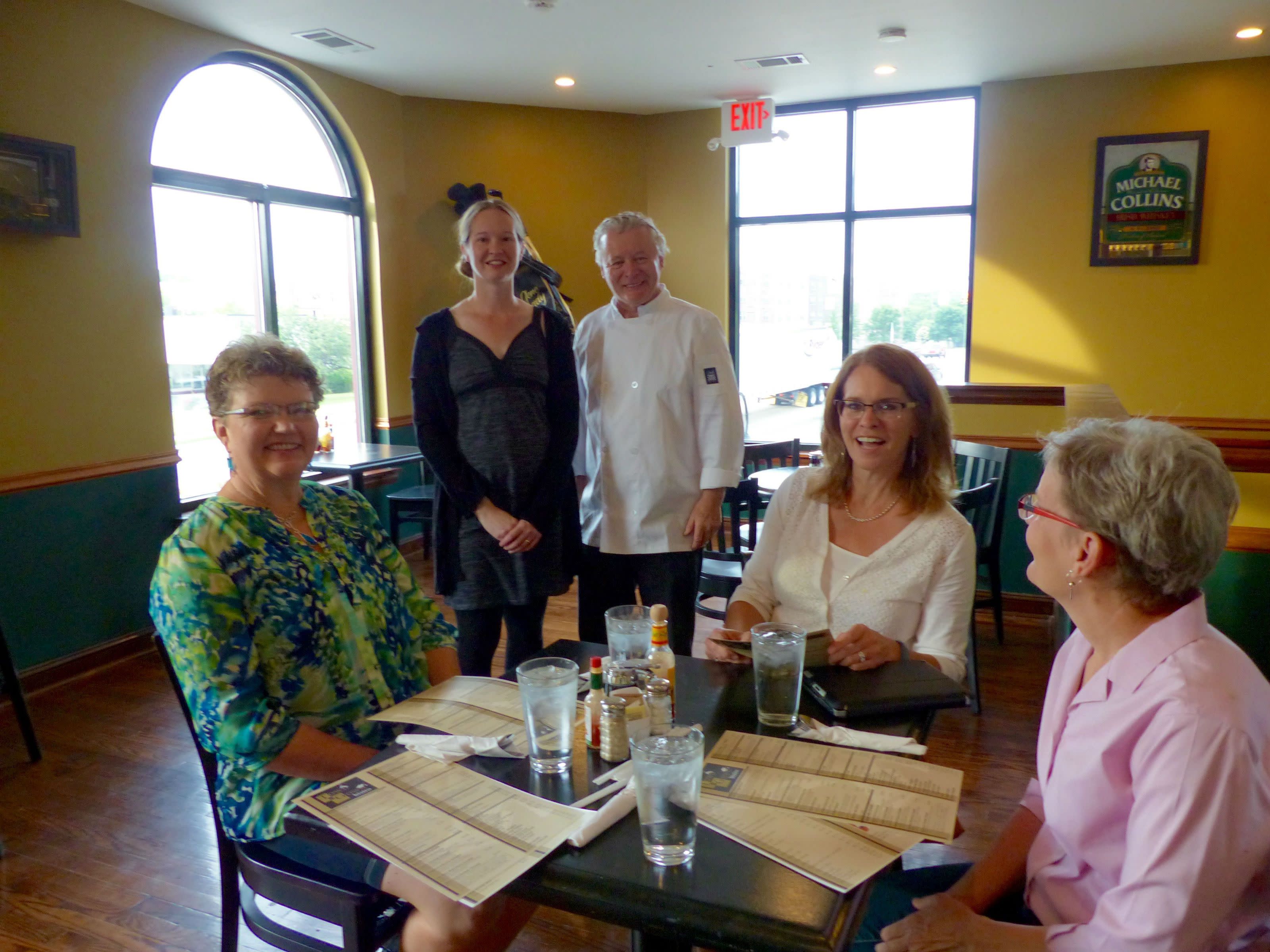 Chef Matt with Dining Divas[/caption] Chef Matt O'Neill was born in Dublin. His international cooking experience took him to Montreal, Chicago, Cincinnati and eventually led him to Indianapolis at La Tour with Wolfgang Puck. Then he moved on to Greencastle where he opened the Walden Inn on the campus of DePauw and got a taste of working for a college crowd and an addiction to flower boxes. He had 88 there! Wanting to continue that experience and finding himself unable to handle retirement, he opened The Runcible Spoon in Bloomington, a funky, eclectic, sunflower-surrounded collapsing bungalow with a menu similar to the one you'll find at Town & Gown. He's cooked for Pavarotti, Paul Newman, Gerald Ford, prime ministers from Canada, Israel and England and now, little old us!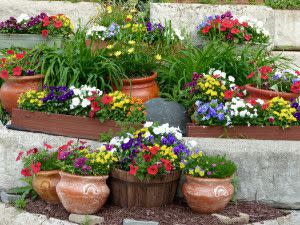 He's been eyeing the West Lafayette market since 2007 and finally found a place to land at 119 N. River Road. During construction, there was a fire. Televisions melted to the walls but Matt is grateful to the West Lafayette fire fighters who used compressed air foam to subdue the flames leaving less mess than water would have. Eventually, he opened the doors where you'll find several eating areas including a patio. Town & Gown Bistro recently won the West Lafayette beautification award. Pull around the building and you'll find yourself surrounded by hundreds of flowers tumbling out of boxes, sunflowers reaching for the sky and herbs used in the cuisine. [caption id="attachment_6860" align="alignright" ]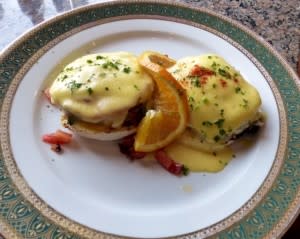 Omelet![/caption] That's just icing on the cake. The reason we go to restaurants is to eat so let's get back to the food! The chai latte, cappuccino and latte are a great way to start the day for $3.25- $3.50. Great coffee, good foam and a skinny option that tastes fat. We were there for breakfast so Jo ordered the Tex-Mex ranchero omelet, a large fluffy omelet with salsa, sour cream, avocado, cheese, spinach and tomatoes for $7.95. "I kept eating and thinking I should stop but it was so good, I just kept eating," she said with a satisfied smile. Margy had the veggie bennie with two eggs, spinach, tomato and an excellent hollandaise sauce on an English muffin. Generous portions are served on beautiful plates. She's now a regular Town & Gown customer!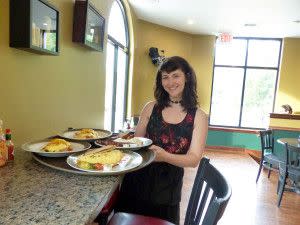 Kay's smoked salmon & croissant bennie starts with a tender croissant, split and toasted, then covered with smoked salmon and topped with eggs and a velvety hollandaise. She declared it fabulous. The presentation was beautiful with a twist of orange on top along with paprika and a bit of parsley. The salmon is mild, hollandaise is perfect and it was enough for two. "Being on a croissant instead of an English muffin makes it better than the traditional benedict," she said. "The croissant was crispy, flaky, yum…" and then she drifted off into a meditative moment. But the piece de resistance is the corned beef hash. Chef Matt says the corned beef cooks oh so slowly. It's space intensive and labor intensive which is why most people purchase already prepared corned beef. Bev has had it a dozen times and it's consistently amazing. The basic hash is $5.60. Add two eggs on top for $2.50 and you have a sensational breakfast that will hold you over until dinner time. Jo's husband has been on a lifetime quest for the best corned beef hash and he declares he's found it here. [caption id="attachment_6868" align="alignleft" ]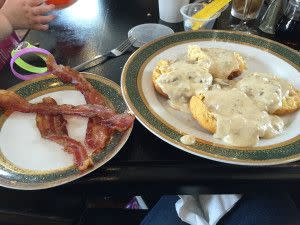 Biscuits & gravy and bacon![/caption] Don't miss the bacon! It's the good, thick stuff. And the pancake covers a plate with its light fluffiness. We focused on breakfast but Town & Gown Bistro is open for lunch and dinner as well. They do a great job with chicken and pastas. There's a shrimp linguini in a cream sauce but you can sub marinara if you'd like. The fresh salmon is popular and most dinners include a side of roasted vegetables. "You have to pay attention to the vegetables," Chef Matt said. "Each one is treated equally like children in a large family. You take care of them all." That attitude shows since each veggie is done to perfection, then tossed together before landing on your plate. There's a full bar with really reasonable prices so it's a fun place to stop by for a drink, too! One great moment this summer for this blogger? A massage in the Village, a walk in the rain to Town & Gown, and a Cosmopolitan at the bar. Several people have asked about the name which comes from a phrase used in university towns. Town refers to the city and gown (think graduation gown) refers to the university so this is a place where the whole community comes together. [caption id="attachment_6865" align="alignright" ]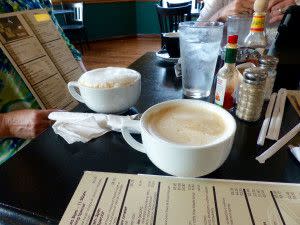 Chai and Cappuccino[/caption] So, Chef, what's your favorite menu item? "Smoked salmon on a croissant with a glass of champagne for breakfast." That's living! "I love this lifestyle," Matt said. "Putting the flowers out here is like putting flowers out at home. This is my home." We're glad he's found a home in West Lafayette! Next, we head to Fresh City Market to sample their wide array of takeout goodies, especially sushi! Kay Conner, photographer, seafood superstar Margy Deverall, author of Lafayette articles, dedicated vegetarian Beverly Shaw, author of West Lafayette articles, bring on the beef (or chicken or pork) Jo Wade, founder of this food blog, very veggie