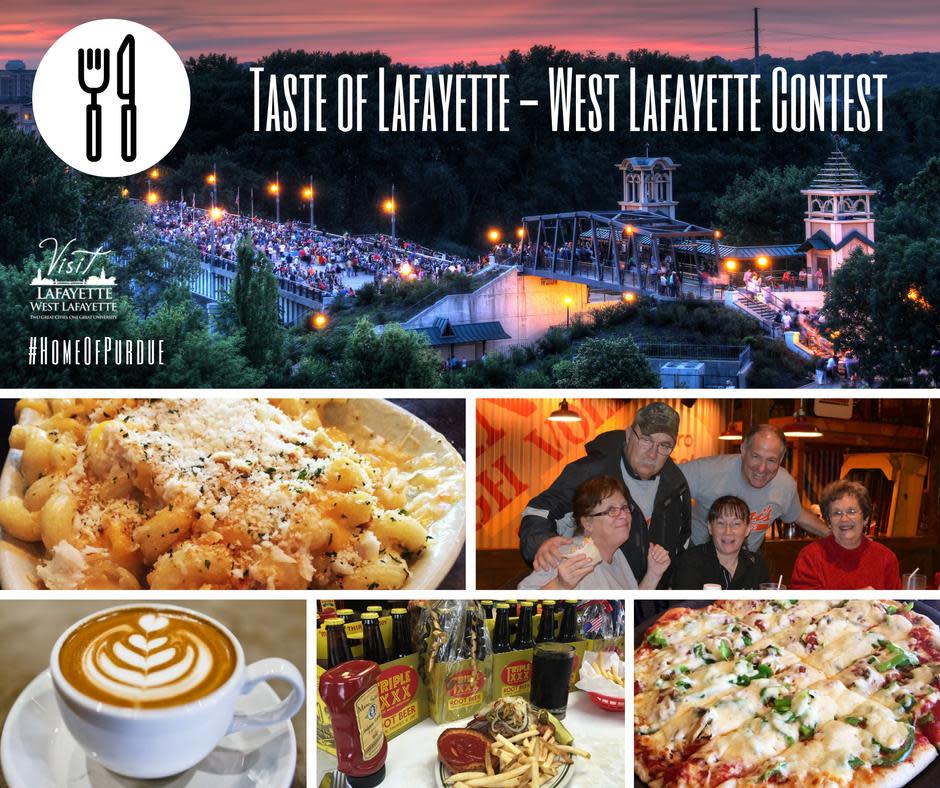 Lafayette-West Lafayette, Indiana, has 7 fabulously fun contests this year.  The current contest features all the amazing food in our area.  The competition started on Monday, September 12, and we want to share why each business who has donated to these packages is so great!
Enjoy a visit to the classy and historical Union Club Hotel, an icon to Boilermaker country since 1924.
Arni's Pizza is best known for their savory pizza and the Arni's Junior Salad. This has been a local hotspot for many years!
Scotty's Brewhouse offers fabulous service along with delectable bar food including specialty burgers, sandwiches, wraps, salads and more!
Triple XXX or Route 66 are known for their root beer and chopped steak burgers, but we love their breakfasts, which offer homemade biscuits and gravy, Belgium waffles, corned beef hash and much, much more.
"Thank goodness for great food!"? Every time we make a visit to Bruno's Pizza and Big O's Sports Room in West Lafayette, Indiana, we have this feeling of jubilation!
Kathy's Kandies: Satisfy your sweet tooth with truffles, gourmet popcorn, cakes, toffee, shakes and smoothies, licorice, artisan chocolates; need we say more!
Great food, specials, and atmosphere are the key ingredients to what makes Sgt. Preston's a dining experience not to be missed (plus home to the largest patio seating in Indiana!)
From Velveeta loaded french fries to duck egg roles, the options are interesting at Digby's Pub.
Specialty lattes, coffee, crepes and more at Greyhouse Coffee & Supply Co.!  Their crème brûlée coffee is a favorite!
Fiber / fabric wall art, fine porcelain & stoneware pottery, hand-made 'Green Gifts' and much, much more can be purchased a Grateful Heart Gallery & Gifts where 5 area residents present their craft.
Enjoy meeting the many farm animals at The Farm located within the state park., hike the park trails and embrace the utter beauty of nature at Prophetstown State Park.
Have you ever come face-to-face with a wolf? Wolf Park gives you the extraordinary opportunity of meeting numerous wolves, coyotes, and foxes; each have their very own story and background to share!
Tour the the building that was once featured at the St. Louis Worlds Fair, Haan Mansion Museum of Indiana Art! It holds some of the most historic and valued Indiana art pieces in the state!
Test your mini golf skills at Monster Mini Golf: 18-holes of surprises, twists, and turns! What's the catch? It's all in the dark with neon monsters around every corner!
Arrowhead Bowl: Bowlers will find great bowling and family fun in a smoke free environment.
Go to www.homeofpurdueblog.com to sign up! Entries will be accepted through Monday, September 19. The winner will be announced via social media after they have been notified. And stay tuned to our next social media contest coming in September – the theme is food!

Save