[caption id="attachment_10944" align="aligncenter" ]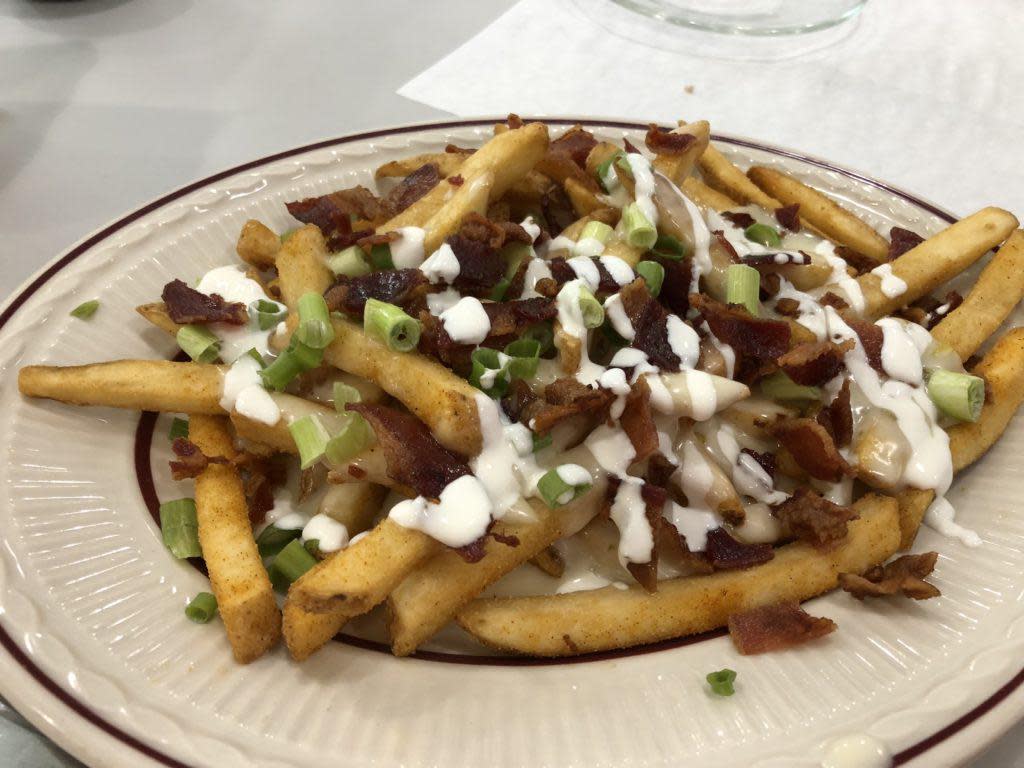 Loaded fries[/caption] 2 Great Cities, 1 Great University, Be a Tourist in Your Own Backyard!
Lafayette-West Lafayette, Indiana
, is home to over 275 local restaurants and one just popped up that is making our taste buds soar and our bellies quite happy.
Red Bird Cafe
is the newest restaurant to our dining scene and we have to say from our recent visit that we are thrilled by the addition! First let's start with the food! 5 of us visited this Red Bird Cafe a few weeks ago. We explored the menu and decided on their
loaded cheese fries
, French fries with their signature white queso, bacon crumbles, sour cream and green onions, as an appetizer.  We literally fought for the last fry, they were so good. They were salty and cheesy and oh so delicious! Along with our appetizer they brought out
homemade Beignets.
I tried so hard to only eat a bite as I had ordered a large lunch but I couldn't stop tasting this fried piece of dough with a light sprinkle of powdered sugar.  YUM! My co-worker Ashley shares, "The Beignets that come with the meals are fluffy on the inside, crispy on the outside and covered in cinnamon and sugar! They taste like a fluffier version of an elephant ear. I love them! The meals are all good sized and very filling. I enjoyed my meal and am looking forward to going back."
For lunch I ordered off of the breakfast menu which they said they offer all day.  My choice was the
biscuits and pepper sausage gravy
that came with hash browns.  I also added bacon to my selection. I have reviewed biscuits and gravy in past blogs and these rival the best in the area. The gravy is smooth and peppery on top of light, dense biscuits. They were just amazing! Add in the perfectly fried hash browns and crispy bacon and it was one of the best breakfasts I think I have ever had.  I highly recommend!  Another one of my co-workers, Lisa, who we say we are twin eaters, ordered the same meal and she agreed it was fabulous! [caption id="attachment_10946" align="aligncenter" ]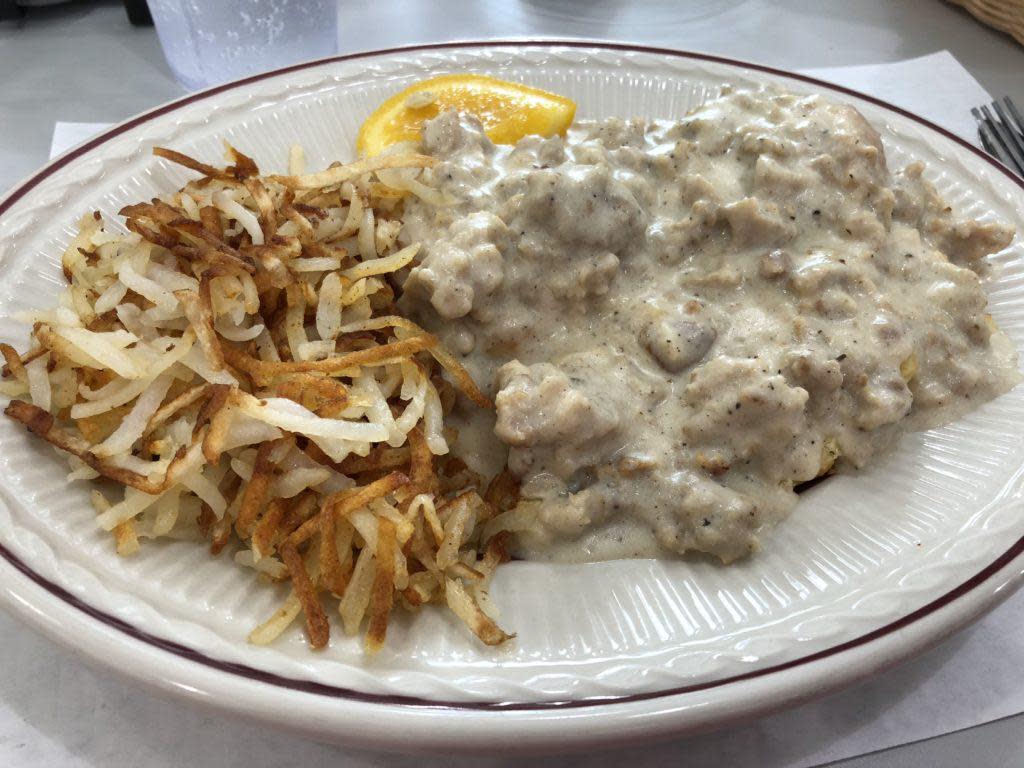 Biscuits and gravy with hash browns[/caption] A few of my co-workers ordered from their lunch menu and selected the
buffalo chicken wrap
and fajita chicken wrap.  They both really enjoyed them!  Another team member ordered a custom omelet which they were happy to accommodate her dietary needs. She shares, "The omelet was tasty, fluffy, light, cooked just enough and filled with four different cheese options, just to my liking. Always pleased when breakfast items are served all day and they are willing the accommodate special diet requests."
[caption id="attachment_10947" align="aligncenter" ]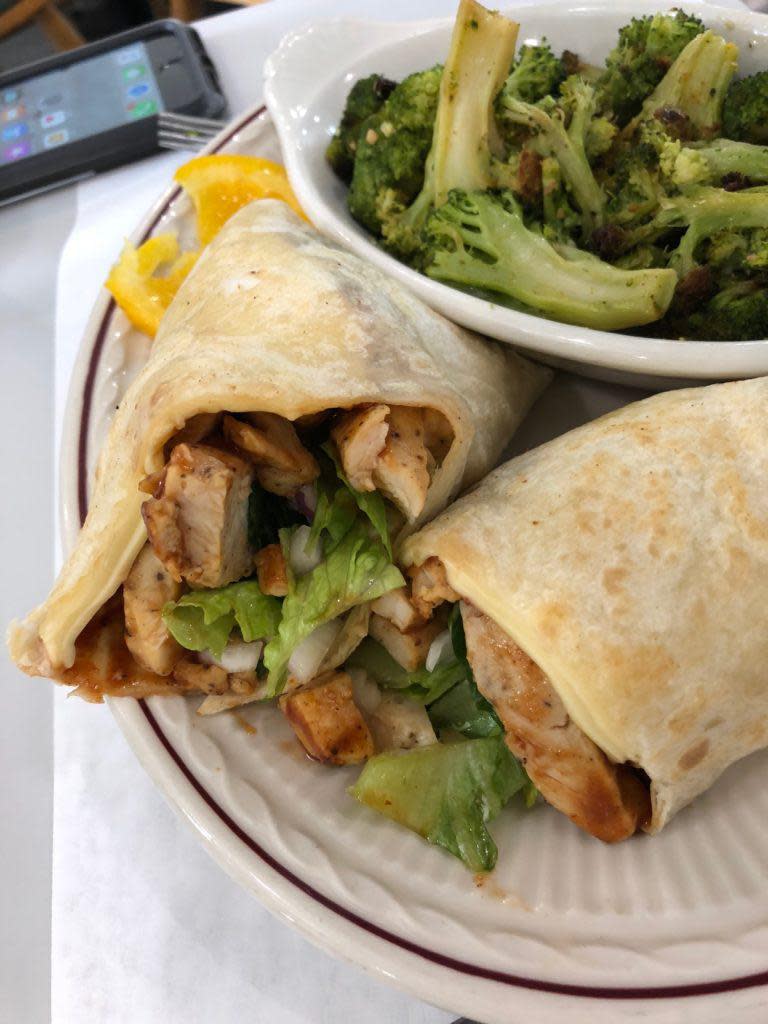 Buffalo Chicken Wrap[/caption] Second, let's review the service. Friendly, kind and accommodating. Everyone from the hostess to our waitress were so nice. They refilled our beverages regularly, checked on our table periodically, and were just pleasant. As we were leaving our waitress shared on Wednesday nights they have "All you can eat catfish fillets," which sounds amazing! Third and lastly, decor!
Red Bird Cafe
is just so cute and lovely. It is open and bright with fun decorations like a hanging bicycle on the wall. It was also exceptionally clean, which I love! The exposed beams and ducts on the ceiling and cement ceilings give it an industrial look yet it is really homey and comfortable as well. I believe it used to be an auto shop and it is crazy how they made it into such a beautiful restaurant. [caption id="attachment_10945" align="alignleft" ]
Beignets[/caption] Overall, we highly recommend this restaurant.  We can't wait to go back and explore so many more options on their menu! Red Bird Cafe is located in downtown Dayton, Indiana. For more information about Red Bird Cafe and other wonderful
restaurants
in Lafayette-West Lafayette, visit us at
www.HomeOfPurdue.com