[caption id="attachment_4636" align="alignright" ]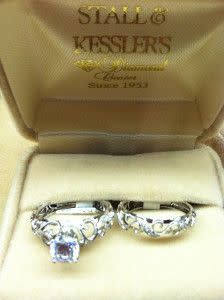 Isn't this so beautiful?![/caption] With Valentine's Day just a week away you might be on the prowl for a special gift for your sweetie! Or maybe you're looking for a one of a kind gift for yourself? Whatever you're shopping for Stall & Kessler's is the perfect place to find a beautifully handcrafted ring, earring set, or necklace. This shop offers a range of products from diamonds to colored gems and even cultured pearls. Ashley Gregory, Visit Lafayette-West Lafayette staff member, shares she has been very happy with her experience at Stall and Kessler's. She shares; "Stall and Kessler's has been a family tradition of sorts, my parents got their wedding rings there over 30 years ago and a 2nd cousin of mine, Eleanor, who is more like a grandmother to me was always there getting jewelry through my life. She has also had many custom pieces made over the years starting with jewelry of her mother's and aunt's that she didn't really care for and hadthose pieces melted down and disassembled to create something she loved.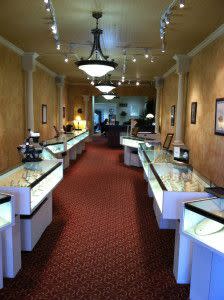 I remember as a child it was fun to make a trip to Stall and Kessler's with Eleanor, looking at all the sparkling jewels in all the cases and dreaming of one day having enough money to purchase one of those pieces myself. Well, my day finally came!  My fiancé had gotten my engagement ring at an online retailer and got something I loved but I'm pretty anal about things I guess and wanted a wedding band that fit right up against my engagement ring with no gaps. Well, we weren't having any luck and trust me we went through all the rings in the cases at Stall and Kessler's and many other jewelry stores. One day, someone in Stall and Kessler's suggested that we have something custom made. This was perfect for me! I got exactly what I wanted! They took my engagement ring and made a mold of it then shaped a model of the wedding band for me to approve. It was perfect!  It fit right up against my engagement ring with no gaps! I was so excited! I was also able to have a few very small diamonds placed in my wedding band. I remember they ordered the diamonds and then I was able to come in and look at them to make sure I'd like them before they placed them in the ring. We were very happy with the final results as well, it was so neat to see the ring from start to finish and it makes me appreciate the jewelry in those cases a little more.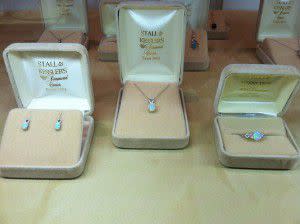 We have been very happy with their customer service as well when we go in to have my rings cleaned  and replated occasionally (they are happy to clean and service my engagement ring too even though I did not purchase it there). Best of all, I know my ring will last for a very long time to come and if anything ever happens to it I know there will be someone there that can help." First founded in 1953 by John M. Stall as a small repair shop, Stall & Kessler's has since become one of downtown Lafayette's jewelry destinations! Built on decades of experience, Stall & Kessler's shines with their unsurpassed customer service and jewelry excellence. The staff at Stall & Kessler's Diamond Center includes Indiana's only Master Graduate Gemologist, two GIA Diamond Graders, two GIA pearl graduates, and three GIA Retail-Jeweler Graduates. With a staff of experts on hand you know you're in for stellar shopping experience.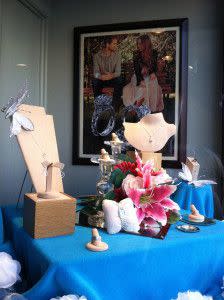 Stall and Kessler's Diamond Center is a member of the Independent Jeweler's Organization and Jewelers of America. The Independent Jeweler's Organization is an elite group of handpicked retailers who are educated in and adhere to ethical business standards and practices. Specializing in loose and mounted diamonds, all of the products at Stall and Kessler's have been hand selected by master jewel crafters. Not only are you receiving a unique, quality product, but all of the merchandise at Stall and Kessler's Diamond Center is "conflict free." Whatever you are in the market for, Stall and Kessler's sells only top-notch, ethically purchased jewelry. For a third year in a row Stall and Kessler's Diamond Center has been voted Lafayette's best jewelry store by the Journal & Courier's Reader's Choice. An impressive achievement by anyone standards! It's not hard to find fine jewelry in the Lafayette area with Stall and Kessler's, located at 333 Columbia Street. Stall and Kessler's features a variety of fine jewelry for that special someone in your life. From designer collections to custom pieces and an extraordinary exclusive collection, Stall and Kessler's has a piece that will be just perfect for your relationship's next milestone or just to let someone know you care.