[caption id="attachment_878" align="alignleft" caption="Interior Objects--I purchased one of these prints for a friend's baby shower!"]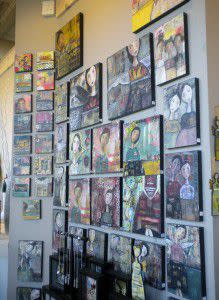 [/caption] 2 Great Cities, 1 Great University, Be a Tourist in Your Own Backyard!  Vacation, Relaxation, Fun; one image that comes into our heads is sand, sun and water.  Locals travel south to find their peace and quiet, while adventure, history, the arts and entertainment, and more, can be found in our own backyard.  
Lafayette-West Lafayette, Indiana
, is home to a super–size–mall, numerous shopping plazas, antique stores and our
eclectic downtown
offering over 75+ storefronts! Wikipedia definition of shopping:
Shopping
is the examining of goods or services from retailers with the intent to purchase at that time.  But we know it is so much more than that!  It is going out with girlfriends, mothers, kids (and even our husbands, dads, and guy friends!) to purchase the perfect gift for someone special.  Or we shop to select the perfect outfit for a party or special event.  We window shop and/or peruse the stores with no intention to buy, but to get decorating tips and ideas for gift-giving. My husband always teases me because when we first started dating I told him I do not like to shop. I always equated shopping with purchasing, which I guess is the true definition.  I am a pretty frugal person and unless I absolutely need something I will not buy it.  But I love to go to the local stores and peruse. So in essence, I do like to shop.  (It just has to be a great deal for me to have the true intention to purchase!) Lafayette-West Lafayette, Indiana, has
antique stores
,
malls and plazas
, boutiques and
super stores
!  Our downtown area alone has over
75 storefronts
that offer great
restaurants
, specialty shops and boutiques, and locally owned businesses.  If you need an outfit to wear to the
Super Bowl
or for a Super Bowl party, look no further because I am sure out of our many shops you can find the perfect choice.  Need a house-warming thank you gift to give to your Super Bowl host/hostess?  Our stores have an endless array of goods that will make the host/hostess exclaim with happiness! For more information about all our shops visit  
http://www.homeofpurdue.com/supercelebrationsite.html
 and click on "Super Shopping".