[caption id="attachment_5247" align="alignright" ]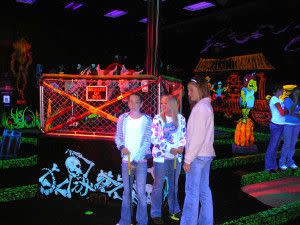 Monster Mini Golf[/caption] It's summertime in the Lafayette-West Lafayette area! School is out and campus is quite empty. Therefore, I've had to broaden my horizons and try new activities throughout this summer. I soon discovered that it's extremely easy finding fun new things to do around the area. I have thoroughly been enjoying a variety of different endeavors and pushing myself out of my normal boundaries to experience all new things. This summer has been a bit rainy; however, that doesn't mean the fun has to end!
Monster Mini Golf
is where I usually head on those days where the rain never seems to cease. On my first trip there, I parked and thought to myself, "This building is so tiny. How could they possibly fit a miniature golf course in there?" However, I walked in to a big, lively area with welcoming employees. To my surprise, not only is there a decked out miniature golf course, but an arcade as well. One of my favorite features about the building is that the regular lights are all dimmed and you travel through the course with the assistance of black lights around every corner. Make sure you wear white or neon colors to glow throughout the whole facility! The course is full of fun obstacles and unique touches to make it one of a kind. As you stroll from hole to hole, you come face-to-face with monsters of all types but beware! There are surprises along the way. Although I really enjoy miniature golfing, my skills would make you think otherwise, but that's OK! Monster Mini Golf understands the struggle and always gives the loser a free pass to come back and touch up on their putt-putt skills, which I greatly appreciate! Everyone ends up winning in the end. Another miniature golf course that I plan on hitting on a nice, sunny day is
Precision Putt Plus
to further sharpen up my skills. [caption id="attachment_5253" align="alignleft" ]
Disc Golf![/caption] One activity that is extremely new to me is
disc golfing
, but ever since I've discovered it, I have been wondering where its been my whole life?! Although it is yet another sport that I may not be the best at, it is so fun that it doesn't even matter how well you play! One of my favorite things about disc golf is the scenery. All of the courses I have played on have been in beautiful, woodsy areas. Not only is it pretty, but the surroundings also add fun obstacles to it. However, I have thrown a disc or two into the middle of the woods or in ponds, but my lovely boyfriend is always kind enough to retrieve them for me. It is also deceivingly quite a workout, which is never a bad thing! I could use the exercise, and my favorite kind of exercise is the type where you don't even realize you're working out! After walking through trails and hills to get to each hole and throwing discs upon discs, your body will be getting a decent workout. My personal favorite course so far has been Murdock Park due to its landscape and friendly fellow disc golfers. However, its fun to add variety and add new challenges by playing at different parks around Lafayette such as Slayter Hill at Purdue, Faith Community Center, or Ross Hills Park. An exploit I still have left to undergo is
paint balling
. As I mentioned before, I may not be the best at sports, but this is one where I feel as if I should train before heading in. Unlike the other activities, this one involves me getting hit by items. Clumsy, awkward, scaredy-cat me, needs to brace myself for such an exhilarating time. I'm very excited to take part in it, and I'm hoping it will toughen me up. I'll be venturing to Arrows III & Tackle Too in the near future to push myself out of my comfort zone and make a fun summer memory. It seems like sweet summertime is flying by so fast, so I plan to make the very best of it by trying new things and journeying to different places! It will be yet another unforgettable summer to add to the list. I encourage you to step outside of your normal activities and try something new. You never know what new hobby you may come across! This blog was shared by Visitor Information Specialist, Kaley.  For more information about these activities and more in our area visit our website at www.HomeOfPurdue.com.