Purdue Student, Julia, shares her summer experience shopping and antiquing in Lafayette-West Lafayette. Summer time in Lafayette-West Lafayette is by far the most nostalgic and peaceful time I can think of.  Growing up in the area provided a wonderful education and a perfect place to be a family, and now as a graduate student I can enjoy Lafayette-West Lafayette for the entertainment possibilities and community festivals!  To start off the summer right and take a break from an intensive summer course, I took part in one of the best weekly summer activities, the downtown Saturday morning farmer's market! I woke up early on Saturday and met some friends at the farmers market downtown.  Buying local produce during the lush produce season is a fun variation from every day grocery shopping and opens a door to what others in the community are able to produce! I bought two types of cheese from a small stand before making my way over to First Class Clutter, an antique store a few blocks from the farmers market.  I have quite the weak spot for our local antique stores because they offer a variety of odds and ends. Today's trip was unique because I found some bright blue beaded costume jewelry that will look perfect with a new outfit I recently purchased. One of the newest additions to downtown that I visited for the first time on our Saturday morning stroll was a bookstore called Robots and Rogues.  This is a must-see place for those with a taste for science fiction, fantasy, graphic novels or delightfully nerdy shows.  I loved this store because they had a Dr. Who book series out and a graphic novel of Serenity.  This book store has a very different and quirky character that is rare downtown.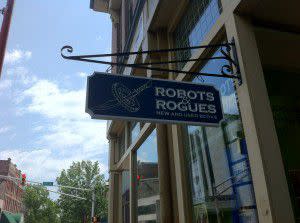 Being downtown makes it irresistible from stopping at a wonderful wine and cheese restaurant called Main Street Cheese and Wine.  Fun fact, my friends and I did the website for this shop when we were seniors!  The owner, Ivan, is a kind and knowledgeable man who graciously worked with Purdue hospitality students on a business media project.  Stopping by to support his business by sampling local, delicious cheeses and refreshing, creative wine is the least we could do! [caption id="attachment_2087" align="alignnone" ]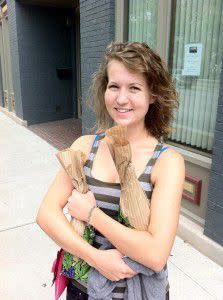 Spiced Apple Wine[/caption]   The last stop on our morning trip was a coffee shop I had never seen before.  K.Dee's coffee is a place to bookmark if you are a coffee-lover!  The prices were startlingly low for the good quality product and inviting atmosphere.  From the outside, the coffee shop does not look like much, but the inside has a look and feel that makes you wish you were an author.  I ordered a simple iced Americano, and it was a perfect end to a warm, sunny Saturday perusing new places around my hometown!