[caption id="attachment_2976" align="alignright" ]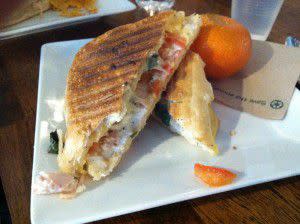 Star City Turkey Panini[/caption] Happening Now!  Ale and coffee; combined makes a powerful connection. Right now, the talk around town is about a new hip and fresh restaurant,
Star City Coffee and Ale House
, that just opened this past December serving fresh brewed coffee and local brews.  Visitors pick up a cup of java, as well as fresh muffins, cupcakes, panini pressed sandwiches and more. What is better than starting the day off with a cup of coffee?  The answer could possibly be ending the day with a glass of espresso coffee beans ale.  Star City Coffee and Ale serves an "
Agent Oats Coffee Stout
" from
People's Brewing Company
that is infused with their own espresso coffee beans.  I personally am not a big beer drinker, but add a little espresso, and it makes me happy!  I get more excited about their "
Pourover
", which is a coffee brewed in their regular French press.  French pressed coffee is a savory in my life.  It is so smooth, refreshing, and awakening. Lunchtime is the perfect time to head to Star City Coffee and Ale to order one of their five panini pressed grilled sandwiches with fresh fruit, and pita or sun chips.  The "
Star City Turkey
" is already one of my favorite sandwiches; it is filled with garden herb turkey, cream cheese, basil, tomato, smoked mozzarella and chives.  The panini grill toasts the bread to the perfect crispness, and the cheeses all melt and blend together with the turkey and herbs to create a delicious sandwich.  It is one of best panini's I have ever eaten!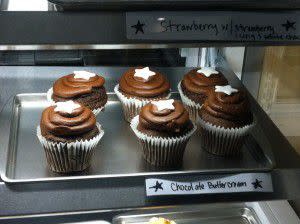 If you are in the mood for a sweet treat their cupcakes are amazing.  The hardest choice is choosing which flavor between chocolate buttercream, strawberry with strawberry icing and white chocolate, Italian cream with cherry and dark chocolate or strawberry cream cheese. (Please note these were the flavors they had on the day of my visit.)  A chocolate lover at heart, I could not pass up choosing the
chocolate buttercream cupcake
, which was moist, light and airy and had a decadent icing.  I was happily surprised to find extra icing in the middle of the cupcake!  The owner shared that a local lady from Battle Ground, Indiana, bakes these delicious treats and will soon be opening her own shop in Battle Ground. Whether you are looking for delicious dining, interesting attractions and shops, enticing events or home away from home lodging—a getaway to 
Lafayette-West Lafayette, Indiana
, is sure to satisfy.  For more information about this restaurant and others in the area, visit our website at 
www.HomeOfPurdue.com