[caption id="attachment_9956" align="alignright" ]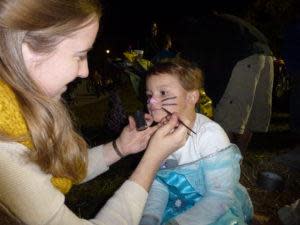 Boo at the Zoo[/caption] It's a scary, spooky Halloween Update! Do not miss these fun Halloween activities in or near Lafayette-West Lafayette, Indiana.
Exploration Acres

When: October 26-29, Thurs. 6-10pm, Fri. 6pm -11pm, Sat. 10am – 11pm, Sun. Noon – 7pm
Where: Exploration Acres, 6042 Newcastle Road, Lafayette
Details: Once you arrive you can warm-up with a quick run through the straw bale maze, then visit the 18 acre corn maze with over 8 miles of twists and turns (the largest corn maze in northwest Indiana!)! You can test your skill at a pedal car race, fire a three-ear corn cannon salute or just dive into a mound of hay. There is a pumpkin patch, hay rides, and picnic area with fire pits.  Enjoy a gem mine, pony rides, and pumpkin decorating/race.

The Great Pumpkin Patch

Today-October 31, 11-7pm
Where: Congress Street Church, North Parking Lot, 2012 Congress St., Lafayette
Details: Visitors can shop for pumpkins, gourds, fall decorations, bake sale, mums and more. [caption id="attachment_9957" align="aligncenter" ] Great Pumpkin Patch[/caption]

Evil on Erie (Haunted Warehouse)

When: October 26, 27, 28, 7 p.m.-12 p.m.
Where: Haunted Warehouse, 1910 Wilson Street, Lafayette
Details: Haunted Warehouse - be prepared to be scared!

Maverick Monster Mash

When: Thursday, October 26, 6-8pm
Where: McCutcheon High School, 4951 Old 231 South, Lafayette
Details: Indoor Halloween Carnival. Join the MHS teams for games, prizes, candy, and music! Cost: $5/one child, $8/two children, $10/three or more. Don't forget your costume.

Haunted Adams Mill

When: October 27, and 28, 6-10 p.m.
Where: Adams Mill, County Road S. 75 E., Cutler, IN – See website for directions
Details: Each year around Halloween, the Mill is decorated and becomes a haunted, scary place.  Hundreds of visitors come from near and far to be scared!  Guided tours through the ghostly three floors of the Mill reveal many spine-tingling experiences. Outside, tractor-drawn hayrides take visitors through the haunted forest and then down to the warm campfire. Warm drinks and other treats are available under the overhang at the front of the Mill.

Haunted House and Trick or Treat at St. Mary Healthcare

When: Wednesday, October 25, 6:30-7:30 p.m.
Where: St. Mary Healthcare, 2201 Cason St., Lafayette
Details: For ages 10 and under

Trunk or Treat at Calvary Baptist

When: Wednesday, October 26, 6:30-8:30 p.m.
Where: Calvary Baptist, 310 Kalberer Rd., West Lafayette
Details: Free! Trunk or Treat is a safe, free, and family friendly event for the whole community. Kids (and adults) can wear costumes and trunk or treat going from car to car in the church parking lot getting more candy! All of the Trunk or Treat activities will be outside. Hot dogs and drinks served. They will have indoor activities for children with autism and sensory disorders. Trunk or Treat area with games and pumpkin decorating.  Open from 6 - 7 pm. Please avoid scary or inappropriate costumes - there will be lots of little kids everywhere!

Boo at the Zoo

When: October 25, 26, & 27 (Wed, Thurs, & Fri), 6:30-9 p.m.
Where: Columbian Park Zoo, 1915 Scott St., Lafayette
Details: Boo at the Zoo will be back and better than ever this Halloween! This "hauntingly-friendly" event is perfect for your pre-school and elementary school-aged children. The event features a nightly kids costume contest, fun games, encounters with their Animal Ambassadors, photo keepsake opportunities, and the Enchanted Train Ride. The night of delights also includes live entertainment and the Columbian Park Kiddie Rides.

Mall-O-Ween

When: Thursday, October 26, 6-8 p.m.
Where: Tippecanoe Mall, 2415 Sagamore Pkwy. S., Lafayette
Details: Trick or treating at the Tippecanoe Mall. Line starts at entrance A by JCPenny. Don't forget to bring your bag, bucket or pillowcase to trick or treat around the mall. Please no full-face mask or painted faces on kids 8 and up. No toy guns or weapons of any kind.

Imagination Station's Annual Haunted Lab

When: Friday, October 27 5:30-8 p.m. & Saturday, October 28, 10-3 p.m.
Where: Imagination Station, 600 N. 4th Street, Lafayette
Details: Imagination Station will once again be transformed into a spooky, Halloween-themed lab. Kids will get to participate in several lab stations, each with it's own hands-on experiment. All kids will, of course, also receive a treat bag of goodies! Family Friendly Costumes are encouraged. Perfect for ages 2-13, but all are welcome!

Operation Trick-or-Treat with Friends of Downtown

When: Friday, October 27, 5-7 p.m.
Where: Downtown Lafayette Businesses (11th and Main down to Plaza)
Details: Operation Trick or Treat aims to introduce families to the downtown Lafayette & West Lafayette business community by way of trick or treating at independent businesses. Zombies in training, little ghouls and goblins are encouraged to trick or treat at participating downtown businesses.

BONZ Halloweentown 2017- Year of the Superhero

When: Friday, October 27, 6-9 p.m.
Where: Riehle Plaza | Downtown Lafayette
Details: BONZ Halloweentown - Year of the SUPERHERO & Friends of Downtown Operation Trick or Treat invites all ghouls and spooks to come for a night of family fun. NO cost to participate. Rain or Shine. Treats for every BODY. NO Spirits for the old ghosts but we suggest you hang around on both sides of the bridge and visit any of our community's fine eateries and pubs. 5:00 - 7:00 PM Merchants on Main Street hand out candy. (Riehle Plaza to 11th Street) 5:00 - 9:00 PM Halloweentown Community Dance with DJ Mr. Wendell and Monster of Ceremonies Lafayette's own...RICK MUMMEY!! 7:00 PM Costume Contest begins for Mayor's Choice Award, Best Duo, Most Creative, Best SUPERHERO, Weirdest SUPERHERO 9:00 PM SHARP Grand Finale Community THRILLER Dance on the Plaza [caption id="attachment_9959" align="aligncenter" ] Halloweentown[/caption]

Frankenhuffin Halloween Bash 2017

When: Saturday, October 28, 9-1 a.m.
Where: Sgt. Preston's, 6 N. 2nd Street, Lafayette
Details:G

Come on out to the third annual FrankenMuffin Halloween Bash at Sgt. Preston's! Don't miss out on the costume contest with special prizes TBD distributed at 11:00 pm. Ask about Sgt. Preston's "Spooky Specials". In costume or not, enjoy an awesome night of music and fun! Show starts at 9:00 pm, rocks on until around 1:00 am. 21+ venue. Best part: NO COVER!

Wolf Park Pumpkin Party

When: Saturday, October 28, 2 p.m.
Where: Wolf Park, 4004 E. 800 N., Battle Ground
Details: As part of our environmental enrichment program, designed to make their wolves' lives in captivity the best they can possibly be, Wolf Park celebrates the season of treats by distributing seasonally-themed munchies to their four-footed friends. For the Pumpkin Party, celebrated around Halloween each year, Wolf Park staff and volunteers create jack-o-lanterns filled with tasty, animal-friendly treats for the wolves, coyotes and foxes. Each animal gets his or her own but sometimes they are sure that another one is better than the one given to them, and will "swap" pumpkins with another animal, whether they like it or not! Guests will have the chance to watch the animals figure out how to get the snacks inside, or to try to figure out how to move or pick up a pumpkin that is very round and can roll. Each wolf approaches this environmentally enriched activity with his or her own special flair.

Trunk or Treat at Faith East Community Center

When: Tuesday, October 31, 6:30-8:30 p.m.
Where: Faith East Community Center, 5572 Mercy Way, Lafayette
Details: Faith East Community Center is excited to host its annual Trunk or Treat event. All of the fun of trick or treating in one safe, family-friendly environment. With over 50 stops, carnival games and bounce houses, and more candy than you can count – you are guaranteed to have a great time!

Pumpkin Palooza [caption id="attachment_9958" align="alignright" ] Halloween Fun![/caption]

When: Tuesday, October 31, 6:30-8:30 p.m.
Where: Connection Point Church, 2541 Cumberland Avenue, West Lafayette
Details: Games, hayride, inflatables, and more! Free event for kids up to age 11

Lafayette Trick-or-Treating

When: Tuesday, October 31, Dusk to 9 p.m.

West Lafayette Trick-or-Treating

When: No mandated date, but usually observed on Halloween.
For more information about these scary, fun events, please visit HomeOfPurdue.com.

Save

Save

Save