[caption id="attachment_3886" align="alignleft" ]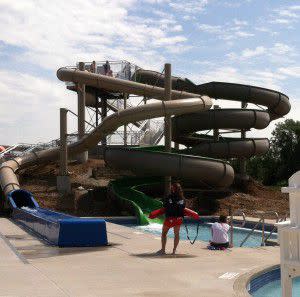 Check out the water slides![/caption] Happening Now! Right now, the talk around town is about Prophetstown State Park's newest addition, an outdoor aquatic center!  What is a better way to beat the summer heat than heading to the pool? This aquatic center has pools, slides, splash stations, and much more to entertain the whole family.   July 1, 2013, marked the dedication and opening of the 
Prophetstown State Park Aquatic Center
.  This newest attraction located in Indiana's newest state park is drawing visitors from all over to enjoy all of its wonderful features.   These include two 30-foot water slides, a Lazy River area that spans an equivalent of two football fields, an adventure channel, a zero-entry pool with play features and an aquatic activity area with basketball. Also, the park features glacier boulders and many types of native plants and trees in an effort to preserve the past. [caption id="attachment_3888" align="alignright" ]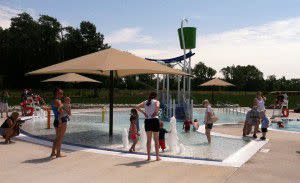 Within 5 minutes of the grand opening, the kids were making a splash![/caption] I attended the dedication ceremony on July 1, and was amazed at everything the center has to offer.  It is truly one of the nicest, top-of-the-line
water parks
I have ever been to.  Unfortunately, I did not wear my swimwear, but did have a chance to slip a foot in the water and it felt cool and refreshing!  As soon as the ribbon was cut, and the sound of the official whistle was blown, children (and adults) scrambled to jump into the water.  It was a fun site to see.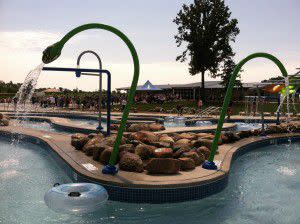 Looking for an inexpensive, family friendly place to take the kids?  First, the entry fee into the aquatic center is
$5 per person
and children under three years old are free.  Please note there is a fee to get into the park.  The fee is $8 for  noncommercial vehicles with Indiana license plates and $10 for noncommercial vehicles with out-of-state license plates.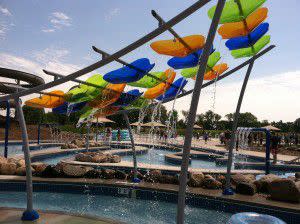 Whether you are looking for delicious dining, interesting attractions and shops, enticing events or home away from home lodging—a getaway to
Lafayette-West Lafayette, Indiana
, is sure to satisfy. For more information about this restaurant and others in the area, visit our website at
www.HomeOfPurdue.com