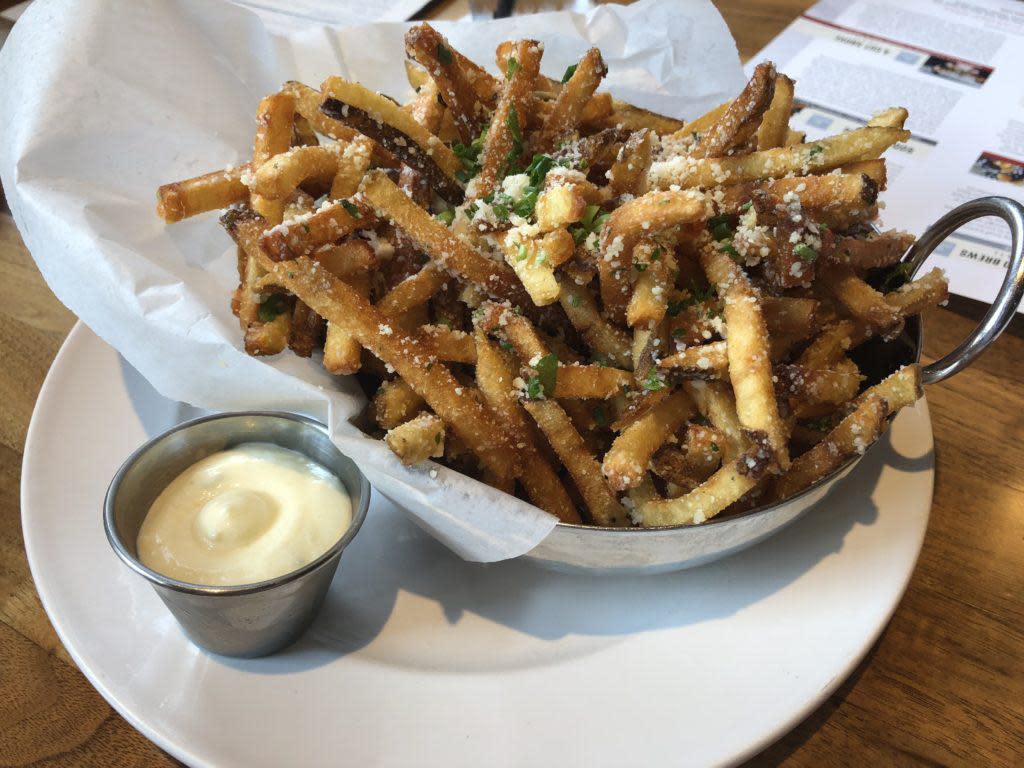 Walking down Main Street in historic downtown Lafayette you will come across many wonderful local businesses and restaurants but one that really stands out is the
East End Grill
. As it states in the name, it's on the East End of Main Street between 10
th
and 11
th
Streets. As you walk by, you are welcomed by inviting outdoor seating and stately lanterns on the front of the building. As you enter, you see a large open area decorated with industrial, urban features. This is something you would expect to see in a larger city such as Chicago or Indianapolis. The owners really wanted something urban and modern but also something that was classic and would blend well with the block's history. The buildings on that block date from the 1870's after all. The food here matches the atmosphere, with a more upscale feel than most places yet still casual. The owner has traveled across the U.S. but has spent most of his career in the South. Therefore, you will find, many of the dishes has a Southern flare, such as their famous
Shrimp and Grits
and another guest favorite, BBQ Ribs. [caption id="attachment_10776" align="alignright" ]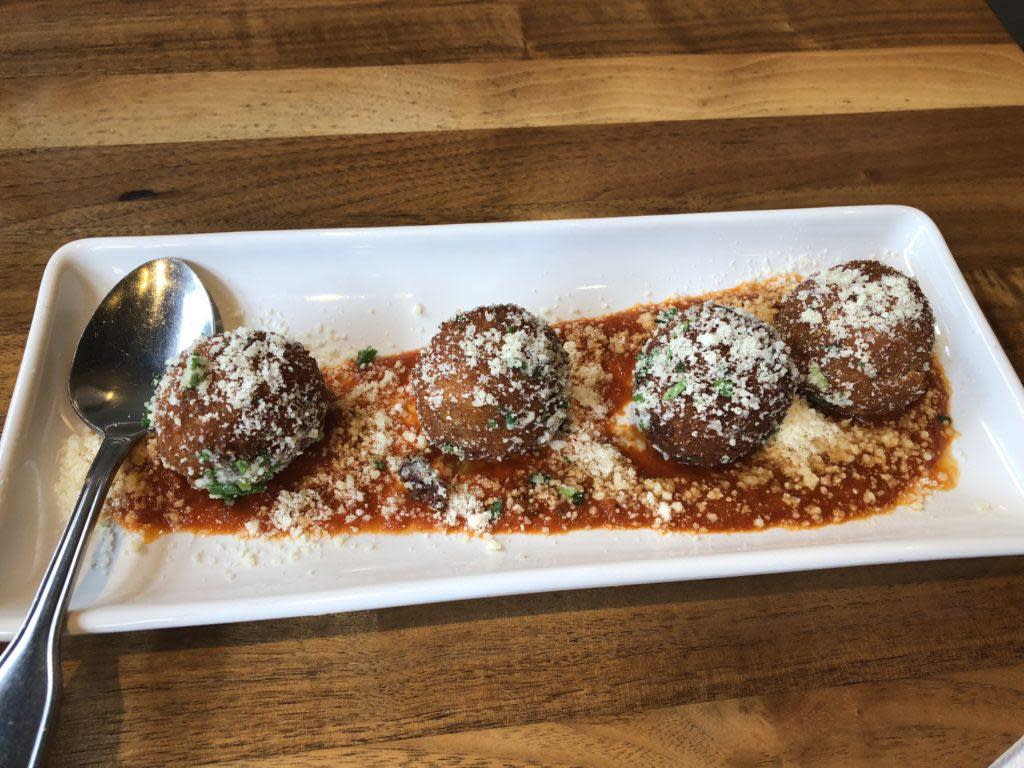 East End Grill Arancini Balls[/caption] While there, our group ordered a good mix of items. To start we tried a couple appetizers, the House Cut Fries and
Arancini Balls
. The tables at East End are designed to be a bit larger than usual with sharing in mind, which is exactly what we did with the appetizers (and of course we tried each other's meals too, they were too good not to share!). The House Cut Fries were perfectly cooked, thin cut fries. Crisp on the outside and smooth and soft on the inside dusted with parmesan and herbs. The fries are served with a wonderful roasted garlic aioli dipping sauce, which in our opinion was so much better than ketchup. The Arancini Balls are lightly battered saffron risotto balls covered with house made Bolognese sauce and served over Pomodoro sauce. Again, it was crisp and crunchy on the outside yet smooth and creamy on the inside. We loved the flavor and the texture of these balls. [caption id="attachment_10777" align="alignright" ]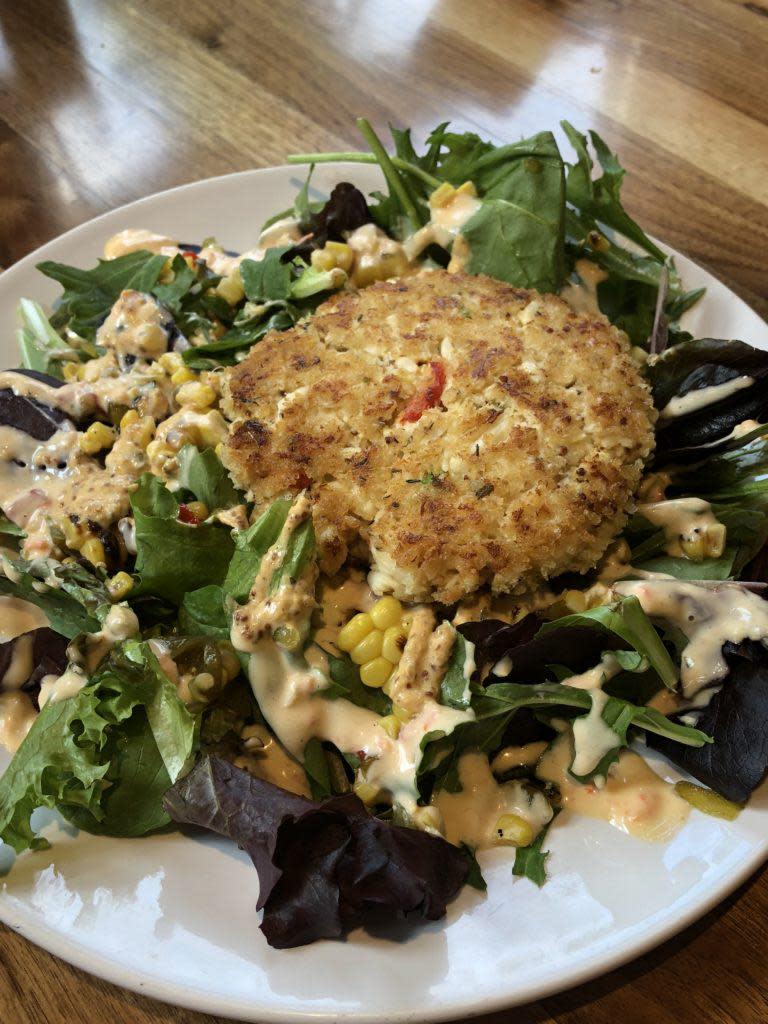 East End Grill Crabcake Salad[/caption] After the appetizers we were getting pretty full, yet we couldn't resist the entrée items. We each had something different; the
Crab Cake Salad
, Shrimp and Grits and the East End Burger. The Crab Cake Salad was a large, meaty, flawlessly crisp lump crab cake served over field greens and corn salsa. The dressing is a Remoulade and Roasted Red Pepper Aioli, which was sweet and creamy. This dish was full of flavor and really made an otherwise boring salad, something exciting, fun and filling. The
Shrimp and Grits
was [caption id="attachment_10779" align="alignright" ]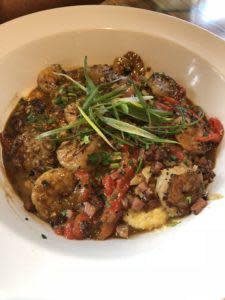 Shrimp and Grits[/caption] delicious! I'm not a grits person at all and usually curl my lip at it, but my friend encouraged me to try this and I was very surprised. The flavor was amazing and the texture, which is usually what gets me, was silky and smooth. It does have a bit of a kick for my very wimpy palate, but I would even consider ordering it in the future. It was very cheesy and served with smoking goose tasso ham, roasted red peppers and green onions. My friend just calls it "yumminess!". Now for the
East End Burger.
The presentation of this burger is fantastic. I had to pause a moment to figure out how I wanted to eat it as it was as tall if not taller than my hand turned on its side. The meat and other toppings were perfectly and evenly portioned. A huge slice of tomato and large chunky slice of sweet pickle topped Applewood smoked bacon, 8 ounces of prime beef, cheddar cheese and baby greens. The flavor was amazing, I couldn't help but lick my lips to make sure I got every morsel of flavor after every bite.  We are told that the Wagyu Burger is even better than the regular East End Burger. While they were not offering the Wagyu Burger the day we were there, we are told it will be back on the menu very soon. We can't wait to try that one as well. [caption id="attachment_10780" align="alignright" ]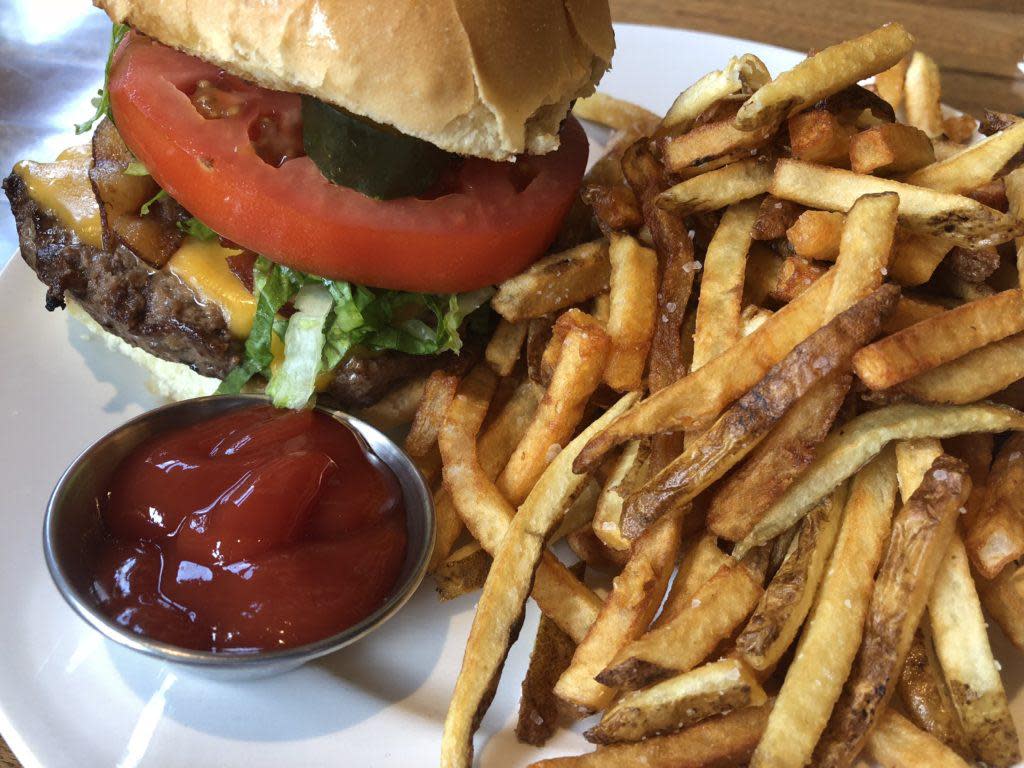 East End Grill- East End Burger and Fries[/caption] We walked out of East End Grill fully satisfied and very pleased with our meal. We cannot wait to return and try some of the other offerings such as the Cutting Board, Wagyu Burger, Pan Roasted Salmon, East End Pastrami Cobb Salad and the BBQ Baby Back Pork Ribs, not to mention the dessert items! We were too full for dessert, but they sounded delicious!  There is a good variety of menu options for everyone, but they are also very open to working with special diets or religious beliefs that prohibit certain items. Those that like to make dining reservations can easily do so with East End Grill's online reservation system powered by
RESERVE
, found on the homepage of their website or social media pages. I know I will be going back very soon! If you go, be sure to tell us what you loved!