[caption id="attachment_882" align="alignright" ]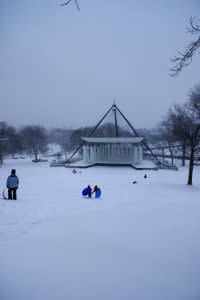 Sledding at Slayter[/caption] Happening Now!  Planning a stay in
Lafayette-West Lafayette, Indiana
, area? Whether you are looking for delicious dining, interesting attractions and shops, enticing events or home away from home lodging—a getaway to Lafayette-West Lafayette, Indiana, is sure to satisfy. Right now the locals are talking about
sledding
at Slayter Hill, Happy Hallow Park & Murdock Park. What is better in the winter time than sledding down a steep hill screaming and laughing?!  Some of my best childhood memories are going sledding with my dad and my best friends.  We would get all bundled up, grab our sleds and head to the great outdoors full of snow and white wonder!  Our bright red cheeks would smile with happiness and glee as we swiftly sled down hills competing who could reach the bottom first.  The friend with the most wins would achieve the great honor of getting the first
homemade peppermint hot chocolate
from
McCord Candies
. Lafayette-West Lafayette, Indiana, offers 3 amazing sledding hills; Slayter Hill, Happy Hallow Park & Murdock Park. 
Slayter Hill
is located on Purdue University and sledding on this hill has become a Purdue tradition. My husband said during his 4 years at Purdue University he never missed a winter season of sledding with his buddies at this popular sledding destination. 
Happy Hallow Park
offers the Tube Run.  It is known as the "fast and long" trail of the Lafayette-West Lafayette area.  The only hill in the area with a man-made snow machine is
Murdock Park
.  The good news is even if there is no snow in the forecast and the weather remains cold, the hill can be coated, allowing for extended sledding.  I remember in college coming home to visit my family and I saw my best guy friend from grade school zooming down this hill!  All ages come out to enjoy these fun sledding experiences. For more information about sledding and other fun,
free winter activities
in Lafayette-West Lafayette, Indiana, check out our website at
www.HomeOfPurdue.com
.