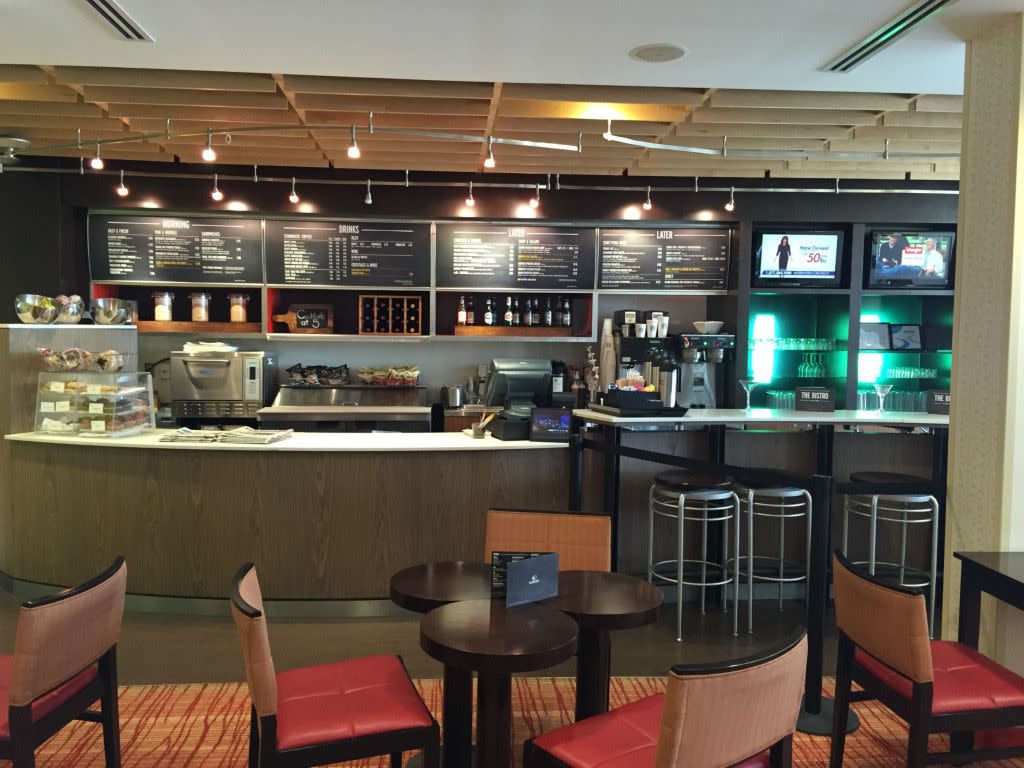 Quietly situated in the lobby of the Courtyard by Marriott in Lafayette, is a small bistro with a lot of character. The Bistro is the stomach behind the hotel. From breakfast to dinner to late night drinks, The Bistro has you covered for almost every meal! The seasonal breakfast special right now is an egg white frittata. It looks absolutely beautiful to the eye, but is even better once it hits your mouth! With all of the healthy vegetables on top of a fluffy egg white, you couldn't ask for much more out of a meal to help you get your morning started! Other selections at breakfast time include eggs cooked in many styles, granola and yogurt, as well as smoothies! The best part of breakfast is the Starbucks Coffee! They can make almost any drink imaginable with the Starbucks ingredients!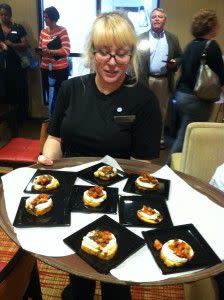 For dinnertime, guests of the hotel along with the public, can enjoy the wide array of menu items. Starters and shares, soups and salads, and entrees are all included on this concise yet diverse menu. However, the ever-changing desserts are what pull at me the most! So many warm desserts to choose from on any given day cannot be passed up. The drink menu at The Bistro is also quite inclusive. They serve beer, wine and liquor in the evenings. In addition to the seasonal menu items, The Bistro also has seasonal drink specials. Currently the seasonal drink is a Jameson Cherry Sour. That sounds like the perfect way to cool off on a hot Indiana summer evening! My absolute favorite part about The Bistro was the outdoor patio. The patio has different types of seating to fit all leisure needs. The fire pit is the perfect place to tell stories while sipping on a summer cocktail. The waterfall and landscape is peaceful, relaxing and Zen. It is a great place to host small gatherings or meet up with a few friends to catch up.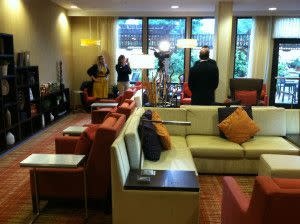 The Courtyard is nearing the end of some major renovations. Additional guest rooms along with a brand-new conference center are being added. The kitchen staff who cook for The Bistro are now going to have a second kitchen space to work their magic. The Bistro will definitely see a positive impact with these additional amenities. Breakfast is served from 6:30am until 9:30pm. Additionally, The Bistro is open for dinner and drinks from 5:00pm until 10:00pm. Head to The Bistro at the Courtyard by Marriott for something new! Rachel, Visit Lafayette-West Lafayette Intern and Purdue University Student, shares this blog.