[caption id="attachment_10976" align="aligncenter" ]

Lafayette Citizens Band - Photo by Dave Schmidt[/caption] Labor Day Weekend is upon us! Wow, this summer has flown! Check out these seven, superb free events to do this weekend in Lafayette-West Lafayette!
The air in downtown Lafayette will be filled with the smell of fresh garden flowers, baked goods, vegetables, fruits, plus honey, jams and jellies on Saturday, September 1 at the Historic Downtown Farmers Market.
Three stages of music, outdoor food, beer, and wine sales as well as street performers, sidewalk chalk and hand made Hula hoops, Drum circles and DJ's, belly dancers, and balloon animals. Where? Mosey Down Main Street on Saturday, September 1.
Live Music with Travel Kearney at Star City Coffee and Ale House on Saturday, September 1. Enjoy live music in English and Spanish. Originals and Covers from the 50's to today.
Traveling Broke and Out of Gas celebrate the release of their 4th full length studio album, 'Bastard Americana'. Free show on the patio at Digby's Pub with VERY special guests, The Hooten Hallers, on Saturday, September 1.
Art Exhibits: Explore your artistic side at Artists' Own, featuring the exhibit "Art From the Loom".  The last day of this exhibit is Saturday, September, so don't miss out! Also, do not miss a visit to the Art Museum of Greater Lafayette featuring 4 diverse and interesting exhibits. And lastly but not least, Purdue Galleries present the exhibit: Guerrilla Girls: The Art of Behaving Badly
Saturday marks the 37th Labor's Family Day Picnic at Columbian Park. The event includes free park rides, zoo, games, prizes, live music, rock climbing, face painting, a dunk tank, clowns and the Kroozers Car Show.
The Lafayette Citizen Band plays and celebrates the end of their summer season at their Labor Day Concert on Monday, September 3.
[caption id="attachment_10977" align="alignright" ]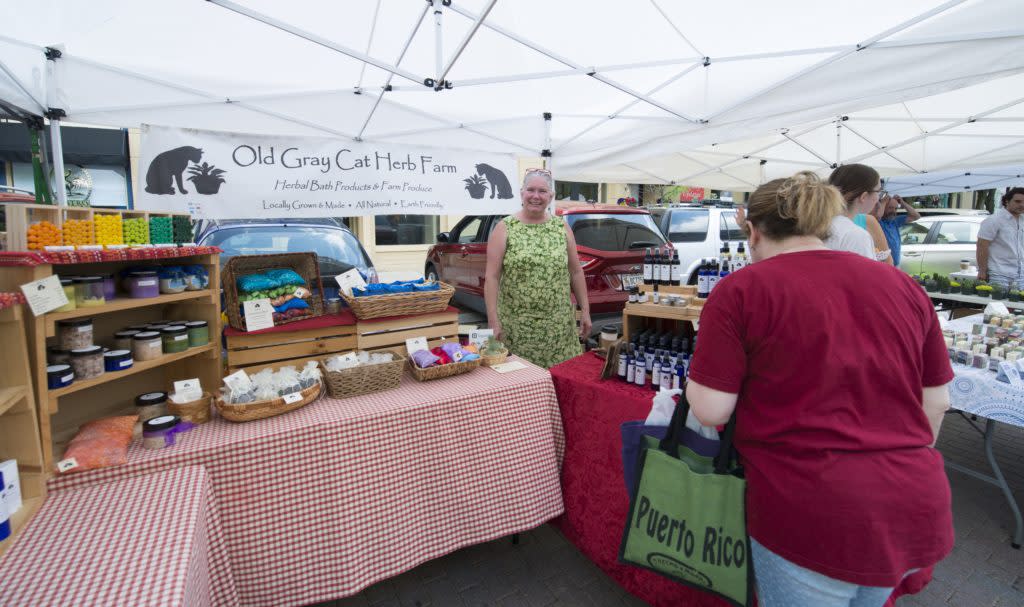 DT Farmers Market - Photo by Dave Schmidt[/caption] Have a fun and safe Labor Day!  For more information about these events, visit HomeOfPurdue.com.