[caption id="attachment_1929" align="alignleft" caption="Mo'Fo Cluck Lite with Mac n' Cheese!"]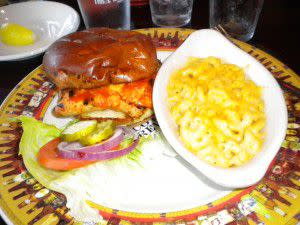 [/caption] 2 Great Cities, 1 Great University "Midwest Hospitality".  To experience "Midwest Hospitality" at its finest, visit
Scotty's Brewhouse
for not only fabulous service, but delicious bar food!
Scotty's Brewhouse
holds many special memories in my heart.  I am a graduate of Ball State University, and Scotty's original restaurant first opened in Muncie, Indiana.  This restaurant/bar was where I met up with friends to hang out, had my first beer, and would take my parents to dine when they visited.  My favorite memory is meeting up with my sister (who is 3 years older and was a senior when I was a freshman) and her friends and listening to their
college
tales of fun!  Scotty's is so laid back and relaxing that this location holds the perfect combination of good food and atmosphere to make the night a fun one. When I moved to the Lafayette-West Lafayette area a few years ago, I was so excited West Lafayette claims its own Scotty's Brewhouse!  I would almost say it is becoming an
Indiana classic restaurant
, where all the great cities in our state can now boast they have one.  I believe the reason they have expanded throughout the state is not only because they have good food, but when you visit this place, you always know you are going to have friendly,
Indiana hospitality
and service. Their menu encompasses everything from
burgers
(made a million different ways!) to salads to wonderful homemade soups.  A family favorite of ours is their dill chips.  It is the first thing we order every visit.  They have a
mo'fo sauce
(their signature sauce) they add to many menu options and it adds a kick to the meal that is wonderful.  My husband and I go through stages where we will eat something again and again until we can't eat it for a year.  At this time Buffalo chicken wraps are our craving and the
Mo'Fo Buffalo Chicken Wrap
from Scotty's is amazing! Living in
Lafayette-West Lafayette, Indiana
, one thing we value is customer service and appreciating the times we receive great customer care.  Midwest Hospitality is Lafayette-West Lafayette, Indiana.  We are  proud of our local restaurants that provide gracious and friendly service. For more information about this restaurants and others in the area, visit our website at
www.HomeOfPurdue.com
.