[caption id="attachment_1420" align="alignleft" caption="Only word to describe the space, "WOW""]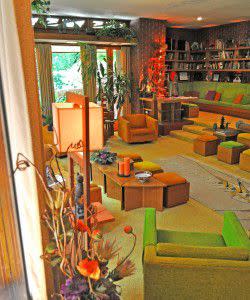 [/caption] 2 Great Cities, 1 Great University, Be a Tourist in Your Own Backyard! 
Lafayette-West Lafayette, Indiana
, is home to Samara, a home built by one of the greatest architects of the twentieth century,
Frank Lloyd Wright
. So many times in life we take for granted the places around us.  When we think of architecture, the image of the Parthenon in Greece or Stonehenge in England, jump into our heads.   These places are amazing, but the opportunity to see them may not ever be possible.  But the comforting news is, within our own community, we have an architectural masterpiece,
Samara
.  It is a hidden gem located in West Lafayette, Indiana. Samara was built in 1954 for John E. Christian to entertain 
Purdue University
faculty, students and community-minded people.  World renowned architect, 
Frank Lloyd Wright
, designed this home on a  four-foot square grid, using cantilevered surfaces to create a new sense of space. He used his unique combination of design principles (Usonian architecture) to build a 2,200 square foot home in a way where every room received as much light as possible.  The living and dining rooms, and the master and guest bedrooms, open onto the terrace and
lanai
, through floor to ceiling French glass doors, which are oriented in a southeastern direction for maximum sun exposure.  This natural light  and openness allows for a sense of nature and space being one and the same. Travelers and locals have the wonderful opportunity to visit and tour this home, still owned and occupied by Dr. Christian (the original owner).  Open April through November, private tours are available by directly contacting
Linda Eales, the Associate Curator. 
Reservations are required and generally in groups of 10 or more. A CVB staff member, Ashley, shares, "Samara is such an awesome place, with such a great story behind it.  I wish I could visit more often!" Do not miss the chance to visit this bit of historical architecture that is literally in our backyard! [caption id="attachment_1421" align="alignright" caption="Samara interior living room rug"]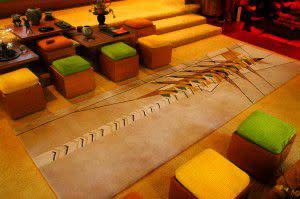 [/caption] Locals travel far away to find their peace and quiet, while adventure, history, the arts and entertainment, and more, can be found in our own backyard.  For more information about this home and other historical places in Lafayette-West Lafayette, Indiana, visit our website at
www.HomeOfPurdue.com