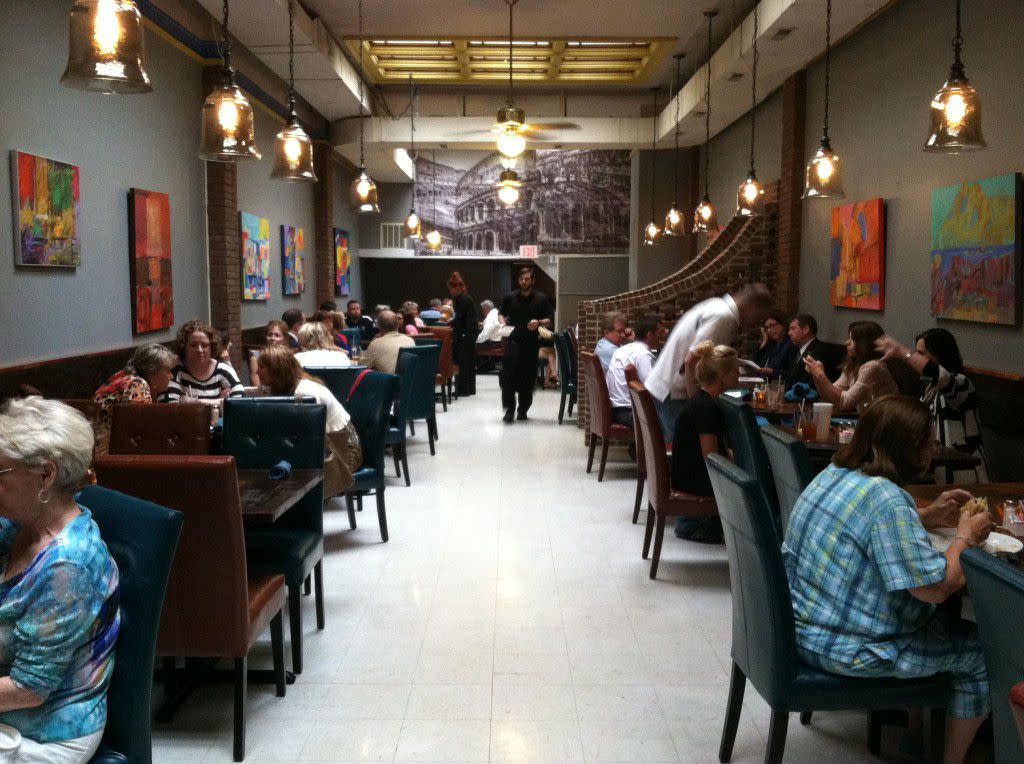 Happening Now! Right now, the talk around town is about the new decor (but same great food) at
La Scala Italian restaurant
in downtown Lafayette. This past year La Scala has undergone a cosmetic overhaul. The previous darker interior has been lit up by the repositioning and opening of a wall, an updated lobby area, new custom made tables (by local shop
J.E. Field Co.
), bright paint and custom artwork. The interior is beautiful and so welcoming. It makes one feel like they are in an intimate restaurant in Italy! [caption id="attachment_5219" align="alignright" ]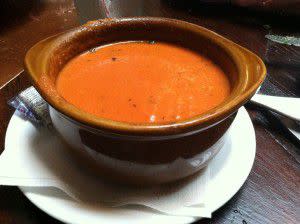 Paco's Famous Tomato Basil Soup[/caption] Ambiance is one important thing, but food is the major player when picking out a restaurant. La Scala knows their Italian! They proclaim "
fresh
" as their manta, and fresh is what you will receive when you go to La Scala.  Their Paco's Famous Tomato Basil soup is light yet spicy and one of the best tomato soups I have ever eaten. The salad "Insalata Torino" (inspired by a meal in Torino) includes a breaded chicken breast filet, topped with fresh mozzarella, cherry tomatoes, fire-roasted red bell pepper, and fresh farm basil tossed in their balsamic vinaigrette and served over fresh greens. I highly recommend getting a bowl of soup and one of their fresh salads if you are looking for a light and refreshing lunch. [caption id="attachment_5220" align="alignleft" ]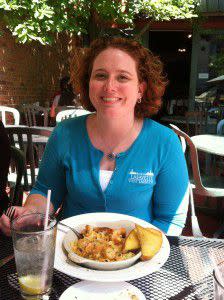 Ashley enjoying Seafood Georgio[/caption] But really, who can go to an Italian restaurant and not order pasta?! Their
Seafood Giorgio
will get your taste buds humming! It features shrimp and scallops sautéed with garlic and fresh herbs and finished in their Paglia (fire-roasted red pepper cream) sauce over fettuccine. This is a favorite of a co-worker, Ashley, and mine. We love the fresh seafood and the rich, creamy sauce. Lasagna is a staple in my husband's life and he shares the layers of noodles layered with meat, sauce and cheeses is wonderful. The red sauce has the perfect blend of spices and herbs. La Scala preaches "
healthier, tastier REAL food.
" I love going here because they use classic, fresh, and increasingly local ingredients from farmers from this area. My husband is a farmer and it is wonderful knowing we have restaurants who support our local farms. I have friends who have food allergies and they do not even blink an eye when they put in an order asking for them to add or take away something from a dish. Everything is made fresh to order! Please note they also offer whole wheat and gluten free pasta. Whether you are looking for delicious dining, interesting attractions and shops, enticing events or home away from home lodging—a getaway to
Lafayette-West Lafayette, Indiana
, is sure to satisfy. For more information about this restaurant and others in the area, visit our website at
www.HomeOfPurdue.com