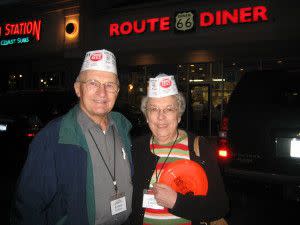 You may be wondering, does Route 66 go through West Lafayette? What does it have to do with Indiana? The answer is no, it doesn't go through West Lafayette and it has nothing to do with Indiana. Then why do we have a restaurant named after it? Well, Route 66 Diner and Triple XXX Family Restaurant have the same owners. They chose the name because Route 66, "the Mother Road" became official in 1926 and the Triple XXX Thirst Station in West Lafayette, opened in 1929. They wanted to stay with the same vintage feel for the second location.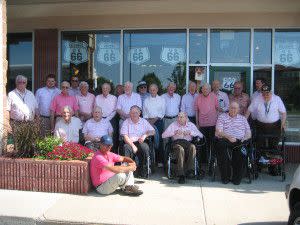 Route 66 has counter seats like Triple XXX but also have 40's and 50's style tables and is much more spacious than the X and can serve groups as large as 105 people. (Great for motorcoach groups!) They also accept credit cards, which is a plus for me as I hardly ever have cash!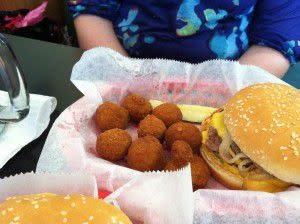 Now for the most important part… the food! Route 66 serves the same food as Triple XXX but also offers great salads, soups and beer and wine as well.  If you go you must try their root beer, it's some of the best ever and it's served in a frosty mug! Besides the root beer, they are known for a couple different things, first if you are hungry for breakfast food, try the Drew Brees First Choice with Chicken Fried Steak. It's two eggs, cooked to order, choice of either chicken fried steak or 1/3 lb. of their signature 100% ground sirloin, choice of fried potatoes or hash browns with sausage gravy and two grilled buttermilk biscuits. You won't leave hungry that's for sure! If you are more in the mood for a sandwich, try the Duane Purvis All-American (it was featured on Diner's Drive In's and Dives on the Food Network when they visited Triple XXX).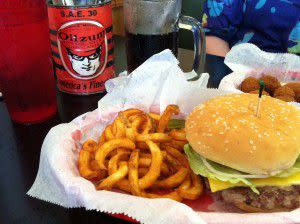 The Purvis is a ¼ lb. of 100%, ground sirloin with thick, creamy peanut butter served on a toasted sesame seed bun with melted American Cheese, lettuce, tomato, pickle and onion. If peanut butter isn't your thing, try the Boilermaker Pete, a third pound 100% ground sirloin served on a toasted sesame bun with two slices of melted American cheese and grilled onions. More of a white meat person? Try the Leroy Loin (their breaded tenderloin) or the grilled tenderloin both are fantastic! Be sure to leave room for dessert too! Their pies are all fabulous and if they have the root beer cake it is a must try! All the sundaes and of course the root beer float is amazing too!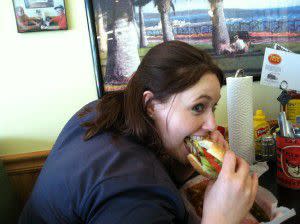 Next time you are in West Lafayette, looking for a good place to eat, give Route 66 Diner a try! Ashley Gregory, Group Tours and Meeting Manager, shared this blog.