[caption id="attachment_1142" align="alignleft" caption="Lots of antique and home decorations through the cast-iron doors!"]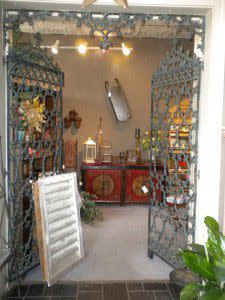 [/caption] Happening Now!  Did you know February 28 is Florist Design Day?  This day is set aside to appreciate the creativity and artistic quality of flower arrangements.  
Roth Florist
is a local florist located in the heart of Lafayette, Indiana, that creates beautiful, unique flower arrangements for all occasions. When people speak of flower arrangements, my first thought is Valentine's Day, Easter,
anniversaries
,
weddings
and funerals.  Flowers during these special moments in people's lives bring a smile and wistful happiness.  The smell, the look and style of the flowers can really set a mood.  An example of this is a
funeral
.  Recently, one of my family members passed away.  It was a sad occasion for our family to get together, but the bright, cheerful colors of the flower arrangements created by Roth Florist lifted everyone's spirits.  Also, it is February in Indiana.  We are counting down the days until spring when flowers are starting to bloom, the grass is turning bright green and the trees are budding!  But we had spring on this poignant day in February.  The cheerful
tulips
, the bright roses and fairy-like baby's breath brought happiness and inner warmth into the family. Roth Florist has been in business since 1895!  They offer the
freshest, highest quality flowers
while offering
friendly, Midwestern service
. Shoppers can select from arrangements already beautifully created or with the advice and direction of a professional staff member create their own custom piece the staff will artfully arrange.  Antiques, unique home furnishings, scented candles and more offer customers the opportunity to make the perfect purchase for a friend or loved one (or for your own home!). [caption id="attachment_1144" align="alignright" caption="This is on my Birthday Wishlist---a beautiful outdoor wind vane!"]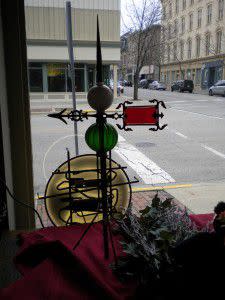 [/caption] Whether you are looking for delicious dining, interesting attractions and shops, enticing events or home away from home lodging—a getaway to
Lafayette-West Lafayette, Indiana
, is sure to satisfy.  For more information about Roth Florist and other
Lafayette-West Lafayette florist
, visit our website at
www.HomeOfPurdue.com
.