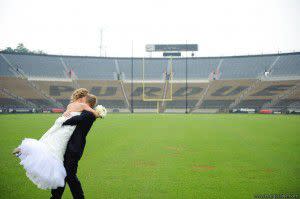 2 Great Cities, 1 Great University, "One Great Wedding Destination". Lafayette-West Lafayette, Indiana, is home to many fabulous wedding venues, and one of the most unique is
Ross-Ade Pavilion
. Situated overlooking the Purdue Boilermaker football field where college history has been made, this pavilion offers not one, but three different spaces to hold a wedding or special event. Have you ever been to a wedding that is so memorable it instantly comes to mind when you hear the word "
wedding
"? When this memory pops in your head is it the location, the food, the fun, or the overall wonder you experienced at the wedding that you think of? I bet, if you have ever been to a wedding at Ross Ade Pavilion, your instant reaction would be enthusiasm for the beautiful setting and the majestic views of
Purdue University
and Ross-Ade Stadium. Ross-Ade Pavilion can accommodate wedding parties up to
800 people
(400 seated). Many people hearing this number may gasp at imagining a wedding this large, but my best friend's brother had his wedding reception here, and they had around 400 guests. (I am from a small community, and when folks get married, they invite the whole town, which equals about 400 people!) I was so excited to be invited to this wedding, and my expectations were high. I had been to football games at Purdue and the idea of overlooking the whole stadium energized me! Upon entering the
Shively Club
, the largest room available at Ross-Ade, my eyes went directly to all the windows. I took in the wonderful view of the stadium and beyond was the campus that was full of bright fall colors as the leaves shone with their splendor.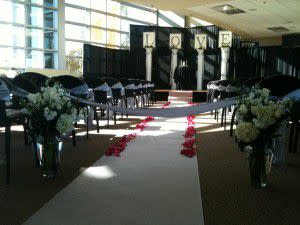 The view was just a part of why my experience was memorable. The food, service and
dancing
all stand out as being exceptional. With 400 attendees, the dance floor was full all night long. I danced until my feet were blue and my husband had to drag me away so I could still walk in the morning! I enjoy nice servers, and I have to say "kudos" to the
college staff
that worked this event. They always had our drinks refilled and were friendly. Purdue University should be proud! Whether you are looking for delicious dining, interesting attractions and shops, enticing events or home away from home lodging—a getaway to
Lafayette-West Lafayette, Indiana
, is sure to satisfy. For more information about this venue and others in the area, visit our website at
www.HomeOfPurdue.com