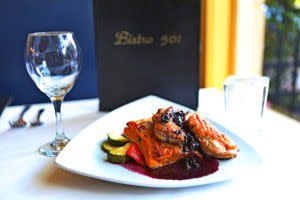 Check out Visitor Information Specialist, Marlene's blog about her delightful visit to Bistro 501. I recently went to dinner at
Bistro 501
. I had been there a few times in the past. The most memorable time, until now, was when I was in high school. The French Club took a field trip there for dinner. This was years ago, right after the restaurant had opened. Then and today, Bistro 501 is still one of my favorite restaurants in the Lafayette area. The service is always pleasant and prompt. The atmosphere is perfect. I especially like the natural light that comes in through the large windows at the front of the restaurant. I also greatly enjoy their rooster themed decorations.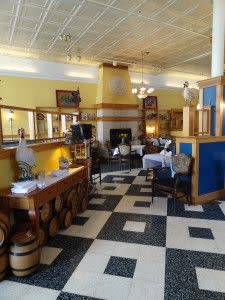 I had perused their menu online so I knew in advance that I wanted a glass of wine to go along with the
Wild Mushroom Pasta
. I am not the best at pairing. I asked the server if he could recommend something. He quizzed me about what wines I liked and took into consideration my meal choice. He pointed me to the Willamette Riesling (from Oregon). This was a fantastic wine! So much so that I went on a hunt for it at a few local liquor stores. Bistro serves some wonderful white bread and whipped butter while you wait for your meal. We had a choice of soup or salad. I had their well-known French onion soup while my boyfriend had a salad. He doesn't normally get vinaigrette dressings but when the server mentioned that they were made in house, he decided on the honey mustard vinaigrette.  He shared it was fabulous! We went on a holiday evening and they were just starting to get busy.  I would highly recommend making reservations anytime that you would like to go to Bistro 501. You never know how busy it will be, especially since many local businesses meet with clients, partners, and have meetings there for lunch and dinner. Our meals arrived more quickly than I would have anticipated. The wild mushroom pasta was perfect! It was penne tossed with sautéed wild mushrooms and spinach in a Marsala cream sauce. It was creamy and the mushrooms had a great flavor. My boyfriend ordered the New York Strip. It was fantastic! It was a
12 oz. New York strip steak
, crusted in pepper, and served on a bed of french fries (pommes frites) with a brandy shallot sauce.  I was about to take his dinner away from him, but I didn't want to let go of my wild mushroom pasta. Even though we were thoroughly full from our tasty dinners, we couldn't celebrate the holiday without dessert. I LOVE the dessert selection at Bistro 501! I would be tempted in the future to go back just for wine and dessert! Hint, hint, boyfriend, there's a future date suggestion when we play the "what do you want to do? I don't know, what do you want to do game?") I have always been a fan of Bistro's bread pudding. It's warm
bread pudding
with melted chocolate chips and walnuts baked in a caramel whiskey sauce. I got it with a scoop of their Mexican ice cream. My boyfriend decided on the Tiramisu Chocolate Cake. It was chocolate cake soaked in espresso liquor layered with mascarpone cream and cloaked in chocolate ganache. The mascarpone cream was amazing! Of course he got a scoop of vanilla ice cream to go along with it. Bistro 501 is the perfect restaurant to celebrate special occasions or to just meet friends or family for a nice lunch. I must admit it is pricey, however, it is well worth every penny once you enjoy every bite. I have also heard that I must come during their
Beaujolais Nouveau celebration
. What is this celebration you ask? It's wine! The completion of  fermentation of the wine in France is a huge celebration. They only ship a few cases from France to the US. and Bistro has the "in" to get them every year. They make a celebration of it by having a fife and drum corp parade to the restaurant and offer a five course meal. Reservations must be made in advance for this fabulous evening of fun!  Check out the UTube video here: 
https://www.youtube.com/watch?v=LOsWgi-H4tU&feature=youtu.be 
For more information about this restaurant and others in the area, please visit our website at
www.HomeOfPurdue.com
.