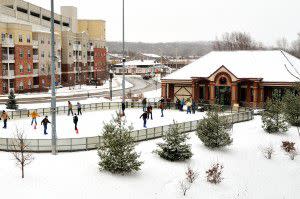 2 Great Cities, 1 Great University, Be a Tourist in Your Own Backyard!  Vacation, Relaxation, Fun; one image that comes into our heads is sand, sun and water.  Locals travel south to find their peace and quiet, while adventure, history, the arts and entertainment, and more, can be found in our own backyard.  
Lafayette-West Lafayette, Indiana
, is home to a beautiful, scenic outdoor
skating rink
! Many, if not all of my friends and family know, I am a romantic at heart.  I read romance novels, dream of knight and shining armors and love romantic comedies.  When I think of winter romance, two thoughts enter my brain, ice skating outdoors with a loved one and taking a romantic carriage ride.  Why these two things?  I have no idea!  (Although, my husband blames the romance novels!  Ha!) One of my first dates with my husband was during the winter.  And although he would laugh and joke if he heard me say this, he is a very romantic, sensitive man.  He planned a lovely evening of skating at the
Riverside Skating Center
.  I have to implore to all of the readers how monumental this was.  He is an awful, non-coordinated skater, yet he knew how much I love to skate.  It was not only a fun evening (well, for me), but an evening where I learned he would do pretty much anything to make me happy. The Riverside Skating Center is a local, inexpensive
attraction
for visitors and locals to enjoy a bit of fun on the rink skating and enjoying the frosty, cold air.  The center will be open this weekend for New Year's Eve and New Year's Day.  My hubby and I don't have weekend plans as of yet.  Do you think I can convince him to spend a few hours in celebration of our 1 year wedding anniversary to go ice-skating??  I think I may have to bribe him with a trip to one of our favorite
restaurants
',
Bruno's
!  (Food bribery usually works!) For more information about fun, local
activities
and
things to do
in Lafayette-West Lafayette, Indiana, visit our website at
www.HomeOfPurdue.com
.