Whether you are looking for delicious dining, interesting attractions and shops, enticing events or home away from home lodging—a getaway to Lafayette-West Lafayette, Indiana is sure to satisfy. Right now the locals are talking about
Red Seven
, a hip and trendy restaurant downtown Lafayette. [caption id="attachment_556" align="alignright" caption="Visiting friends, who shared, "Red Seven is Fabulous!""]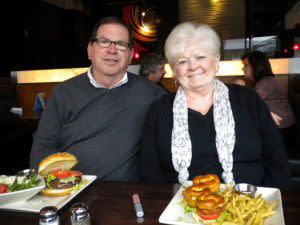 [/caption]
Red Seven is a restaurant that has a very special place in my heart. It is home to my first date with my husband and also the location he took me prior to his marriage proposal. (where of course I shouted "yes" and ran around like a mad woman!) On our first date I remember being nervous, yet excited! Marc said he had a feeling I was the one when I wanted to share a meal. We both are frugal to a fault and I was his dream come true....ha! We shared their
fried ravioli appetizer
and roasted
mahi mahi
with marinara, pesto, bacon, feta, and breadcrumbs, served on a bed of pesto linguine. So utterly delicious we order it almost every time! Our first date was during the holiday time, so I ordered their seasonal
pumpkin spice martini
, which is so amazing! (And truly hard to find anywhere else. I was in Chicago this past weekend and not one restaurant we visited offered this decadent creation.)
Red Seven has wonderful food, but also some of the best customer service I have received anywhere. Marc and I have brought family and friends here, too many times to count and each time we receive great customer care. People dine in a comfortable yet hip and trendy atmosphere. And how does one define hip and trendy? I always use this description when describing Red Seven because I feel like this restaurant is fun, modern and very clean. The
lighting
(which I know is an odd thing to talk about, but it really sets the scene) is a subtle contrast of bright lights on dark features throughout the restaurant which creates a romantic, relaxed atmosphere.
[caption id="attachment_557" align="alignleft" caption="Delicious hamburger and fresh salad"]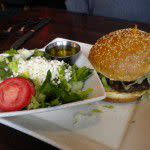 [/caption] Overall, the whole restaurant package from rich food, friendly servers and a relaxed atmosphere make Red Seven a restaurant not to be missed when visiting Lafayette-West Lafayette, Indiana. For more information about Red Seven and other wonderful
restaurants
in the area visit our website at
www.HomeOfPurdue.com
.