[caption id="attachment_778" align="alignright" caption="Global-Matrix Exhibit"]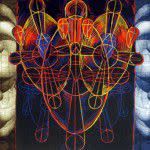 [/caption] 2 Great Cities, 1 Great University, Be a Tourist in Your Own Backyard!  Vacation, Relaxation, Fun; one image that comes into our heads is sand, sun and water.  Locals travel south to find their peace and quiet, while adventure, history, the arts and entertainment, and more, can be found in our own backyard.  
Lafayette-West Lafayette, Indiana
, is home to the Purdue University Art Galleries. When people think of Purdue University I imagine the first things that come to mind are either agriculture, science or sports (which would be what would stand out to my husband!).  Purdue boasts they have educated some of the best minds of history including Neil Armstrong and Amelia Earhart, which is a boast to be reckoned with.  There is one area of Purdue that  I believe many people are not aware of. It hosts 3 art galleries; the Robert L. Ringel Gallery at the Purdue Memorial Union, the Stewart Center Gallery at the Stewart Center and the Patti and the Rusty Rueff Galleries at the Yue-Kong Pao Hall. Throughout the year, traveling exhibits are on display at these galleries.  Currently, the
Robert L. Ringel Gallery
and the
Stewart Center Gallery
are host to the international print exhibit,
Global Matrix III
, a contemporary review of fine art printmaking in all media from around the world. To date, the Global Matrix exhibits have featured a total of 165 works representing 142 individual artists from 31 countries around the world. The
Rusty Rueff Galleries
have the unique perspective of being a teaching and research space for students and faculty of the Rueff School of Visual and Performing Arts.  Currently, the
exhibit
on display is "Photoworks 2012" and on January 23, the upcoming exhibit is "The Wicked World of Design".  I enjoy this gallery for the fact that the artwork is created by students at Purdue learning, cultivating and sharing their artistic talent. For more information about these galleries and other
artisitic venues
in Lafayette-West Lafayette, Indiana, visit our website at
www.HomeOfPurdue.com
.