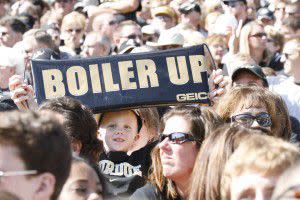 2 Great Cities, 1 Great
Purdue Homecoming
Weekend Update!  Looking for a fun Indiana
weekend getaway
?  Or do you live in this area and are looking for entertainment close by?  Check out the endless possibilities for fun and relaxation happening this upcoming weekend in
Lafayette-West Lafayette, Indiana
.
It is that time of the year again where students, locals, and alumni come together to celebrate "Homecoming" at
Purdue University
.  Put your Purdue sweatshirts on and head to the many wonderful, celebratory events taking place around this special time.  Purdue University has a committee of individuals who work all year long to make the weekend fun and memorable. Start celebrating at the
 Boiler Up at the Boiler Bridge Walk
, Friday evening at 5:45 p.m.   Join other loyal fans as they rally with the team.  Led by "special marshals", a Purdue pep band, Purdue Pete, Purdue cheerleaders, and the Boilermaker Special, the football team will cross the bridge to the cheers of young and old! Following this event at 7:30 p.m., you can head up Chauncey Hill to partake in or watch the "
Boilermaker Night Train Parade & Pep Rally
" with friends and family! The parade will feature walking units, vehicles and floats made by student organizations and local businesses.  This year's theme "
Once Upon a Homecoming
" will be highlighted in the specialty floats!  Participants will include the Purdue "All-American" Marching Band; former
astronaut Eugene Cernan
, Purdue alumnus and the most recent man to walk on the moon; and will be led by acting President Timothy Sands.  Please note the parade starts at the corner of Columbia and Northwestern and ends at Mackey Arena.  Then you can holler and cheer at the Pep Rally as the 2012 Homecoming King and Queen are crowned! Can you believe there is more entertainment at 9:15 p.m.?  Within the great Mackey Arena, "
The Tip-Off Before the Kickoff
" will be hosted by Purdue Athletics.  The schedule includes a performance by the Purdue "All-American" Marching Band, introductions of both the Purdue men's and women's basketball teams, a performance by the student-athletes from both teams, shooting and slam dunk competitions and remarks by head coaches Matt Painter, Sharon Versyp and Danny Hope. Homecoming day arrives on Saturday, October 13, with a celebration at
Stadium Mall
;  Purdue's various colleges and organizations will have booths set up to partake and
Purdue Bands & Orchestras Marching Band
will perform at 10:30 a.m.  Join the crowd in 'Hail Purdue' and prepare to watch our
Purdue Football Team
 take on Wisconsin at noon.  Purdue celebrates over 100 years of traditions.  Do not miss this significant event! For more information about these
events
and other special "happenings" in Lafayette-West Lafayette, check out our website at
www.HomeOfPurdue.com