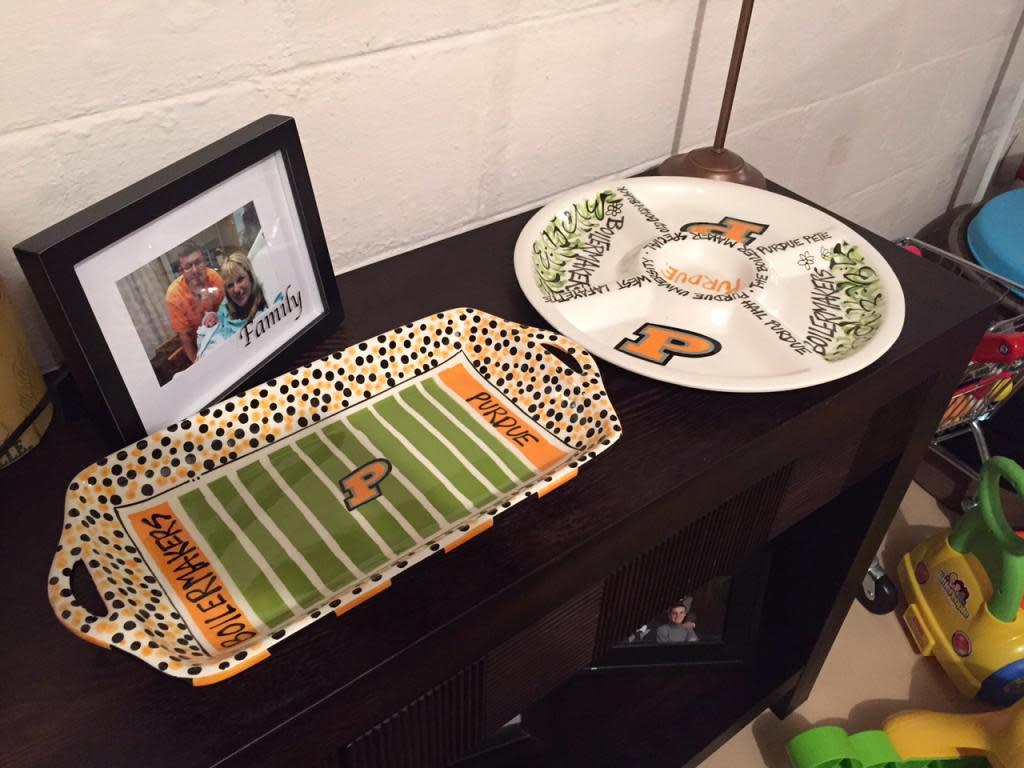 Purdue Commencement is almost upon us! May 13-15, Purdue Grads will make their graduation walk with pride and a wonderful feeling of accomplishment for all of their hard work to successfully graduate from one of the top schools of our nation. A Purdue Graduate can proudly boast this wonderful success as a Purdue degree will lead to so many bright opportunities in his or her future. Personally, from living in this area and also working with many Purdue students, I always enjoy giving a nice, personalized gift to those who accomplish this amazing achievement. There are so many wonderful local stores that have Purdue gifts that are perfect for making lasting memories.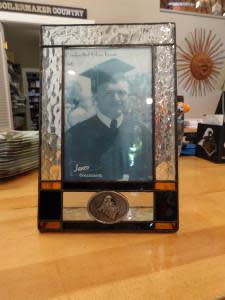 One unique shop is Interior Objects. They have an area that is all Purdue that includes glassware, serving dishes and really neat photo frames. When my brother in-law achieved his Masters from Purdue a few years ago, we bought him a photo frame that had a vintage look. On graduation day, we took his photo and added it to the frame.  He now lives in Washington D.C. and the frame is in on his fireplace mantel! Looking for a one of a kind gift? Linda Elmore from Something Special creates hand blown glass necklaces. She can make them in pretty much any color, and add braille to them so they can say any message one wants. Last year, one of my dearest friends graduated from Purdue, and I asked Linda to create a gold and black necklace that said "Purdue Pride" on it. My girlfriend was thrilled and shares she wears it all the time! Gretel's Fine Gifts is another specialty shop that offers Purdue items. When my husband and I were first married, my in-laws bought us a bunch of Purdue designed dishes (see photo above) from Gretel's and they have been perfect for hosting big parties. Or even small dinner nights when there is a basketball game on, I will grab the plates to use to cheer on our Boilers! Vintage! Main Street Mercantile is home to vintage Purdue clothes including dance outfits, baseball uniforms, band outfits, sweatshirts, etc. They have a huge space dedicated to Purdue and is a great shop to find a gift that will make a lasting memory!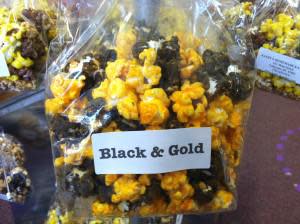 If you are looking for a smaller gift item that is sweet and delicious visit Kathy's Kandies.  She has Purdue themed candy items. One I recommend is the Black and Gold popcorn. It is a small bag of fresh popped popcorn and is a perfect item to add to a graduation bag! Find the perfect gift this year for your Purdue Graduate!  To visit these shops and other great shopping locations in Lafayette-West Lafayette, Indiana, visit our website at www.HomeOfPurdue.com.