[caption id="attachment_2135" align="alignright" caption="Purdue & IU Fans - Ready for another competitive year of football!"]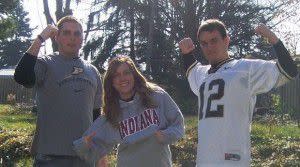 [/caption] Happening Now!  Right now everyone is talking about another fun
Purdue football season
where fans cheer and holler for our Boilers who take the field with confidence and endurance.  Football, fall weather and camaraderie all mix together to make Purdue football something really special.  There is a smell in the air, a sense of pride in your school, and nostalgia from years past that make the football season in a class of its own.
Purdue football
in my family is divided into two different seasons.  The early season (September through mid to late October) is harvest time for my husband.  If it is sunny and dry, he will be harvesting and cheering on our
Boilers
from a combine which thankfully has a radio. If the ground is too wet to harvest or it is raining, we head to the games to sit in the stands with thousands of other fans to watch our team hopefully defeat the opponent. Being married to a farmer, we sadly never buy
season tickets
, but we always purchase tickets for the last game of the season.  Every other year the Boilers take on rival Indiana University at home for this last game.  Our best friends, who are huge IU fans, come up from Indianapolis for the game.  Their parents (who are
Boilers
!) always have a
 tailgate
feast that is full of delicious fare ranging from brats to fried chicken to pulled pork and too many side dishes to count.  We play cornhole and throw around a football before it is time to enter the game.  It is usually freezing cold, but we sit in the stands all bundled up with blankets and hot chocolate and cheer!  This game is months away, but it makes me smile and feel warm inside thinking about it.  Crazy, I know, with colder weather on the way.  But there is just something special about sitting in the stands rooting for your
team
with thousands of others.  It is loud yet peaceful. For more information about the Purdue football season and other sporting events in the area, visit our website at
www.HomeOfPurdue.com
.