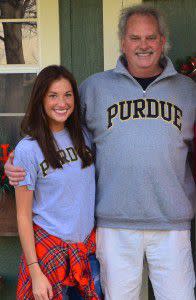 Visit Lafayette-West Lafayette is excited to announce new blogger, Maddie, to our team of bloggers! She shares her lifetime experience visiting Lafayette-West Lafayette and now as a Purdue University Student, what living here is all about! As a child I always seemed to find myself sitting in the back of our family van, road tripping to West Lafayette, home of the Purdue Boilermaker's, my dads favorite past time, and the place that I now call home as a 20 year old college student. I wouldn't consider myself a "newby" per say, but I will say I'm new to all of the opportunities that West Lafayette has brought me.  My faint memories involve me holding my dad's hand in Mackey Arena listening to the band followed by a trip to Triple XXX to get a root beer float, which was the size of my head at the time while my dad chowed down on his favorite burger (the Duane Purvis!) smothered in peanut butter. Little did I know I would be spending four years of my life living in this town and experiencing more than just root beer floats with Dad on basketball game weekends.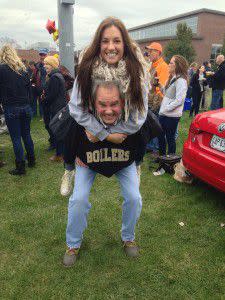 As a sophomore now at Purdue University, I've had my fair share of experiences when it comes to eating and dining around the ever-growing Lafayette area. Coming from a fairly small town in Indiana, I will say that I'm used to the hole-in-the-wall atmosphere, (who doesn't love that?), but I have to say that I have a handful of recommended places that I find myself revisiting time after time. I seem to always find myself sitting in the places where I have about 3 feet of leg space, soft music playing and a small table with just enough room to lay my laptop down and study for my next exam (or… let's be honest, explore Pinterest or my latest blog post findings.) Located just up the hill from Triple XXX where I drank root beer floats with my dad is a small coffee shop laying right on the corner of State Street and Northwestern Avenue. Greyhouse Coffee is just the place to visit if one is trying to relax on a Sunday afternoon or winding down from a long day at work. Each time I visit I try and get something new to expand my horizons a little bit but I always find myself going back to the same drink each time. Ever had coffee with a hint of orange flavoring and a dash of cinnamon? I bet not! Yes, the first time my good friend recommended this drink my thoughts were probably the same as yours right now, "That's just about as weird sounding as peanut butter on a hamburger!"  Dr. Strangelove, the infamous name of this divine coffee, is not just your basic drink. It's got a flavor that really nothing can compare to.  My mouth waters just thinking about the hint of clove, cinnamon and citrus flavored coffee. At just $4.75 for their basic mug, you'll get a drink that absolutely will not disappoint you. I highly recommend trying it! [caption id="attachment_6123" align="alignleft" ]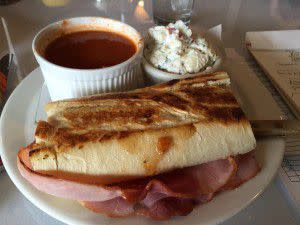 Farmhouse Ham & Brie[/caption] Coming to West Lafayette I never knew that I would have so many places to choose from while picking a place to eat with my friends. From Greek food to Mexican, the variety of places to pick lies all across the border. Like I stated, my favorite places are the smaller ones that you've most likely never heard of, or even seen lying in-between two different buildings, for that matter.  I've had a variety of different cuisines in a variety of different environments and I have to say that the one place that my mind always wanders back to and the first place that comes out of my mouth when people ask for advice is Jane's Gourmet Deli and Catering. There's something about little deli restaurants that always catch my eye! If I were to suggest one of their menu items for people to try it would be their Farmhouse Ham and Brie. The sweet honey baked ham on a warm toasted French baguette will melt in your mouth and leave you craving more (which is crazy because the sandwich is huge and filling!). Jane's offers a great environment, delicious sandwiches and soup. I still have yet to try everything but so far I haven't been disappointed! Although my heart will always belong in the places where my dad would bring me as a small girl, exploring this town will never get old. I cannot wait to get out and share more of my dining and travels around the area.  Watch for more blogs to come from Maddie, Purdue Student and Explorer of the diverse and eclectic Lafayette-West Lafayette area!