As my senior year at Purdue University has concluded and I just recently graduated, I look back fondly over all the fun times I have experienced as a Boilermaker. Activities like football games, meeting my closest friends, and growing as an individual have made my years at Purdue some of the best. After all this reminiscing I have boiled my time down to a bucket list of 15 things every Purdue student should experience during their time in West Lafayette.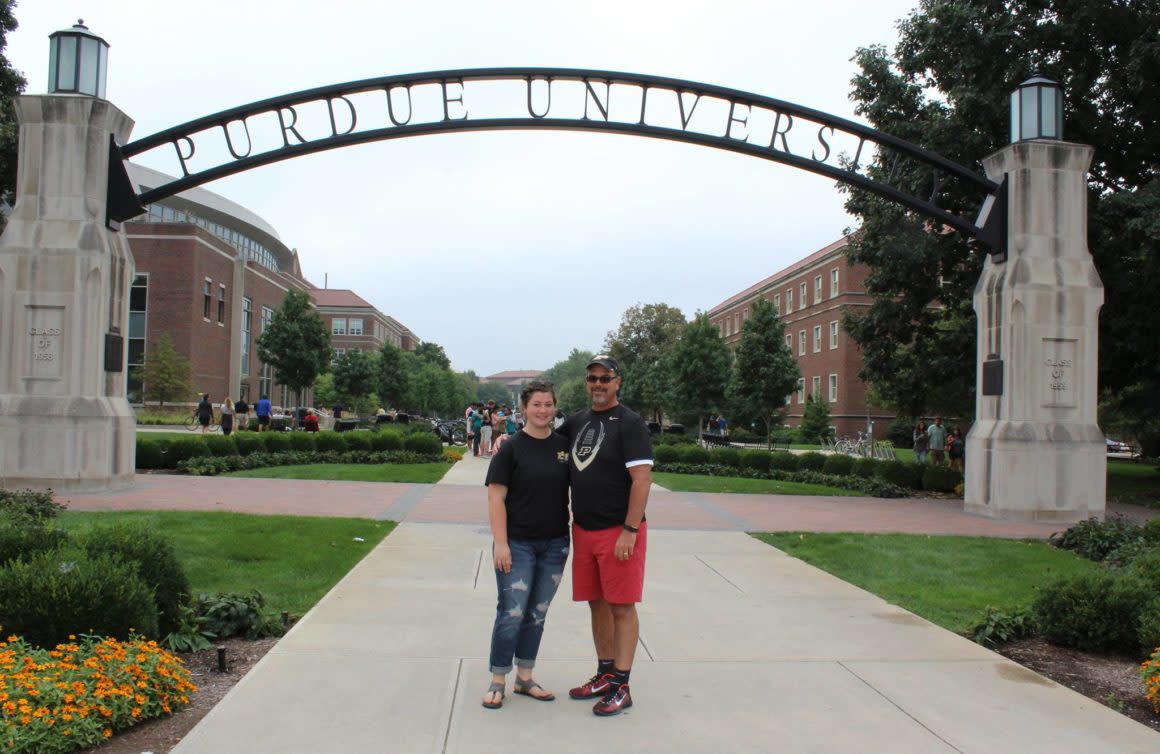 Attend a Football Game and a Basketball Game.

The Ross-Ade Brigade is a student section full of life and excitement! Just be sure to bring some handwarmers if you go later in the season. And the official boilermaker student section is affectionately referred to as the Paint Crew and it's one of the best parts of any Purdue basketball game!

Take Giant Leaps in front of Armstrong Hall.

Mimic the same steps that were taken by Neil Armstrong--on the MOON!

Snap a picture under the Gateway to the Future Arch.

Every Purdue Mom or Dad will request this fun photo.

Drink a Den Pop.

To be an official Den Pop you must follow a recipe posted on the wall. Those are tried and true.

Do a Fountain Run.

Trust me, during a hot day in August, you will want to do this!

Take a picture with Purdue Pete.

He's everyone's favorite boilermaker.

Sled on Slayter Hill.

Grab whatever you have laying around, a laundry basket, cookie sheet, etc. and go sledding!

Visit the Jedi Room.

Located in Beering Hall with it's very own zip code, this room has the best views.

Rub Lincoln's nose for good luck.

Before any big exam, be sure to rub Lincoln's nose for good luck in the PMU.

Participate in Breakfast Club.

A Purdue tradition before any football game is to get up super early, dress up in a costume, and do a bar crawl. It can be an interesting and entertaining way to start the day.

Ride the Boilermaker Special.

The official mascot of Purdue University is this locomotive that made its debut in 1940. Now you can ride it for yourself every Friday before home football games.

Visit the clapping circle.

Located behind the Union is an architectural gem. Just stand in the middle of the circle and clap and you are greeted by the sound of an echo.

Order the Triple XXX Purvis Burger.

This burger is known for featuring peanut butter, and no matter what your objections may be to the thought of peanut butter on a burger, it is still a must try for any Purdue student.

Attend Grand Prix.

Grand Prix is held once a year right before the end of spring semester. It's a week full of fun and excitement!

Walk under the bell tower (after graduation!).

And finally, take a walk under the bell tower. Of course this is after graduation as the legend goes that if you walk under beforehand you will not graduate on time! Another legend says that if you kiss your significant other under the bell tower, you will be married.
Triple XXX Duane Purvis

Boilermaker Special
Hopefully you can participate in all of these classic Boilermaker experiences, and know that it is truly an honor to be a Purdue Grad. Boiler up!
Jaclyn, Purdue University Graduate and VLWL Intern, shares this blog.