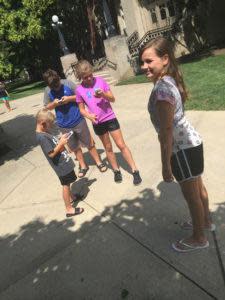 The newest trend we all can't stop hearing….POKEMON GO!
Lafayette-West Lafayette
has joined the fun in full force! Pay extra careful attention when walking along the streets, you may run into someone with their face buried in their phone. We went out on a Pokemon adventure this week, as total newbies. We learned so much and had a blast! A basic rundown of Pokemon Go- You hunt the characters and catch them using Pokeballs. You collect the balls by going to Poke Stops and picking them up. Once you have enough Pokemon, you can go to a gym and battle other people. We spent the majority of our time on
Purdue's campus
. There are Pokemon EVERYWHERE! It was neat to explore the different edges of campus. Our goal was to find a Pikachu while we were on campus but unfortunately that did not happen. Better luck next time. Picture this,
Cumberland Park
in West Lafayette, you are heading out to shoot some hoops. Instead, you find the basketball courts full of people looking at their phones. A Pokemon Gym! Ah! Yes, finally a place we can battle one another.
Downtown Lafayette
was also a great place for Poke Stops, gyms and to hunt the Pokemon. We loved to see the different art and attractions at the locations. The migration statue between Fourth and Fifth Streets was a great Poke Stop. Further down the Frank C Arganbright Geneology Center was a higher level gym. Pokemon Go started as an April Fools Day joke put out by Google in 2014. A year and a half later, it has become quite the craze. Join in on the fun and share with us your adventures across our great community using #homeofpurdue.
Save
Save
Save