[caption id="attachment_5736" align="alignright" ]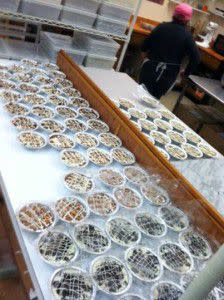 Mini- PIzzas![/caption] Chocolate Legos,
Hello Kitty chocolates
, candy, popcorn and more! Kathy's Kandies offers a diverse selection of specialty treats that will make your taste buds soar with happiness.  Marlene, Visitor Information Specialist for Visit Lafayette-West Lafayette and Head Outreach Librarian at the Tippecanoe County Public Library, shares this blog about
Kathy's Kandies
. I work in Downtown Lafayette during the week. When I need to get out of the office and stretch my legs, I take my break and walk over to Kathy's Kandies to get a homemade snack to cure my sweet tooth. Kathy's Kandies is a locally owned,
homemade chocolate
and confection store. My favorite is the gourmet popcorn. There are several flavors to choose from that make it almost impossible to decide, but my top picks are the cookies and cream and triple chocolate. The sweet and salty flavors of the popcorn and chocolate are the perfect blend and the best mid- afternoon snack! Beer and popcorn - try Kathy's Original Gourmet Hopcorn!!! Featuring a selection made from
Lafayette Brewing Co.'s
finest beers, this is an original Indiana classic! [caption id="attachment_5737" align="alignleft" ]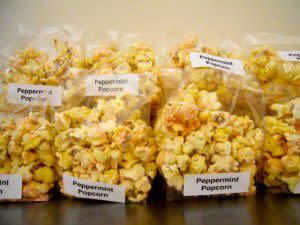 Peppermint Popcorn[/caption] Each season, Kathy makes specialty candies to celebrate. This year she is making some new and fun treats that are perfect stocking stuffers for Christmas. Ever heard of Hello Kitty? If you have a little one, I am sure this is a "hot item" on your holiday shopping list. Kathy has created Hello Kitty Chocolates that will fit right into a stocking. Legos are another hot commodity this season! Your little one will be doubly amazed to receive chocolate and their favorite toy with Kathy's homemade
chocolate Legos
! A unique gift for all ages is a mini chocolate pizza that will fit into a stocking. Pizzas come in different flavors from Christmas sprinkles, chocolate-peanut butter, cookies & cream and more. Treats from Kathy's Kandies are perfect to give to family or friends when you go out of town for Christmas. There are sugar free options available as well. They do special orders and premade baskets that are perfect for gifts too. If you have time to call ahead, you must order the chocolate fondue. It's delicious! If you have a sweet tooth, you can pretty much find something to cure it at Kathy's Kandies. They have a zillion things that are covered in chocolate; pretzels, nuts, Oreos, animal crackers, and espresso beans, just to name a few. They also have other items that are hard to resist; hard candy, gummies, ice cream, shakes,
Italian sodas
, cookies, and cakes. The list goes on and on! And each item is always served with a smile and a thank you.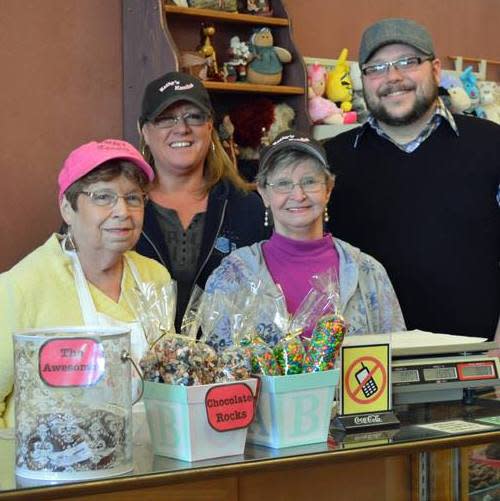 For more information about Kathy's Kandies and other local sweet shops in Lafayette-West Lafayette, visit our website at
www.HomeOfPurdue.com.