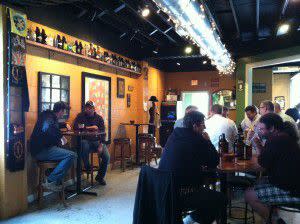 Specialty Hand Crafted Indiana Brews; Good Local Owners; One Great Brewing Company, People's!
People's Brewing Company
is a hidden gem in Lafayette-West Lafayette. Guests pull up to what is an old loading dock, and within its space is a fun, relaxed bar where locals and visitors enjoy a fresh brew while sharing their day's stories. This past week I made my first visit to People's Brewing Company with my good friend and co-worker, Marlene. When I walked in the door my senses came alive from the instant comfort and welcome of the setting. The only word I can share that I feel fits as a good description is "relaxed". Everyone was smiling and chatting and having a nice time. It reminded me of a bar you would see in Ireland or England where locals go to unwind after a long day of work and where visitors go to "feel like a
local
".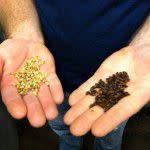 Chris Johnson, People's Brewmaster, gave us a tour of the brewery and the brewing process. He showed us examples of the different malted barley used, and I was surprised to learn how some barley is roasted like coffee. People's offers
free tours
Wednesday through Friday by appointment and Saturday and Sunday every half hour. Note the photo to the right. Can you tell which barley is roasted? [caption id="attachment_2472" align="alignleft" ]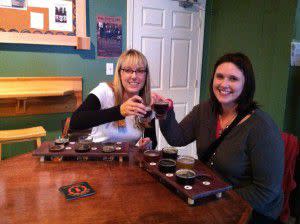 Cheers![/caption] Towards the end of the tour, Marlene and I were offered the "
sample set
" to try out the diverse selections of beer. Marlene best describes the sample set (which included 6 beers) as, "1. Rauch- had a nice smoky flavor. 2. Wheat- light tasting and crisp. 3. Mr. Brown Nitro- was my favorite. It was a darker malt and is infused with Nitrogen. 4. Mr. Brown- darker malt little more kick and is infused with CO2. 5. Batch 100- had a taste that I couldn't place. We later found out that this beer was brewed with black strap molasses which gave it a nice flavor. 6. IPA- had an amber color and was very hoppy." Make sure you stop by People's Brewing Company if you are in the area. Please note Wednesday is "
growler refill day
for $6/$9SB" and Thursday is "pint day for $2.50". People's has also expanded their space and added an additional room for visitors to enjoy. If you can't make it to the local tasting room, try one of their beers on tap at some of our local restaurants; Chumley's, Black Sparrow, Bistro 501, Spurlocks and many more. For more information about this specialty brewery and other beer and wine attractions within Lafayette-West Lafayette visit our website at
www.HomeOfPurdue.com
.