Let me start this by saying: my art skills are sub-par, to say the least. I was a little worried when my coworker Emily and I decided to spend an evening at Painting with a Twist. But - spoiler alert - it was such a blast! When you enter Painting with a Twist, you're greeted by the most friendly and knowledgeable staff! We were given our canvases and aprons and led to our easels. The group of people with us was a pleasant and lively group, consisting of some newcomers and quite a few of experienced veterans. They welcomed me and Emily and encouraged us on what was sure to be an exciting journey!
The painting that we chose was a field of lavender. The class was led by Kara Hampton, who had actually designed the painting herself. Before we started we grabbed a glass of wine. The drink menu consists of beer, wine, and more! The prices were super affordable and the options were right up our alley. Pink Moscato, hello! As the class began, I was still apprehensive that I would not be able to keep up with the rest of the painters. My fears were quickly put to an end when I realized how simple the step-by-step instructions would be. I really believe that anyone could follow each step which eventually creates the beautiful end result! Seriously, if I could, anyone can! There's also staff available around the room to come and help you if you have any questions at all. It was a very comfortable and accepting environment, and I felt so welcomed.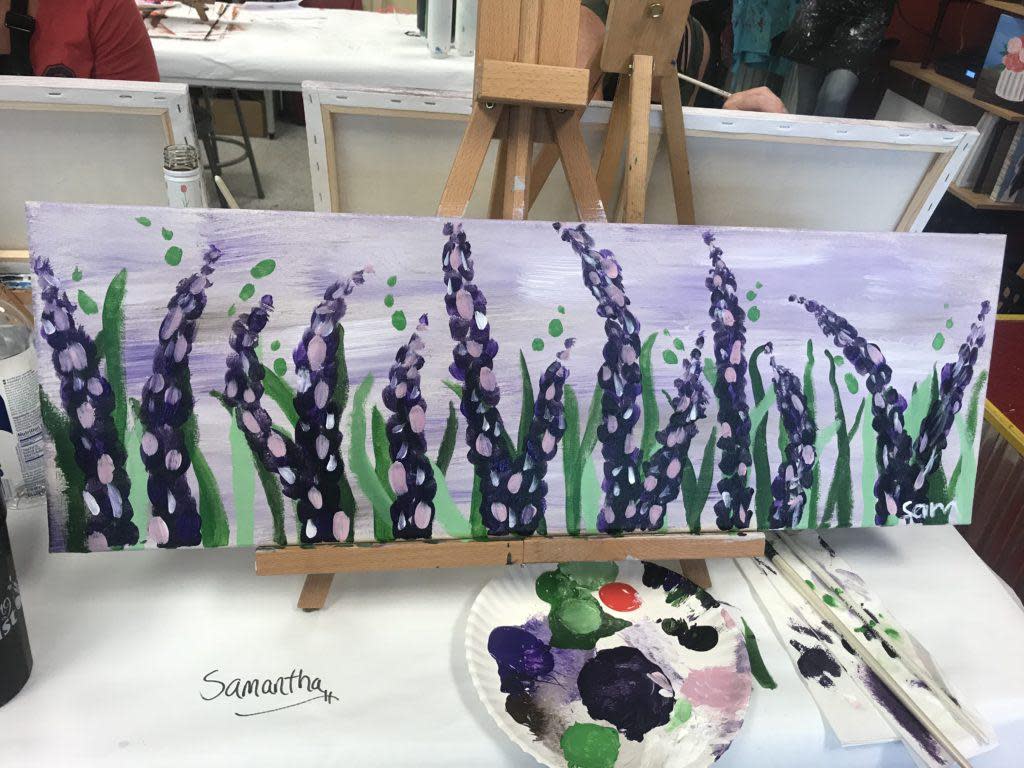 To spice up the class, Painting with a Twist also has little games for everyone to play. We played a fun round of their very own version of "Hot Potato" with the other painters, though sadly neither Emily nor I won! While we were laughing at the antics of the game, I was thinking how fun a trip to Painting with a Twist would be for all kinds of different people. Date night, birthday parties, team building exercises, bachelorette parties, staff retreats; this place would be perfect for so many occasions. If you want to have fun time and bond with your fellow classmates, friends or family, Painting with a Twist is a fabulous option.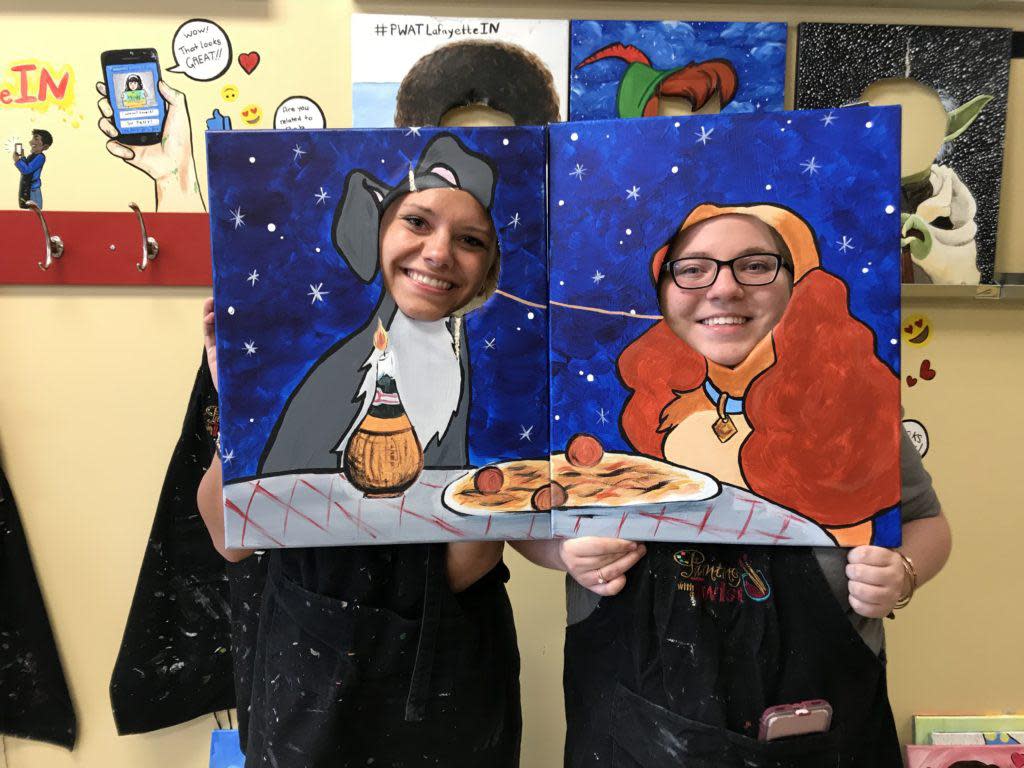 Our final products turned out so much better than expected. I even want to have mine framed and hang it up in my apartment! I'm so proud of my work and it didn't feel like two hours had passed at all. Painting with a Twist made us enjoy an activity that we usually find very challenging. If fear is what is holding you back from visiting PWAT like it was for us, don't let that stop you any longer! You are sure to love your experience and the masterpiece you create!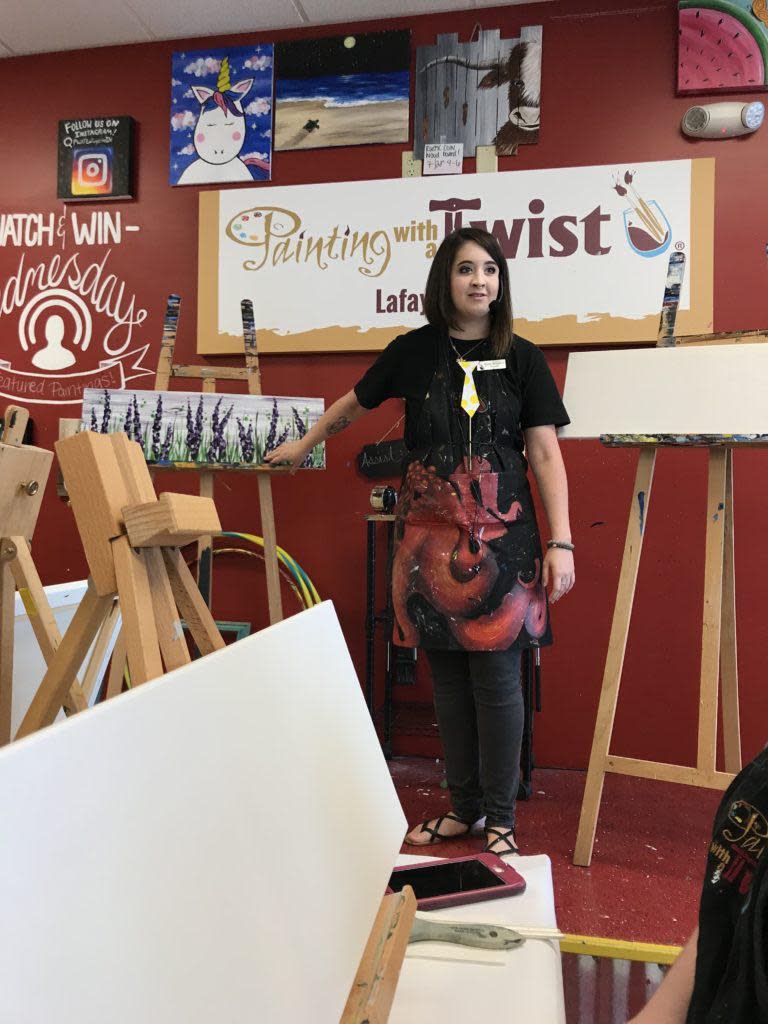 Here's another cool thing about this place -they do private parties! If you want to throw a party for you and your loved ones, have a specific painting you'd like to do, or just want some privacy, they have a party room specially for these occasions! See their website for more information about their private party room. You can also check out all of the public classes on their online calendar here. There's sure to be a fabulous choice for every group! After you take your class be sure to check in on their social media - Facebook, Instagram, Twitter, and @pwatlafayettein on Snapchat! They'll posts awesome and hilarious photos from your class and the group photo of everyone's masterpiece.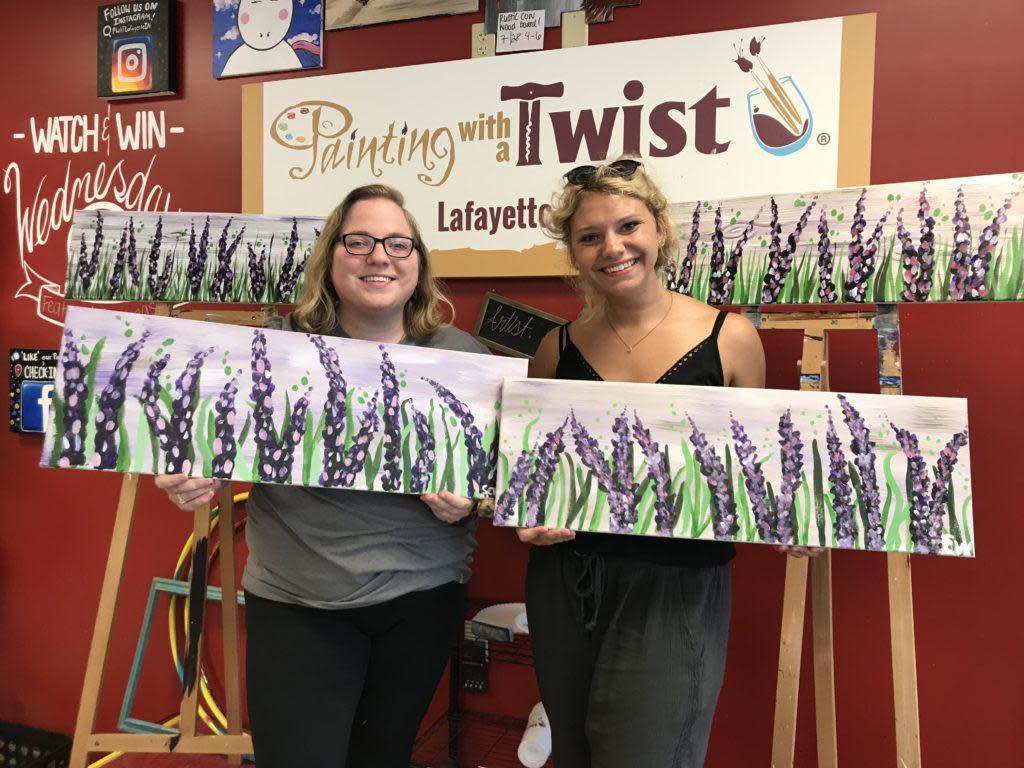 Samantha, VLWL Intern, shares this blog. For more information about this fun attraction and others in our area visit HomeOfPurdue.com.