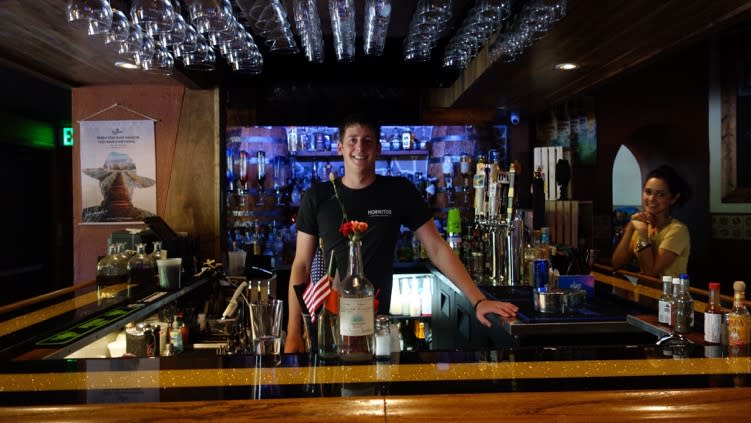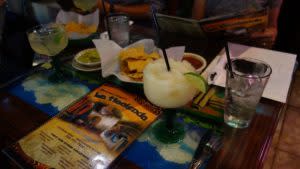 How do you set your Mexican restaurant apart from the others? How about a tequila bar with 79 distinct tequilas, most 100% agave, differentiated by age and processing! Tequila tastings are now a thing in this town.  The Dining Divas, plus intern Bryce, decided to try the made-from-scratch margaritas upon the recommendation of bar manager Braden. Margy tried the mango margarita which was sweet and fruity, lovely to look at, and garnished with orange instead of lime.  "Refreshing!"  Bev and Bryce went the classic route with the house margarita on the rocks.  "Really good!" Kay had the frozen Texas margarita which differed from the house version by addition of a higher end Triple Sec.  "Yum!"  Jo passed--someone has to keep order! Manager Juan Carlos Fuentes-Milan reported that this West Lafayette location is the seventh La Hacienda; the others are in greater Indianapolis.  Proximity to Purdue made this the perfect spot to try out their first tequila bar.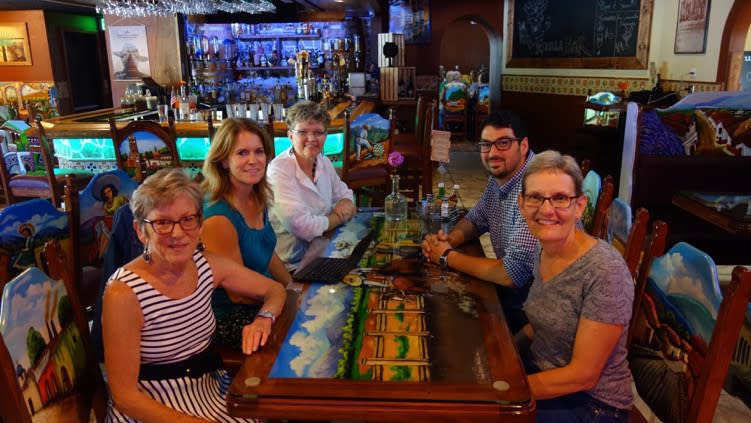 We enjoyed chips with salsa, guacamole, and queso, all with a nice kick, with our margaritas. The décor is wildly festive and chock full of custom-made benches and tables. The owners saved the beautiful hand-made tiles that were part of an earlier restaurant on site.  We ate in the bar which boasts 5 televisions and Braden was very helpful to us in making our selections. Our food came out quickly after we ordered, making this a good choice for working people with limited time. [caption id="attachment_8179" align="alignleft" ]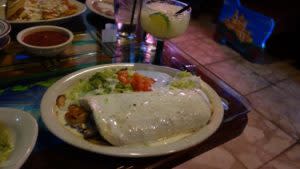 Quesadilla Del Mar[/caption] Kay, our seafood specialist, had quesadilla del mar ($10.99) with guacamole salad.  This consisted of a generous portion of shrimp, scallops, crab, cheese, onions, green peppers, and mushrooms stuffed into a large flour tortilla with queso on top.  She was pleased that there was lots of seafood, perfectly grilled, and a large portion of guacamole, tomatoes, and lettuce on the side.  Kay says, "I'd happily have this again!  La Hacienda has a large selection of seafood on the menu and they are justifiably proud of their seafood dishes." Bev had arroz texano ($10.99), a combination of steak, grilled chicken, shrimp, and rice.  The steak and chicken were tender and the shrimp were fatties.  This was a substantial meal so some of it went into a to-go box and provided lunch the next day.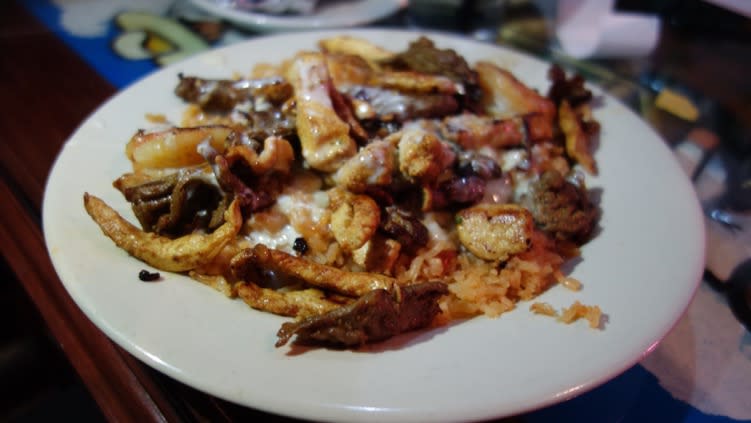 Jo's vegetarian fajitas ($11.99) were an ideal meal for a vegetarian low-carb diet-- a hard to find commodity.  Grilled mixed vegetables were served with tortillas, guacamole, sour cream, and pico de gallo.  Jo loves hot vegetable salads, so mixed the fajitas and salad for a perfect meal. [caption id="attachment_8180" align="alignleft" ]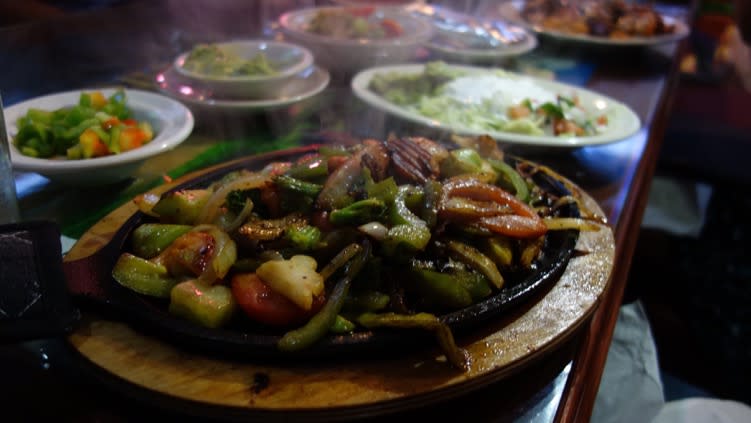 Veggie Fajitas[/caption] Bryce ordered tacos de carnitas, which were 3 corn tortillas stuffed with shredded pork served with pico de gallo and rice.  Bryce declared them really good, very fresh. He said, "Carnitas are often dry, but these aren't! And the pico has a nice kick." [caption id="attachment_8182" align="alignleft" ]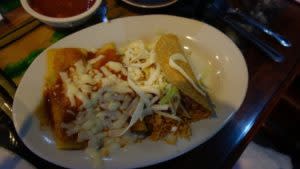 Veggie tacos and enchiladas[/caption] Margy's combination #1 ($8.99) consisted of one taco and 2 enchiladas, all vegetarian, served with beans and rice.  This dish was good, familiar and not too hot.  It would be a good choice for someone who doesn't like spicy food. Manager Juan Carlos says business has been brisk since La Hacienda opened at this site and judging from our experience, we're not surprised.  If you stand in the middle of Howard Street (which we don't really recommend), you can hear the music of Mexico coming from La Hacienda and the music of Ireland coming from Nine Irish Brothers. And then you know you must be in West Lafayette—the home of great food from around the world! The Dining Divas; Out to Lunch on the Road Less Traveled consist of: Kay Conner, photographer, seafood superstar Margy Deverall, author of Lafayette articles, dedicated vegetarian Beverly Shaw, author of West Lafayette articles, bring on the beef (or chicken or pork) Jo Wade, founder of this food blog, very veggie

Save