[caption id="attachment_4445" align="alignleft" ]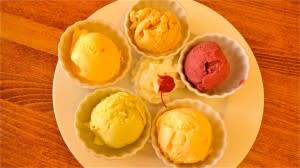 Ice cream Sampler[/caption] Let's shake things up. Last things first! What comes to mind when you think of
Thai food
? Usually, it's not ice cream but that's exactly how we ended a fabulous lunch at Thai Essence, one of our favorite eateries in West Lafayette. And this isn't any old ice cream but homemade ice cream, made by the owner himself, in flavors you've never dreamed of! Try the
Ice Cream Sampler
($6.95)—5 scoops, freshly made, which may include lychee, honeydew, ginger, four berry, black sesame, passion fruit, or papaya.  Our favorites were the passion fruit, ginger, and most especially, the black sesame, a signature dish of Ake Waratap Pasayada (we'll just call him Ake!), the chef/owner. It almost seems chocolatey or coffee-like, not flavors you'd usually associate with sesame.  As an added treat, Ake brought out a small sample of his newest creation to taste and asked us to try to guess what it was.  It was delicious, nutty and fruity, but what was it?  It turned out to be coconut and persimmon, a seasonal delicacy made possible by the gift of persimmons from a customer.  Coconut used in Southern Indian and Thai food is not the sweetened, large shreds we think of here in America but a more complex ingredient without all that sweetness. [caption id="attachment_4446" align="alignright" ]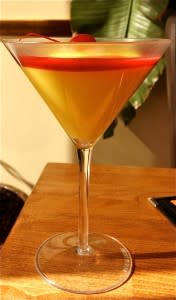 Fresh Mango Mousse[/caption] We also enjoyed Mango Mousse ($5.95), a sweet and creamy concoction of mango puree and coconut milk topped with a strawberry zinfandel sauce and served in a martini glass—beautiful.  Three desserts are listed in the lunch menu, but ask for a dessert menu to see all five. Now that we've shared our excitement over dessert, let's go back to the basics. Thai Essence is located at 1534 Win Hentschel Blvd, WL, in the College Park strip mall right between Kitchen Art and Gretel's Fine Gifts, so leave some time for shopping before or after lunch.  It's open for lunch (11-2:30) and dinner (4:30-9) every day except Sunday. The restaurant has a contemporary, relaxed elegance.  Airy and light in the daytime, it becomes more romantic at night when the lights are dimmed.  Soft music and the soothing sounds of a fountain add to the calm ambience.  As our guest diner, Jerry, said with tongue firmly planted in cheek, 'It really lacks a sports bar feel!" As is our custom, we ordered things we hadn't tried before, which was difficult since we'd pretty much eaten our way through the menu in our many prior visits.  In our best effort to assess the menu, we ordered a meal fit for a banquet. Starting with starters, the lunch menu has a 'dim sum' selection with a wide variety of small plates.  Sharing a few of those with a friend makes for an interesting and yummy lunch. [caption id="attachment_4447" align="alignright" ]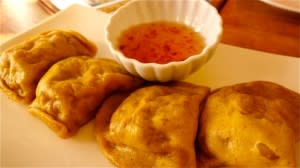 Curry Potstickers[/caption] Our assortment of dim sum included Golden Tofu ($3.95),
Curry Potsticker
($4.95), Shu-Mai Pork and Shrimp ($4.95), and Spring Roll ($3.95).  We didn't order the Stuffed Eggplant ($5.95), because we are already familiar with it but it is fabulous.  Even people who don't like eggplant (Kay) love this.  The Golden Tofu was cooked to perfection, according to Margy, who predicted it would make Bev a tofu believer. Bev conceded it was good, but is not ready to jump on the tofu bus just yet.  The Curry Potstickers can be either steamed or fried.  We had them steamed and they were excellent with a little kick.  The Shu-mai and Spring Roll (which was vegetarian) were both good, the Spring Roll being especially light and crispy.  The appetizers come with sauces, some soy-based, some clear with vegetables and chopped peanuts, all tasty. [caption id="attachment_4449" align="alignleft" ]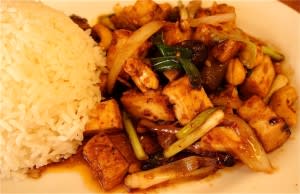 Pad Med Mamuang[/caption] On to the entrees.  Most newbies to Thai food find safety in the
Pad Thai Chicken
, a mild and delightful stir-fried noodle dish with peanuts.  Another safe bet is Chicken Satay, a grilled skewered chicken dish served with peanut sauce.  Our favorites from past visits include Pad Med Mamuang with Chicken ($8.95), a stir fry of cashews, chili peppers, onion, baby corn, mushrooms, and green onions, which Bev declares fantastic. "It's hard to order anything else because that means missing an opportunity to have Pad Med Mamuang!" The Green, Red, and Yellow Curries ($9.95) are all delicious.  Kay asks for them to be made spicier (nothing at Thai Essence is super hot, but the heat of the dishes is indicated by the number of chili peppers, 0-3, next to the menu item). The chef can up the heat level or the waiter will bring a spice plate to the table so you can add heat or soy. Kay and Bev LOVE the
catfish
, miraculous since Bev won't eat anything that swims-- except this.  "It has zero fishy taste, just wonderful sauce!"   Strips of lightly fried catfish in red curry, drizzled with coconut milk, Pad Ped Pla Dook ($13.95) is one of the spicier and pricier lunch items—worth every penny! Another favorite of Kay's for a light lunch is the Mango Salad ($8.95):  iceberg lettuce, lots of cilantro, thin chicken strips, shrimp, onions, and loads of julienned mango—yum! [caption id="attachment_4450" align="alignright" ]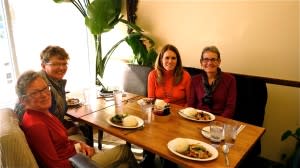 The Lunch Divas[/caption] Now that we've reported on our all-time favorite dishes, it's time to delve into menu items that are new to us.  Jo had Pad Ma Kuer ($8.95), eggplant with tofu, a very beautiful dish.  Jo declared it "delicious, no tough skin on the eggplant, everything cooked to perfection."  Bev ordered Moo Ping ($11.95), tender, juicy chunks of pork, nicely marinated.  It's a lot of meat, served with rice, and Bev wished for a few vegetables on the side, but all the meat eaters at the table were unanimous that this was sublime.  It's a bit tricky getting the pork off the skewers, so it may be a bad first date choice!   (Moo Ping is on the dinner menu as an appetizer—perfect before a plate of catfish!)  Margy had Pad Med Mamuang ($8.95) with tofu—"very tasty, tender
tofu
, just the right amount of sauce, and the cashews are a nice touch."  Margy added some hot chili sauce from the spice tray.  Jerry, our guest eater, tried Pad Gra Prow ($8.95), a basil stir fry with garlic, bell pepper, onion, and chicken.  "Delicious!  The sauce is perfect with a little bit of kick that accents the dish really nicely."  Kay had Beef  & Broccoli ($8.95), which looks just like it sounds, but had a distinctive flavor.  Thinly sliced strips of tender beef cooked in soy and oyster sauces served with crisp steamed broccoli.Remember that our group is comprised of 2 vegetarians, a meat-eater, and an omnivore.  Most of the dishes at Thai Essence can be made vegetarian or gluten-free.  Each dish can be ordered with your choice of chicken, pork, beef, or tofu. [caption id="attachment_4444" align="alignleft" ]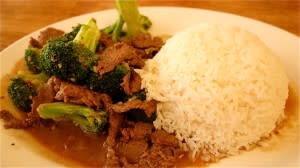 Beef and Brocolli[/caption] We rolled out of Thai Essence, full, happy, and impressed by the array of flavors, textures, and colors of this delicious food.