[caption id="attachment_3293" align="alignright" ]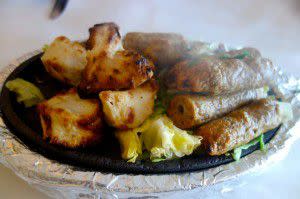 Shish kebab and chicken – hot and fresh off the grill[/caption] Unless you were raised by wolves, comfort food usually consists of tasty home cooked meals from the kitchen. Our most recent lunch definitely fit that description with incredible Indian cuisine from Sharma's Kitchen. The warm aroma of onion, saffron, turmeric, ginger and coriander met our senses at the front door. News spreads fast in our little dining circle when one makes plans to have lunch at Sharma's so on this trip we were joined by Margy's officemate, Dan Walker, and one of Bev's West Lafayette Tree Fund members, John MacDonald. Both guys are longtime fans of Sharma's and would have complained bitterly had we gone without them … so we let them tag along. As Kay said, "The more the merrier". At this point I would be remiss if I did not mention Carlos our attentive server. Included in the price of every meal are hot naan (Indian flat bread) and freshly grilled paneer (soft, fresh Indian cheese), shish kebab and/or chicken. Carlos takes your order as you are being seated and before you know it, is delivered it to your table, sizzling hot. As is true of most Indian restaurants, Sharma's Kitchen offers both a buffet and regular menu ordering options. Being fairly new to the restaurant, Kay and Jo decide on the buffet so they can try more than one dish. The rest of us know the bounty that awaits us at the bar so we all quickly form a line to the buffet.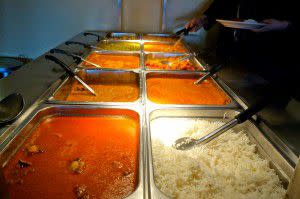 The buffet today includes eleven items:
Vegetable Samosa - crispy pastry stuffed with potatoes, green peas and deep fried
Goat Curry - goat in traditional Indian spices and a saffron flavored onion sauce
Lamb Shai Korma - tender lamb in a rich creamy sauce
Dal Bukhara - whole black lentils simmered until tender, seasoned with ginger, garlic and herbs
Palak - spinach with mushrooms
Aloo Jeera - fresh potatoes with Indian spices and cumin seeds
Jeera Rice - long grained basmati with cumin seeds
Chicken Tikka Masala - chicken in a creamy onion tomato sauce
Vegetable Jalfrazi - mixed vegetables cooked in Indian herbs and spices
Chana Masala - chickpeas in a spiced tomato sauce
Paneer Makhani - paneer in creamy onion tomato sauce
[caption id="attachment_3316" align="alignright" ]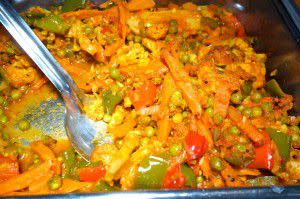 Vegetable Jalfrazi - mixed vegetables cooked in Indian herbs and spices[/caption] Starting with our newbies Jo and Kay: Jo says "Everything was very good.  Lots of vegetarian choices with flavors that are very unique. I really like the pickles but they're a new flavor to me so it takes me a while to get my brain around it."  Vegetable Jalfrazi is Jo's favorite! Kay warns "Be careful how much you take the first time. A spoonful of everything adds up! Don't be put off by goat. It's amazing." Margy loves, LOVES, the Paneer Makhani and is the only one to visit the desert bar which includes Kheer (cold rice pudding) and Gulab Jamun (deep fried dough balls in sugar syrup). "I always try to leave a small amount of room for something sweet when I come here for lunch; my favorite is the rice pudding." One of Dan's regular favorites is the Samosa but today his top choice is the Dal; to be sure he goes back to the buffet twice! We learn from John McDonald that Dal is high in protein but not as calorie rich as it tastes. "Mr. Sharma soaks the lentils until they literally fall apart then adds tomatoes, a small amount of cream and spices." The results are wonderful. Dan goes on to explain "When I eat at Sharma's, breakfast and dinner become very small parts of my day." Like Dan, John MacDonald has his regular favorites and loves the shish kebabs. The treat of the day though is the lamb which isn't on the buffet very frequently. John describes the dish as very lean and tender with a wonderful sauce, hands down his favorite item on the buffet today. Bev's standby favorite is Baingan Bharta "I couldn't remember what it was called for a while so I called it 'bargain basement' but it's a wonderful eggplant dish". Sadly, Baingan Bharta wasn't on the buffet so Bev helped herself to the hot paneer and naan (she dipped in tikka masala sauce). But today's top contender? "… the spinach! Sometimes it has the most tender chicken in it, sometimes paneer, today it has mushrooms." No one goes home hungry, guaranteed. For those unfamiliar with Indian cuisine but open to new tastes, it is worth trying. Indian food uses SO many spices and the flavors are complex. To many American taste buds this is unusual but the food is wonderful and the buffet is a good way to figure out which dishes you like -- then follow Dan's lead and go back for more!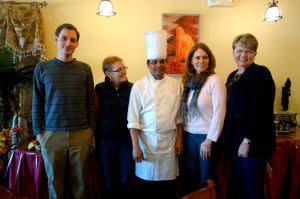 Still on the fence? Prepared to be impressed by Mr. Sharma's credentials as a world class chef. Following three years of training at the Culinary Institute in New Delhi, Mr. Sharma spent one year training in Tokyo. In a national competition among five star chefs in India, he placed third receiving a bronze medal in Japanese cuisine. Suffice it to say, this man knows his way around a kitchen and you will not be disappointed. But don't go on Mondays; the restaurant is closed with regular hours Tuesday through Sunday for both lunch and dinner. Next up --We'll go to the C&T Market Chinese grocery/restaurant on the levee in West Lafayette, recommended to us by one of our faithful followers (we have at least three now!!!).