[caption id="attachment_5100" align="alignright" ]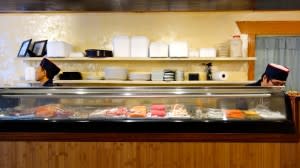 Sushi creators and raw fish[/caption] What's better than a college town filled with restaurants from around the world? A college town in summer when you can easily park and get a table at those great restaurants! Tucked away in West Lafayette's Village (111 N. Chauncey Ave) is an enormously popular sushi place called
Maru
, the latest destination for the Out to Lunch Bunch. Our advice is to go early during the school year – before noon (Maru opens at 11) to get a table and perhaps hear yourself think. It's a small place and bustling when full. Lines form at lunchtime during the school year but with good reason! It's much calmer in the summer. [caption id="attachment_5109" align="aligncenter" ]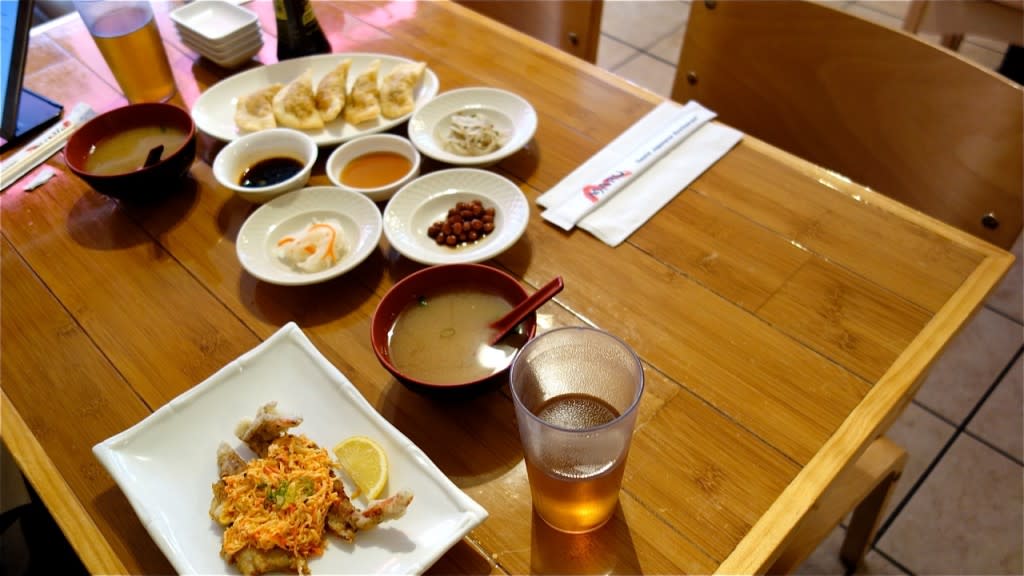 Our Maru table of food[/caption] We figure 50% of you will quit reading when we use the "S" word but hang in there. Even if you're not a sushi (still with us?) fan, you can find things you'll enjoy on the menu. Read on! [caption id="attachment_5101" align="alignright" ]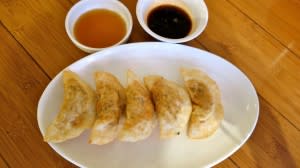 Gyoza (mandu)[/caption] We started with bowls of miso, which was just the ticket for Margy's cold as were the bottomless glasses of hot barley tea, an unusual, earthy brew that was almost like broth. We also received several small dishes of "accompaniments" – red beans and white radish, which were interesting. Then we moved on to several appetizers. First,
Gyoza (mandu)
, five beef and vegetable dumplings, available fried or steamed, for $4.95. They were delicious fried and might have been even better steamed which is how we'll try them next time. Next, we tried stuffed soft shell crab for $8.95. The body of the crab was lightly fried tempura-style and filled with a mixture of crabmeat, carrot, green onion, mayonnaise and Sriracha hot sauce. This was fabulous! Kay thinks on her next visit she'll just order several of these for her meal. [caption id="attachment_5107" align="alignleft" ]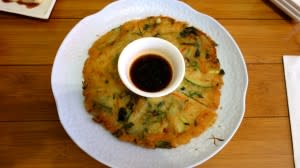 Vegetable Pancake[/caption] Finally, for our vegetarians, we tried the vegetable pancake for $8.95.This wheat-batter pancake chock-full of vegetables was beautifully presented and very good--lightly crispy with a soy-based sauce. See? We're only through the appetizers and we figure we still have the attention of the non-sushi eaters out there! Bev's entree was the most stunning visually--the
bulgoki lunch box
for $9.95. Bev says these lunch boxes always remind her of grade school cafeteria trays, but with much better food. This one featured sweet, thin strips of beef, nicely done, two pieces of sushi, a square of pan-fried tofu, a salad with a spicy (maybe horseradish) dressing, and "some strange thing in the corner."  Strange, but tasty! Back to that first inclusion of the "S" word – Bev is not a fish eater but enjoys sushi rolls with crab or shrimp. These non-fishy sushi rolls are a great way to dip your toe in the water, and the lunch box is a good way to try a few pieces of sushi without centering your entire meal on it. [caption id="attachment_5102" align="alignright" ]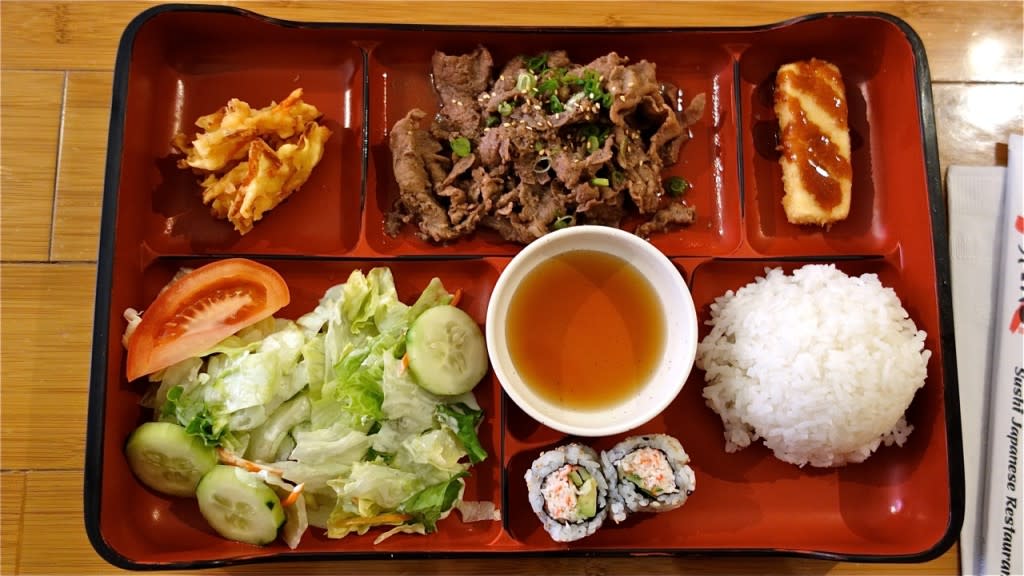 Lunch Box[/caption] [caption id="attachment_5103" align="alignleft" ]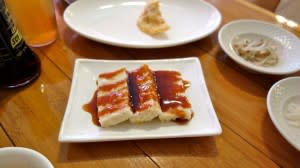 Teriyaki Tofu[/caption] Back to non-sushi. Margy and Jo shared two vegetarian entrees. The vegetable udon lunch special, $7.95, was a huge bowl of noodle soup with vegetables. The noodles were enormous – we'd hate to meet one in a dark alley – the vegetables were cooked just right, and the texture was great. It was more than enough for two. It was very mild; Jo and Margy doctored it up a bit with Sriracha and some of the other many sauces on our table. The other vegetarian entree was
tofu teriyaki
for $9.95, which seemed more appetizer-sized. It consisted of 4 slices of pan-fried tofu, which were soft and a little crunchy on the bottom drizzled with house-made teriyaki sauce. Delicious. [caption id="attachment_5104" align="alignright" ]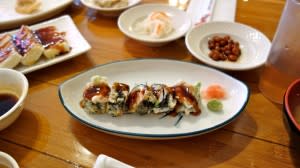 Hurricane Roll[/caption] See how well we did without eating
sushi
? Well, Maru is positively known for its sushi and we've all enjoyed it over the years. On this day, Kay had the hurricane roll, $6.95, with the unusual combination of deep-fried tuna, crabstick, avocado and
peanut butter – s
urprisingly scrumptious.  This roll had no rice, so we surmised the peanut butter was taking on the role of sticky rice and holding things together. There are pages of sushi rolls to choose from so we encourage you to explore the menu and try something new.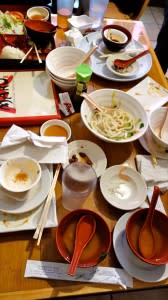 Looking at the table when we were done, we were grateful not to have to do the dishe – there were dozens of them, all empty of course! Maru has a full range of sushi, sashimi, Japanese and Korean specialties. They don't serve alcohol. Open daily: Sun 10am-10pm, Mon-Thurs 11am-9:30pm, Fri & Sat 11am-11pm. Next up, Taco Rico!