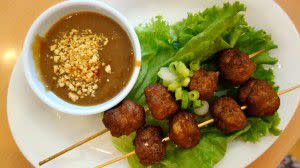 We're guessing we might not have a Vietnamese dining option if this weren't a college town. As it is, we can find food from around the world and GreenLeaf Vietnamese Cuisine (111 S. River Road, W. Lafayette) is one of the best—certainly one of the Out to Lunch Bunch favorites.  Having fallen into the dubious habit of ordering the same favorites over and over again at this restaurant, we decided that we would all order dishes we'd never tried. [caption id="attachment_4009" align="alignright" ]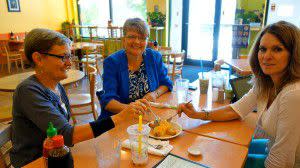 The Feast begins![/caption] Our waiter, Devon, is a fairly new employee of GreenLeaf, but definitely not a novice eater there! He has thorough knowledge of the menu and gave us some great recommendations.  A friendly, knowledgeable waiter is always a plus. As you read on, you'll see lots of menu items you may not want to try to pronounce but no worries—you can order them all by their number. Everyone does! The only drawback to that is when we someday get to Vietnam, we'll try to order #24 and no one will have a clue what we want! To help get your brain around it, there are three main categories of entrée:  Bun, Pho (pronounced "fa"), and Com. The basis of Bun is rice noodles, Pho is noodles and broth, and Com is rice.  Each of these basics is offered with a wide variety of meat or vegetarian choices including beef, chicken, shrimp, shredded pork, pork & egg roll, tofu, even tripe.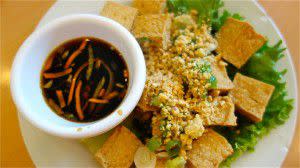 We decided to start with a few appetizers.  (Going away hungry is not an option for this group!)  Crispy tofu (Dau Hu Chien) is topped with chopped peanuts and green onions and accompanied by a delicious sauce made of soy, carrots, onions, and chili paste. (Margy loves this so much, she has tried to duplicate it at home, but to no avail.  She has to visit GreenLeaf to get her fix.)  We all loved this appetizer:  Bev said, "That's the best tofu I've ever had"; Kay remarked, "I'm not a tofu fan, but this is delicious!"  We also tried one of the spring rolls (Goi cuon Dau Hu Chien), crispy tofu and vegetable wrapped in rice paper, and the meatball skewer (Nem Nuong), both served with peanut sauce.  The spring roll was crisp and refreshing, the meatballs nicely seasoned and lean.  The peanut sauce alone justifies ordering whatever it comes with.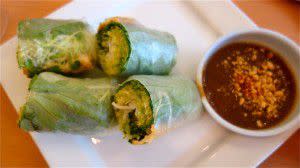 Moving on to the entrees.  Kay's favorite on the menu is the Sauteed Shrimp Salad (Sa Lach Tom), a simple salad of greens, cucumber, onion, tomato, perfectly cooked shrimp in a dressing that makes it zing.  But today, she ordered Bun Xao Tom, rice noodles with shrimp.  This was a much more complex dish than the salad and included rice noodles, bean sprouts, cabbage, cucumber, lettuce, onions, and lots of cilantro topped with the perfect shrimp.  Adding the mystery sauce that comes with it as well as Sriracha hot sauce and hoisin sauce makes this meal a flavor feast.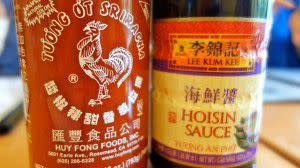 Margy's favorite is Bun Dau Hu Chien, rice noodles with tofu, again made perfect with Sriracha and hoisin sauce, both of which are on every table.  But being a good sport about exploring the menu, she ordered Yellow Tofu Curry (Com Ca Ri Dau Hu Chien), a rich, tasty curry broth with tofu and potatoes that comes with ample rice in a nice presentation. Margy noted, "It sure is easier to eat noodles than rice with chopsticks!"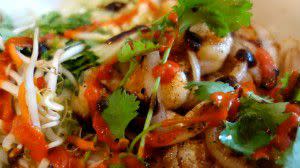 Bev, having encouraged everyone to avoid something other than their favorite dish, couldn't very well order her standby--Bun Cha Gio & Thjt Nuong—(rice noodles with egg roll and pork skewer).  Instead, she ordered Pho with Round Eye Steak (Pho Tai), a hot steaming broth with noodles and beef with hot peppers, sprouts, cilantro, and lime on the side to add as you wish along with the hot and hoisin sauces to personalize the dish.  It's a slurpably good dish.  Bev recommends not wearing a white shirt.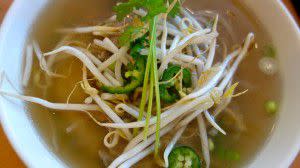 Jo got the Crispy Tofu Rice (Com Dau Hu Chien), which had a fabulous presentation and Jo reported that the taste was equally fabulous.  "It's the sauce that makes it!"  (A comment we suspect all the menu items have in common.)  It was a nice combination between the warm rice and the cool, crisp lettuce, and of course the tofu is the best. Have you had bubble tea? Invented in the 80s, this drink has become very popular. They're a milky, fruity cold drink over "bubbles" made of black tapioca balls, served with a very wide straw so you can suck up the bubbles. We had three Bubble teas:  red bean with bubbles, honeydew with bubbles, and Japanese green with jellies (the jellies are made of rectangles of gelatin).   All were good, but our favorite was the improbable sounding red bean bubble tea.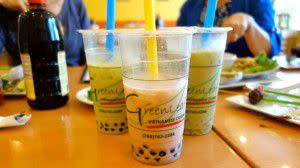 Not to be defeated, we decided to share one of the dessert items, fried bananas and ice cream topped with honey (Chuoi Chien & Kem).  The bananas were wrapped in a thin layer similar to a wonton wrapper and deep frying them made them mellow—a nice ending to a great meal!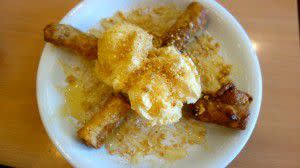 In addition to tea, bubble tea, and soft drinks, beer is available as is wine by the bottle. Sorry for this long blog but we have so many good things to say about GreenLeaf. We hope you'll try and love it as much as we do! GreenLeaf is open daily, Mon-Sat 11 am-9:30 pm, Sun 12 noon-8 pm. Next up, we head to Chile Loco on SR 26 East for Mexican and Salvadorian food!