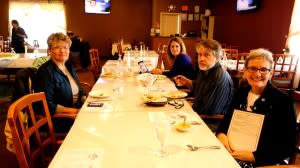 Reading an Indianapolis Business Journal restaurant review not long ago that began, "What a difference a name makes", gave the Dining Diva's pause to think about our most recent Out to Lunch excursion to Garam Masala, Indian Restaurant. Conveniently located at 140 Frontage Road near the I65 and SR26 interchange, the new chef/owner, Madan, has been gaining quite a following, operating under new name and management since October 2012 in the former Taj Mahal restaurant location. So, what's in a name? In the case of Garam Masala, the name literally means garam ("hot") masala (a mixture of spices). For those of you who have not ventured much into Indian cuisine, spicy doesn't always mean hot chilies spicy. Garam masala typically includes pepper corns, cloves, cinnamon, cumin and cardamom toasted together and then ground into a powder. The spice mixture differs by region and personal taste. On About.com, Indian cuisine's regional differences are generally demystified as follows; "In North India, chilies, saffron, milk, yoghurt, cottage cheese and ghee (clarified butter) are hot favorites while in the South, folks love pepper, tamarind and coconut and will often even cook in coconut oil. Those in the East love all things mustard and fish while the extremely cosmopolitan West Indians have adopted western ingredients that their style can quite easily be called fusion." To help the Dining Divas, Richard Fudge, mutual friend and longtime devotee of Indian food, agreed to come along to be our lunch menu tour guide. During lunch Madan came out for a quick visit and told us how he moved to the Greater Lafayette area from northern India after his family relocated here. While more familiar with recipes from the north, he has added several southern Indian dishes to the menu. Richard quickly pointed out some southern recipes listed that can't be found elsewhere in Greater Lafayette. He explained southern Indian dishes are usually more vegetarian and have more oil than butter, and more coconut. Sambhar (a stew-like dish with vegetables and lentils), Coconut Curry, dosas (pancake like bread) and Utta Pam a dosa like dish with vegetables, are all southern Indian dishes. Wasting no time, we all headed straight to the lunch buffet.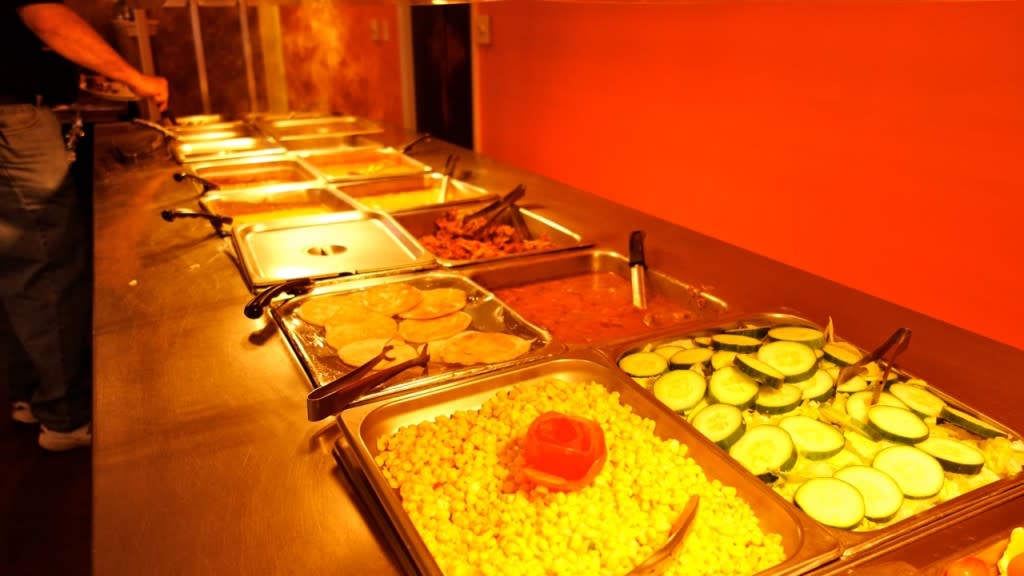 Jo tried several items new to her including the Coconut Curry with broccoli and black lentil dal. Richard says you don't often see broccoli in Indian food. Jo found the curry very tasty and especially liked the dal, "Nice delicate spices without being too hot." Bev pointed out that people should not expect coconut in Indian dishes to taste like sweet American coconut found in cookies. In Indian recipes coconut is either very finely shredded or coconut milk. Bev chose a chicken vegetable dish and was very happy with the complex mix of spices, "Best use of okra ever".  She also tried some of the Indian pickles. "I love Indian pickle and there are many kinds... but this was one, pickled onion, I hadn't had before." Did we mention they have seven different kinds of Naan Indian bread too! Cheese, chicken, chilli, aloo, garlic and plain. Never disappointed with the many vegetarian options found on an Indian buffet, Margy tested the Paneer Tikka Masala. The chunks of paneer were very fresh and tender. Next she tried the Curried Paneer, "Not as sweet as I've had at some other places, very savory, nice." If ordering off the menu you will find chaat and channa-- dishes often served as street food and many tandoori entrees with and without meat. Kay chose the Goat Curry, one of eight goat/lamb dishes listed on the menu. Kay explained the flavor wasn't "goaty" (take that Webster, a new word for your next issue!). Happy that she didn't find bone or gristle she has experienced when ordering goat sometimes, Kay said the dish was meaty, tender and nicely spiced, not hot. Richard was happy to see his favorite, Lamb Biryani with its rich depth of flavor, rice and spices. "Like Indian comfort food, the lamb is very tender." In addition to the regular items on the buffet, there were two kinds of soup; a chicken, vegetable, lentil and Rasam, a tomato-like southern Indian recipe. [caption id="attachment_4548" align="alignleft" ]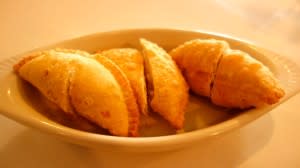 Dessert![/caption] But don't forget to leave room for dessert. Margy ventured into new territory trying Ras Malai, a combination of cheese, sugar and sweetened milk, served cold and Vermicelli Kheer a special dessert made mostly for festivals and celebrations. Both were interesting and satisfying compliments to a great lunch. Once again, the Divas found a delightful lunch option worth recommending. Everyone enjoyed the exotic smell of spices, and the complex flavors at Garam Masala.  The atmosphere of the restaurant is open and friendly. Hindi music videos played in the background both new and classic versions, which was a different twist. The buffet, always a great option at lunch, is easy for anyone on a schedule looking for a great hot meal. Takeout and limited delivery are available, call (765) 448-6862 for details. Have the kids along who don't like to try new foods? Don't worry, they have fries and cheese sticks! And don't worry big kids, Garam Masala takes all credit cards and serves wine and beer. Closed on Tuesdays, open Wednesday through Monday for both lunch and dinner, give them a try. Next we are off to Chile Loco!