[caption id="attachment_3521" align="alignright" ]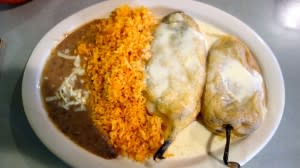 Chiles Rellenos[/caption] Last month's international cuisine was Chinese, this month's is Mexican. According to my map, that is half a world and 14 time zones apart. Thankfully the Out to Lunch Divas only had to cross the Wabash from West Lafayette's Levee Plaza to El Maguey, on Elmwood Ave in Lafayette. Two cities, one time zone!! Ole' El Maguey, open since 2010, is located in the old KFC at Market Square; its owners have two other locations in Indianapolis. The restaurant came highly recommended by Bev's workmate, Ben Anderson, so he agreed to be our food guide. Ben is a frequent customer and was greeted by name when we walked in (always a good sign). Ben explained that he and his wife vacation in Mexico a lot and the food at El Maguey is the closest he has found to what they enjoy there. [caption id="attachment_3522" align="alignright" ]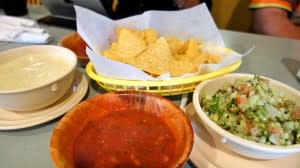 Chunky guacamole, queso sauce, salsa, and chips[/caption] Our waitress, Mary, started us out with chips and salsa; we ordered chunky guacamole and queso sauce to round out the appetizer. The chunky guacamole was a big hit so we ordered more.
Warning:
the chips, salsa, guac and queso are VERY good and the entrees are plentiful, so either hold back on the chips or plan on taking half your meal home in a box for later. Daily specials are listed on a white board inside the door but we ordered off the menu … sort of. As it was explained to us, if you want something you don't see on the menu, ask for it. If the cooks can make it they will; they are after all the owners! Their philosophy: to best serve the customer, prepare and cook the food yourself so it is right every time. That includes making their own fresh corn and flour tortillas. [caption id="attachment_3524" align="alignleft" ]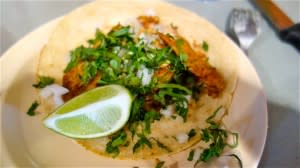 Fish taco Mexican style, cilantro and lime[/caption] Ben: ordered his usual, half order of nachos with grilled chicken and grilled steak.  Huge!  $5.34 Kay: asked for 2 fish tacos, not on the menu but Mary said "no problem!" Kay had them on soft corn tortillas; one served American style with lettuce, tomatoes, sour cream; the other Mexican style with cilantro and lime. "Nice thin tortillas!" Jo: chose Chiles relleno -- two big, beautiful chiles with rice and beans.  Sauces brought to the table included "special red" and verde. Both were very good, Jo liked the chiles but even better with the red sauce. Could only eat half the order (refer to warning above). [caption id="attachment_3526" align="alignright" ]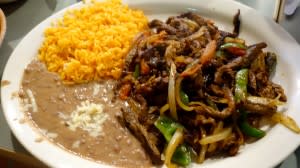 Steak Fajita[/caption] Bev: ordered lunch fajitas with steak. Standardly served is corn tortilla-- Bev asked for flour instead $7.49 Margy: opted for the vegetarian fajita including the corn tortilla. Great combination of grilled onion, tomato and peppers $5.99 A variety of drinks are available including Sangria soda. Ben pointed out, "When you see a Mexican restaurant that serves Sangria soda you know the place is the real deal". They make seasonal drinks like one with watermelon. Also on the menu is fresh waters (pineapple, mango, horchada, Jamaica, tamarindo). Margy ordered a glass of horchata with her meal, a traditional Mexican drink made with rice, water, milk, vanilla, cinnamon and sugar. "It tastes like I'm drinking the rice pudding from Sharma's! Very refreshing," she shared. No one ordered the Burrito Texano $8.89-- but we heard so much about it that we asked our waitress Mary to bring one by our table if someone else ordered it. It's huge! No joke! This one entrée could easily feed a family of four! The tortilla used to make it is 18" in diameter. After seeing two more orders come out of the kitchen we decided it was no surprise why the parking lot slowly filled up with pick-up trucks and the restaurant with hungry patrons.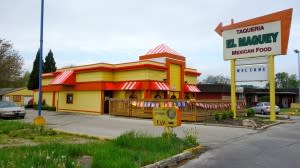 Margy mentioned her brother-in-law's favorite rule while on vacation, "No chain restaurants; and, the restaurant parking lot with the most pick-up trucks is probably the best place in town to eat." Maguey is one of those kinds of places; serving great food, generous portions at very affordable prices. The secret is out.