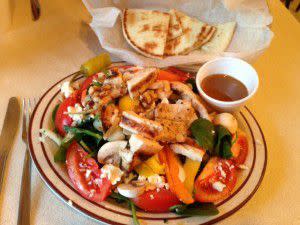 What sounds good? Ribs, hearty soup, spinach pie, gyros, homemade desserts … or potatoes made from powder? (Ha! That one's for you Meg.) Except for the instant potatoes, you need go no further than the Akropolis, 3311 South Street, to satisfy your hunger. Owners George Xioufarides and his wife Maria Xioufaridou have been serving up authentic Greek cuisine in Lafayette since 1985. George says "There are still people out there that appreciate fresh cooked food. We are proud because we see a lot of repeat customers coming back-- maybe even the third generation that says their father or grandfather brought them here. We are not a fancy place-- it's not big." But trust the Out to Lunch gang, it is good!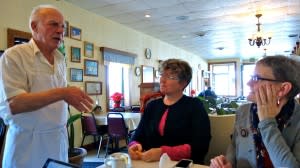 We ask George for a bit of history while waiting for our food. Bev is curious how the family, originally from Cypress, ended up in Lafayette. George explains, "We came here on April 16th of 1977, the day before our visas expired. We came originally to Chicago, then here for the restaurant business. When we started it was at the Parthenon in West Lafayette with Maria's brother Jack." Jo quizzes George about his favorite dish. "This is a problem we have every day," he laughs, "but the best-selling item is the gyro," a sandwich on pita bread with roasted meat, tomato, onion and tzatziki (a cucumber, yogurt, garlic sauce). "We make everything here; we don't buy heat-and-serve food." George describes the steps that go into preparing the large vertical cylinder of meat that slowly cooks in front of an open electric broiler. "We have a big grinder, mix in beef, lamb, salt, pepper and spices, and build it up in special bases. Making the meat this way keeps the juices in." No wonder this is a customer favorite. Bev chooses the combination dinner which includes a gyro; moussaka made with eggplant; pastitsio, a lasagna like dish with ground beef; cheese pie baked in thin phyllo dough; dolmades, a rice and ground beef stuffed grape leaf treat, in an avgolemono sauce. "Everything is excellent, I appreciate it even more knowing that they're made right here, real comfort food." A great deal at $15.95 and enough food for two or more! [caption id="attachment_4848" align="aligncenter" ]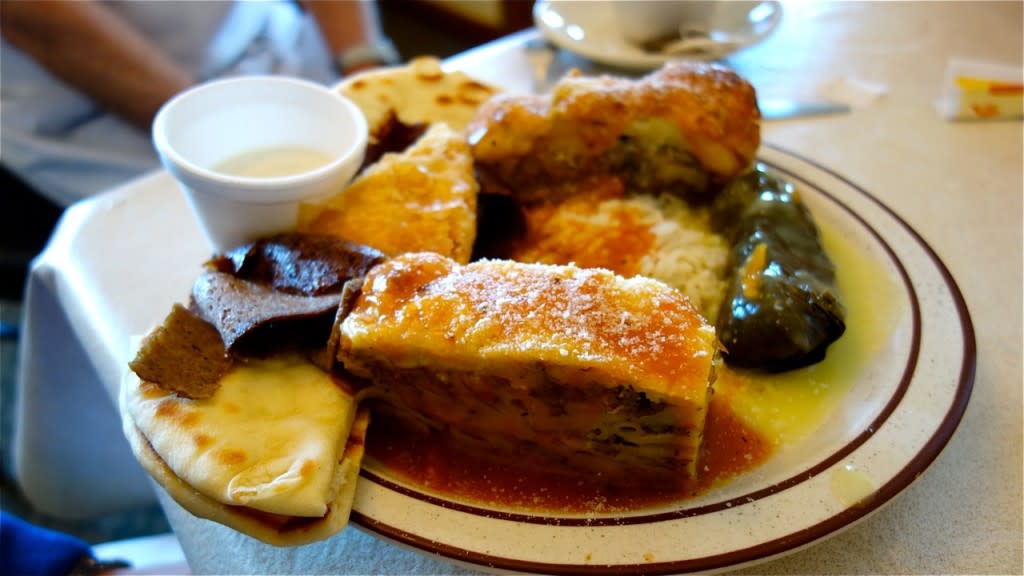 Combination Platter[/caption] Today is Kay's first time to the Akropolis and she orders the swordfish kebob for $13.95. "I [caption id="attachment_4845" align="alignright" ]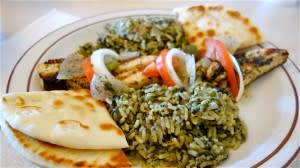 Grilled swordfish kebab[/caption] never order swordfish because it's usually dry as a plank, but this is delicious," she says. "I taste dill and lemon and olive oil and it's moist and wonderful. And it's served with the

best rice I've ever had."

(underlined for emphasis because Kay says this multiple times during lunch). "Lots of lemon and spinach in it, thanks all, it was a real treat!" In an email the next day Kay shared that her husband, Dick, is dying to go try it now. [caption id="attachment_4847" align="alignleft" ]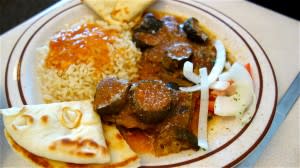 Vegetable stew[/caption] Jo orders the mbriame for $9.84, simply described on the menu as a vegetable stew. "It looks very different than I expected. It was listed as a stew but it was very ordered and stacked. No doubt that the eggplant, potatoes and zucchini are fresh, not frozen and reheated. Nice texture and flavor. No tough skin on the eggplant. It's just good!" Margy's empty plate once held a spinach pie, $3.74, and an order of hummus with pita, $4.05. Bev asks, "Margy, can you tell me about your food?" Margy, "Ahhh, it's gone! … but seriously, the spinach/feta pie (spanakopita) is my first choice and so flaky. The pita is great, heated on the grill and wonderful to drag through all sorts of dips and sauces." [caption id="attachment_4846" align="alignright" ]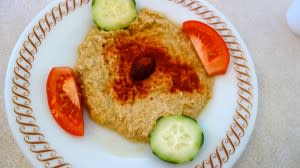 Hummus[/caption] The menu at the Akropolis is substantial considering the size of the restaurant. Kay has many seafood items to choose from including a salmon fillet special, octopus, scrod and cod. There are vegetarian choices too, with rice, hummus, falafel and vegetable options. For the less adventurous, there are made-on-the-premises burgers and really great fries, onion rings and green salads. It is also rumored you will find the BEST barbequed ribs in town. Beer and wine are available. [caption id="attachment_4852" align="alignleft" ]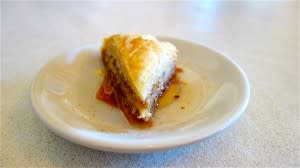 Baklava[/caption] Did we mention desserts?! Save room or better yet, go sometime for a special treat. Already full, we conservatively decide on one order of baklava to share among us when Maria arrives with a tray containing one of every dessert on the menu! Dipla, a beautiful roll of layered flaky crust covered in honey and nuts; a piece of baklava and one of coconut cake, both served warm and oh so buttery; AND custard pie. The custard has a hint of rosewater in it which increases in flavor as the dessert cools. Count 'em, four desserts! We dining divas take our volunteer jobs seriously. Before rolling out to our cars we all agree to Greek coffee after Maria describes, "It's strong and when you get up, you have some and you're running all day! It's a different bean, very finely ground, roasted more; and sits at the bottom of your cup. Don't drink the grounds." As we prepare to leave George and Maria's son Chris comes in for his seasonal favorite, Yia Yia Soup (Yia Yia -- Greek for Grandma). It sounds wonderful; a vegetable, lemon, egg, rice and broth soup. Maybe next time, because we will be back.